I want to thank the guys over at Vikeepro for sending us one of their Vikeepro 4K Waterproof Sports Camera for review. I have run the Sports camera or action camera through its paces and Would like to do an in-dept review for my readers. This is a 4K sports camera that priced under $100 bucks if you can believe it and the deals do not only stop there.This is my unbiased review of this camera. I must say on receiving this item I was really impressed at first sight,they do say that first impressions last after all. The first thing I saw of the camera was the Black matte textured surface of the carrying case which looks really great.
It's not often you marvel at a case something comes in but you have to give praises where they are due. I was impressed with the overall presentation. The case is an excellent addition to protect the camera and carry the accessories around in. You will love the case the minute you open the package and set eyes on it,just wait and you will see what I mean.
Whats inside the Case?
I was left speechless the minute I opened the case as inside the Vikeepro 4K Waterproof Sports Camera case was every conceivable extra accessory the action camera could ever need. I mean they really out did themselves as it relates to extras. We are talking about items such as:
A waterproof housing.
Handle bar or pole mount
7 different mounts to set the cam on almost anything
2 clip mechanisms.
Helmet m,mount.
Bandages to strap the cam in place.
2 Batteries.
Lens cleaning cloth
Tethers.
Protective back door cover.
USB cable and charger.
Battery charger
User manual.
Mini Remote
Hand held cam stand (can also float).
I mean just getting this camera accessories already makes this a really good deal that's worth the price. You will never have to buy another accessory for a Sports camera again. The guys at Vikeepro thought of everything.
There is even more!
I could not believe it but you also get a 32 GB Micro SD card thats installed in the camera for you. I mean I was able to take this thing out the pack and go as the battery is precharged for you. So no waiting to play with your new toy. Its like Christmas when I get a new gadget I literally could not put this camera down for the review period. The Micro SD card that's included is a Toshiba Exceria. On the plus side its really fast too which means no lag when taking pictures or shooting a video. Its also the max size card that is supported by the camera.
The Vikeepro 4K Waterproof Sports Camera Itself
The Vikeepro 4K Waterproof Sports Camera comes installed in the waterproof casing. To remove it simply flip the latch and retention mechanism back from the front easy. The camera is so small it fits easily in the palm. On the front is the Vikeepro logo and the 4K marking which is very eye catching. The camera is well designed and a clear plastic film is placed over the lens and LCD for protection.
To the side is a SD card slot,HDMI port and USB port. To the other is a up and down button and speaker. On the bottom is the battery compartment. On top is the shutter button and indication led. The back is the LCD for previewing and framing shots. The front has the power/mode button. The camera itself is super light weight and very portable. I could carry it around all day and never notice its in my hand.
The Interface and Menus.
The learning curve on the camera is dead simple,in 15 minutes you will feel at home and in another 20 you will feel as if you owned it all your life which is a good thing. Simply tap the button on the front and hold and the camera powers on. Moving through the menus only requires a tap of the front mode/power button. To select any option use the snap shot button on top. If you are in camera or video mode the snap button records or takes a picture.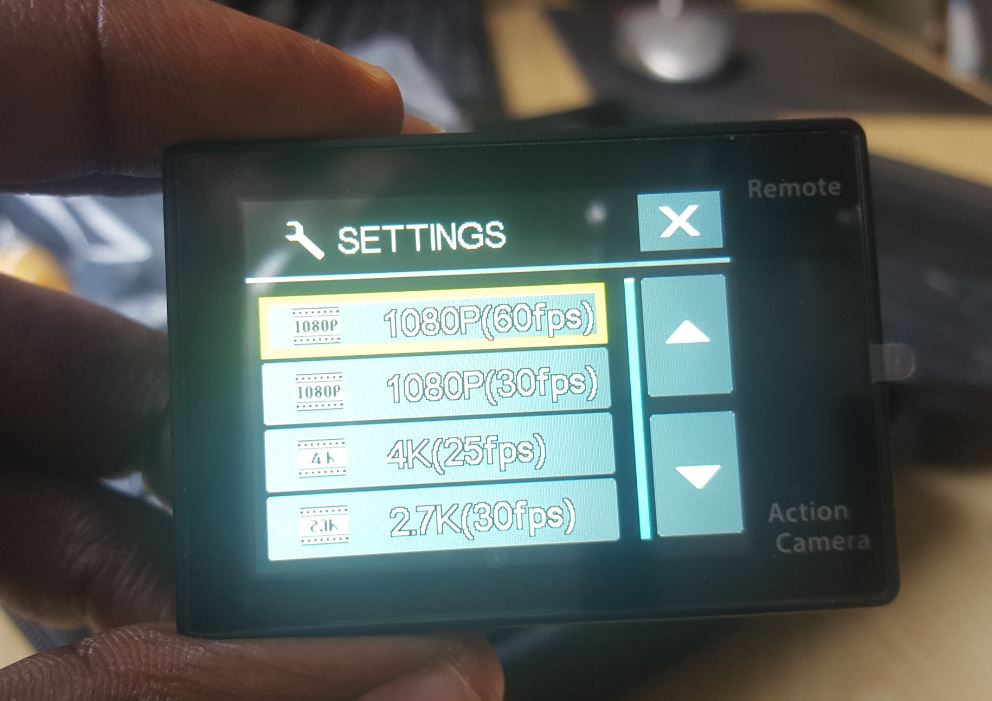 Going into settings you can customize just about anything including camera resolution, screen timeout, set the time and date and fine tune the cameras operation. I find navigation takes a little time but you will get the hang of it.To view any picture or video you take press up navigation in the picture or video mode and you can select video or pictures and do a playback or review your pics.
Storage
You can take a lot of pictures with the included 32 GB MicroSD card.Up to a total of 5680 12 mega pixel shots wide-angle and 7101 burst shots in the same resolution.5680 time lapse shots and about 2 hours 52 minutes of video in 1080p with the included storage. The interface also informs you how much time is left in recording hours.Higher quality video will take more space and give less recording time.You can always adjust settings to your liking.You should only use high quality memory cards especially for fast pace video as slower cards can't keep up and will slow down the camera.
Picture Quality
I really love the wide-angle pictures the Vikeepro 4K Waterproof Sports Camera takes way more than a regular camera because of the fish eyed lens of this camera. You wont miss anything with these shots. The 12 MP camera is also great at capturing really good details you can see from my pictures below. I was most impressed with the quality. There is no manual or tracking auto focus but that can be forgiven for the high picture quality.The camera also had no problem keeping focus on objects in its range.
The pictures are also very rich in color and tone. The color accuracy is also very good as color are captured true to life and not over sharped and brightened to look unrealistic.Pictures have a max resolution of 4608 x 2592 and you can change the resolution in settings to less if you like.Pictures look really good when taken in direct sunlight or well lit environments. Darker environments with little light will not look as good, after all this is a outdoor camera. I give picture a solid 9/10 rating.
Video Quality
Like Pictures this camera also does video really well, no image stabilization though. It can keep up with shots and action but things will be shaky. I do love the crisp picture quality in 1080p but you will be blown away by 4k trust me on this. Colors looks really good and accurate.I was able to fit so much into one shot that cant be achieved by a regular camera which is ideal for showing others whats going on around me in a shot. See the video review for video quality samples.I give Video 9/10
Audio Quality!?
This is where this camera falls short,the audio quality is poor and lack luster and is only good for the most basic of audio needs. You do however buy an action cam mainly for the video and I see where you could capture the audio differently or do a voice over to make up for that easy.The thing with the audio is that its basic and if you are big on sound you will notice it right away. However as for everyday use its more than acceptable.
After playing back video on a PC with a really good sound system the Audio was much better. Using the cam itself it sound worse than it actually was so you may want to bear that in mind.  If I were to give audio a rating I would give it 5/10.
The EZ iCam App
Connecting to the cool Ez iCam App that I had to download for the phone to remotely access the camera was very cool and easy to setup. Simply long press the down navigation arrow on the camera in menu and the camera will seek for a wireless source. You only need add the camera and wallah. It will find it and pair. You can then view the camera remotely from your phone. You can also take pictures or video and even view the pictures and video you have already taken. You can also delete and transfer pictures to your phone by WiFi.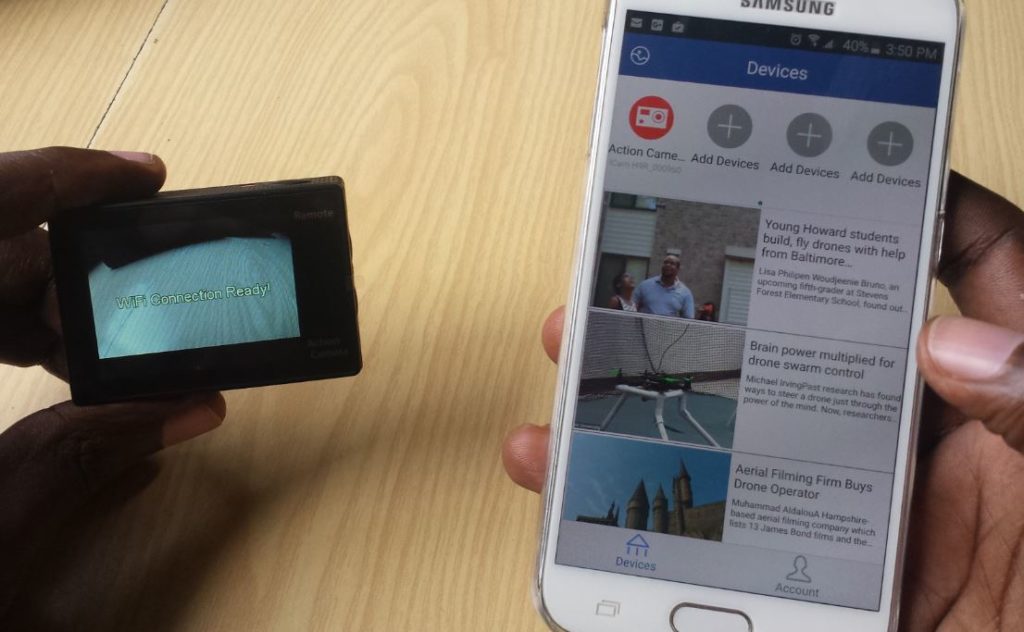 You could even get creative with the App around the house and use it as a security camera of sorts. I like to experiment and find that it can actually work as such which makes the uses even more appealing although that's not its actual function. But forgive the geek in me :).
What about the Remote?
The remote is an easier alternative to the App for your phone and you can mount the camera or have it on a helmet and remote snap and shoot a video. I like the remove its small and just works,trust me you will need it so make sure you keep it around at all times in that cool case you have. I mean you could even capture the perfect shots as you vacation with this camera or even go biking and record the journey easy.
The waterproof Case
The Waterproof case is air tight and nothing is getting into that case especially water. You can submerge it in water no problem and keep recording and adjust control or take it diving or swimming. Is there amassing what this thing cant do? well I must say I am impressed and I hope you are too. There is one cool attachment or hand stand that's hollow and can float when you are in water, it also has a cool retention strap so the camera will not float away.
What I use My VikeePro for and you can too?
Foremost this is a sports camera and can keep up with your busy life style. I take it joining and capture my route as I run in the early morning for some stunning footage when I take the scenic route. You can have hours of footage without much issue. A phone is not as convenient. You can strap it to yourself or a car, bike,rail or whatever else you can find.
Like extreme sports then bring it along its perfect for you. But don't think because you are not into extreme sports this will not work for you. You can actually use it while swimming or on vacation. Let it be that ride or die companion that goes everywhere and does everything while capturing those spectacular moments to cherish. Or even to upload to YouTube later and share with friends.
Video Review of the VikeePro 4K Waterproof Sports Camera:
Here is the detailed video review for the camera enjoy.
Conclusion and Final thoughts?
Is this product perfect? No but it comes very close to think you can get so much value at under $100 is amazing. For peace sake this is a spectacular 4K camera. I mean these thing is a killer value. The one fault I found was with the audio and that because I was really critical,I can live with that. The other is image stabilization but that's less of an issue as video come out really nice.Otherwise everything is great and darn near perfect. The accessories are just icing on the cake and the memory card and case is simply over kill. I would give this product an easy 9/10 because its darn near does everything I need in a action camera especially considering the price. This item could have retailed easily at more than double the cost. But you are getting a killer value. so what are you waiting for?
Why you should buy:
Very Affordable
Great value for money
Excellent picture and video quality
Has 4K video recording.
Well designed and looks great.
Has a boat load of accessories.
Has a super sleek and nice case .
Way under priced.
Why you may want to skip this?
The audio quality is OK but not super great and I would not mind image stabilization for video recording.
Continue Reading we have even more Tips for you: