The Note 7 has been out for a little while now and some of the main problems are now just showing their heads. These problems include the Galaxy Note 7 Lag and Battery Problems that's are being faced by some users. It seems there device is slowing down with use despite the power and the newer larger battery is draining fast. This can be very disheartening, but fret not as with a few tweaks we can tame this beast and get rid of the lag and improve battery life significantly.
Description of the Issue
The Note 7 is Lagging: This is a big problem that despite the fast processor and tuns of memory the Note 7 after being used for a while lags or stutters as you use it and hangs a while. This happens as you transition through the user interface or simply do regular tasks on your phone such as use apps and so on.
Battery Drain fast on the Note 7: This one is another surprise to users that despite the larger battery the device's battery drains really fast. Too fast in most cases.This is a Note and you would think the larger battery would afford you the luxury of lasting the whole day or something like that.
Read more below on how to fix these two issues for the Note 7.
How to Make the Note 7 Faster?
This trick will make the Note 7 faster, since TouchWiz is the main reason why your device is slowing down due to the animations as you move through the interface.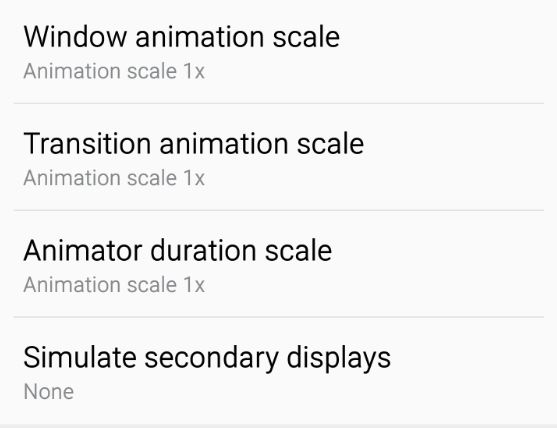 1. Go to settings and you will need to activate developer options.
2.Once the option appears in settings go to developer options.

3.Find Animation Scale options and turn them all off. This includes:Windows Animation Scale,Transition Animation Scale and Animation Duration Scale.
You will now notice that transition through the user interface is now much faster and apps even open much faster than before. This is also a tweak that you can do to older device and it should work on future ones as well.
How to Make the Note 7 Battery Last Longer?
The first tip for this is to disable unnecessary services running in the background. There is a whole bunch of apps that not being used right away or that you will not use and they are not only consuming battery life and RAM but also slowing down your device to a crawling pace. I suggest you manually disable these by going into settings and Application manager or get an app that can kill or put unused processes in the background into hibernation.
You can check out Clean Master or other Cleaning or RAM management apps in the Play store and as they are  good at managing background programs that's eating your battery life.
I do hope you tried the above tips and they were able to help you even if you have another device other than the Note 7 and this will work for any Samsung device including the new Note 7. Please leave a comment below and do share this article with a friend.
Continue Reading we have even more Tips for you: