The Blue Microphones Yeti USB Microphone is one of your best options to use when recording audio. It works excellently for doing YouTube videos,Gaming audio recording, General or professional Audio recording, Podcasts, voice overs,recording in the field,recording instruments,conference calls and just about anything you could do on your computer that's Audio related.
Color Options
The yeti comes in six (6) color options that include: Silver,space Grey,Whiteout,Blackout,Platinum and Black. Best of all you can get various customization bundles that includes the Gaming Bundle, pop filter and headphone bundle,Gift card and USB microphone edition.The Blackout edition is the most expensive of the lot and cost the most, in my opinion it's also the most sleek-looking too so it will be money well spent trust me.
Features
If it's a Audio feature you will have it here. These include multiple pattern selection:cardioid, bidirectional, omnidirectional and stereo. You will also have gain control, mute button, zero-latency headphone output for improved audio over headphones. its three (3) condenser capsules makes it that it can record almost any situation imaginable. For convenience it's also very easy to work as its plug and play for Microsoft Windows or Mac Os.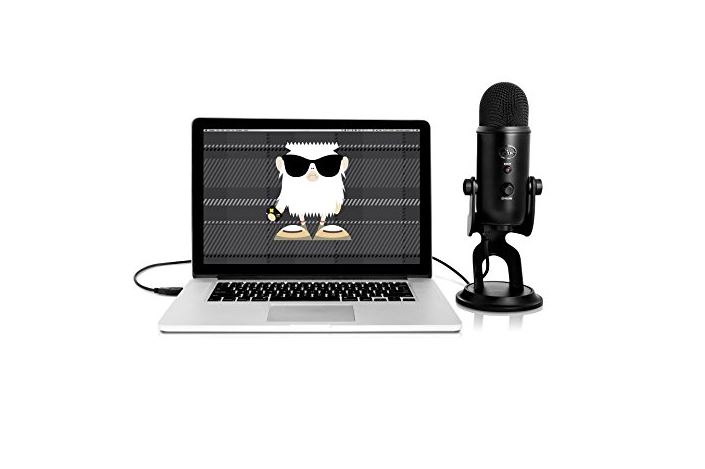 The Box
The box looks really good and the makers of the Blue Microphones Yeti USB Microphone really outdid themselves this time. The microphone itself is wrapped in styrofoam. You get a Mini USB to USB cable, User manual and the microphone itself.
Buttons and Ports
Buttons on the Blue Microphones Yeti USB Microphone include: Mute button, volume, mic gain, 4 Polar pattern selector,USB Jack and headphone jack.I also like that when you hit mute which disables all sound recording a red flashing light does a nice job of reminding you that you are in mute mode.
The Blue Microphones Yeti USB Microphone
The star of the show the Blue Microphones Yeti USB Microphone really looks nic, the blackout edition is a real star and it has a great base that sits firmly on top of a table or a desk.Its also padded so it wont scratch the surface or shift easily. On the front of the unit you can find the branding along with the key buttons for muting and turning the volume up or down. Inputs for USB and headphones can be found on the bottom of the unit.
You also have a knob that turns to set the mic in to one of four major settings that works best based on what you are using the Yeti for. On top you have the black grille that may be different depending on which version you go with. Right away after getting this great product out the box you will notice the weight and build quality right away. It also has a great stand so you can tilt and angle the yeti mic just perfect. You can tighten the adjustment knobs on the side to hold his thing in place.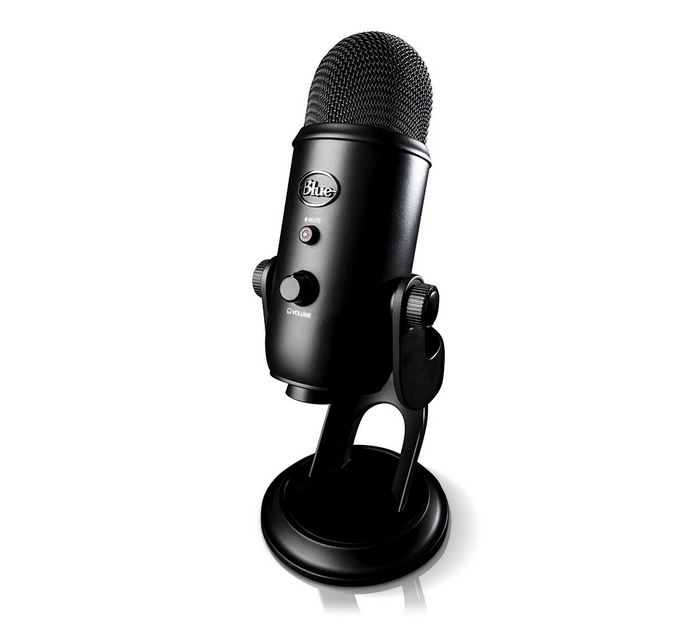 Also did I mention that this thing is huge but it does make up for this in quality sound recording.The Yeti can run completely from USB power and does not need additional power which is amazing.
Recording modes:
stereo mode is the first mode and allows the Yeti to record Audio from the left and right side of the Mic.It also records some audio from the front and back as well in this mode.
Omnidirectional is excellent for conference calls. This is perfect for setting your microphone in a room and picking up audio from all around the room.
Cardioid records in one direction which is great for podcasts as well as voice overs.
The fourth mode is bidirectional which records audio from the front and back exclusively. I recommend this for interviews and singing duets.
Accessories
Depending on your recording needs I also suggest that you get a Pop Filter or a Foam Windscreen which should help out in various situations.
Audio Quality
The Audio quality is really good and you will not be disappointed trust me on this. This mic also works really well if you have the recommended accessories above of a wind screen and a pop filter. You also have great control over the Audio which is a great plus for owning this microphone. This translates to really clear and crisp Audio without you having to tinker or tweak a lot of settings.
Even if you have background noise in your recording area the various modes makes it so easy to filter them out that you will never hear them.
Why you should buy this great product?
1. It's a really Good Microphone for audio recording.
2.Gives you precision control over Audio.
3. Can record Audio in a variety of situations and filter out noise.
4. Uses little power and can be power by a USB from your computer.
5. Its plug and play and supports Windows and Mac.
6. It looks really good especially the blackout edition.
Continue Reading we have even more Tips for you: