It's another day and another Laptop review. Today we have the Lenovo Flex 3 on the review desk and we decided to give it a cool run through so as to give you the potential owner a good idea what you will be in for before buying. After all this is your hard-earned money and you don't want any surprises after putting up the money for one of these. This will be a general review of this laptop, also note there are several models on the market for this unit with different internals so note this review will speak to the performance of my exact model and you can judge from there.
What you get with this Laptop?
The features of this Laptop include:
Windows 10 Home 64-bit,
11.6 in LED touchscreen with 1366 x 768 resolution, 10-finger multi-touch support,
Intel Celeron N3050 dual-core processor at 1.60GHz with Max Turbo Speed of 2.16GHz,
2 GB DDR3L 1600 MHz; 30GB 5400 RPM HDD; No DVD,
Bluetooth; Webcam; WiFi; HDMI.
If you don't really understand what these specifications all means don't worry the section below breaks it all down in simple terms for you. I have been working with Laptops and buying them for a while so let me translate.
What does the specs all mean?
So what the above features translate to is that right out of the box there is no DVD drive so if you need that this model is not for you. It's very lightweight and portable and ideal for students on the go. In fact this Lenovo Flex 3 is intended for a friend that's now in college and studying. Based on feedback from her and based on my experience she basically mirrored everything I said and which confirms my views on this laptop. This thing is a boss with school life, you can get it in and out of classes and lectures no problem. Next its price makes it hard to pass up.
What you sacrifice on though is power. AS you may know it takes very little power for word processing but you still can watch 720 p HD movies on this, play Music and all basic tasks but not much out side of those realms on the Intel 1.6 GHz dual core processor with 2 GB of RAM. If you play games you are out of luck this thing will not play graphic intensive games. Simple games like candy crush soda yes but at only at a scaled down resolutions. Anything outside of those simple games or older classic games and this Laptop will grind to a halt literally.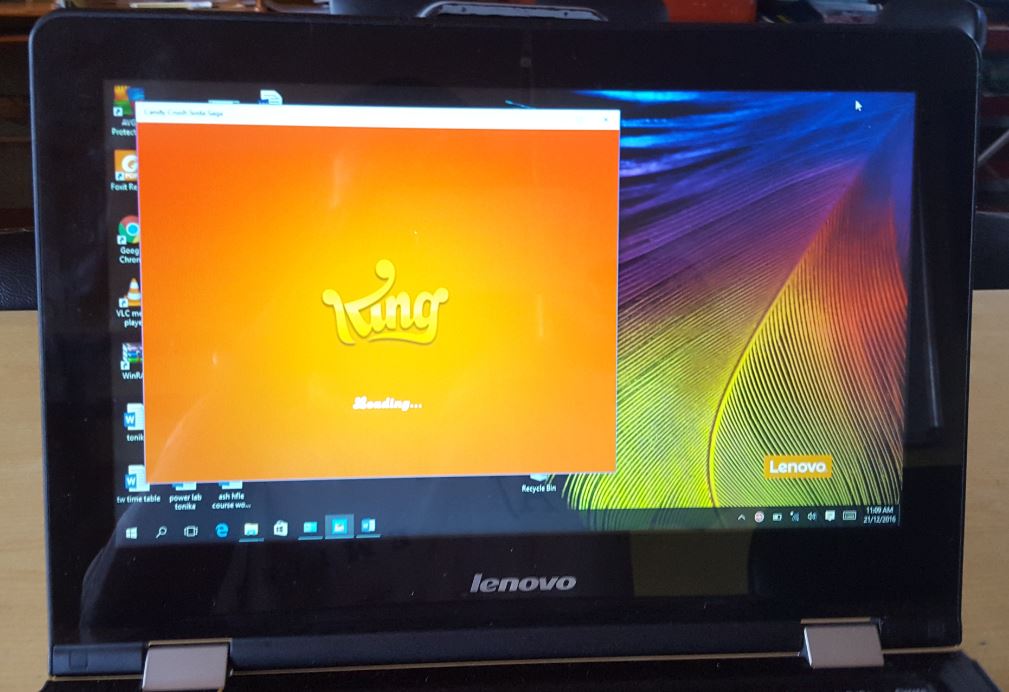 This thing can Flex 360 degrees
Yes this laptop gets its name Flex from the fact that just like a gymnast it can bend an impressive 360 degrees on its special hinges that allows you to put it into special yoga like poses. This is really an interesting feature but you will most likely forget about it quickly. I would easily forego this feature for more storage. You can learn more about why I say that about storage below.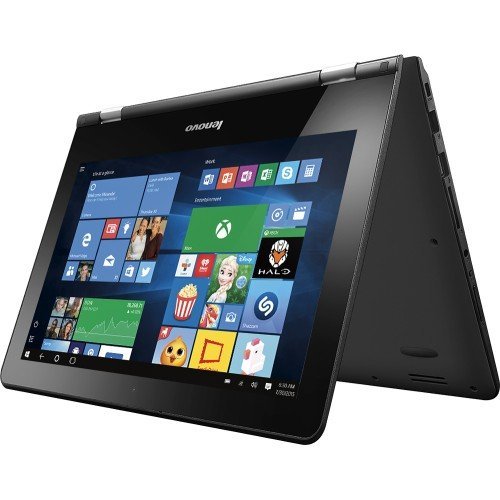 What about sound Quality
Sound quality is surprisingly good and before any one challenges me on that I mean from the perspective of a regular user who does not have a refined ear for sound. So what I mean is that the sound that this thing produces is good enough for personal use and hearing whatever you are watching even in a small room or bedroom fine. So for personal use you are good.
Battery life and Storage
Battery life is excellent and you will need it on the go. It not something you will have to worry about much as this thing is really efficient. Pricing of this laptop is also very good which brings me to the sore point and that's the really super small hard drive that they included. It's hard to believe that a laptop that can bend a whole 360 degrees for some really interesting placements while you watch a movie or work has a small 30 GB hard drive. Only a portion of that is accessible by default and when Windows is installed only a minimal amount of space will be left. So guess what? you will need space a few seconds after removing this thing from its box new if you are a power user or space junkie.
I hate the small hard drive and you will hate it too, a quick workaround is to use SD cards and flash drives to store stuff but your only other two great options will be an external HDD or upgrade the hard drive which will cost you. So the choice is yours and it's not good.
Final Thoughts:
Get this Laptop foremost because of its low price,portability and ease of use as you can take it anywhere. Don't be fooled though while its has lots going for it the small hard drive space is a crippling fact that will make this a love hate relationship. Creative users will learn to work with this handicap but not so tech savvy users will lament and obsess on this fact so you have been warned.
Does this mean this Laptop is a bad device? no far from it but I wished the creators had removed something else to save on space and not our beloved hard drive space which in this media consuming world is really important. They might think we do more streaming now so we don't need the space but what about those who store large amounts of files or create large projects sizes from programs they run. So guys if you can live with the small hard drive then go ahead and get this laptop but if it's a deal breaker then skip it and get something better or a model with larger Hard drive which I am sure exists.
Buy it now:
You can purchase your Lenovo Flex 3 below and seeing the shortcoming of the model in this review I have linked to the better versions with greater storage and improved processor.
Why Get this Laptop?
1.Portable and lightweight.
2. Very energy-efficient.
3. Affordable.
4.Great for school and basic tasks.
Why skip this?
This device is not very powerful and has small Hard drive space, however this is not for all models I suggest you get a model with larger Hard drive of 500 GB and above and a better processor and you will have a very good laptop.
Save
Save
Continue Reading we have even more Tips for you: