Today for review guys I have the Toshiba Satellite C55D C5271 Laptop for review. This review should also work for just about any Laptop in the Toshiba Satellite C55D series of Laptops expect that those other units might have slightly different internals. The model I got was the black version that has what looks to be a brushed plastic finish that looks good but is prone to being smudged so do keep that in mind if that is an issue.
Features and Specifications
This Laptop has a AMD A4 -7210 APU with AMD Radeon R3 Graphics at 1.8 GHz, 4 GB of RAM,1 Terabyte Hard drive, Windows 10 64 Bit, DVD drive, HDMI, USB ports, Memory Card reader, Mic, Webcam and the usual bells and whistles.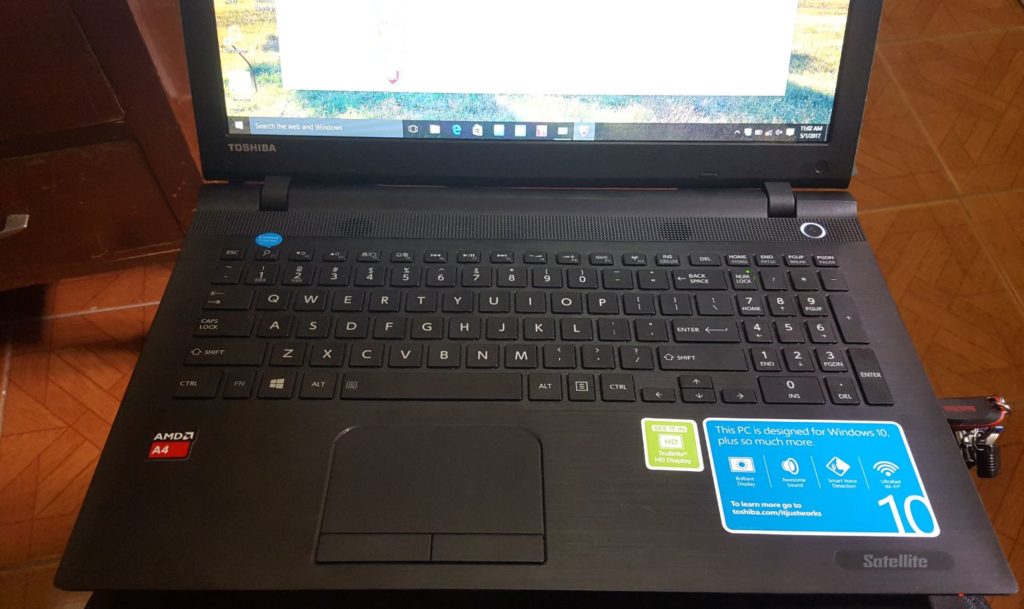 This Laptop was built with Windows 10 in mind as it has lots of Windows 10 integrated features.One of these features is the F1 Key doubles as a Cortana Quick Key and only works on Windows 10. It has TruBrite HD display, Smart voice detection and TrueTalk Mics which is another feature for working with Cortana.
Toshiba Satellite C55D Review
Overall I would classify this Toshiba Satellite C55D as a budget device as while it gets things done its far from a powerhouse. The most noticeable feature that I like is the Windows 10 Integrated features that uses the digital assistant Cortana well which Windows 10 enthusiasts will love, otherwise if you don't like those things you will simply not even notice them though.
Looking for a more Powerful offering from Toshiba? Check out these high performance 
Laptops here
..
A nice touch is the Circular LED around the power button which is a great touch that I like very much which lights up once the PC is powered on. You also get a full QWERTY Keyboard with a dedicated numeric keypad to the side. I highly recommenced this PC for Simple multimedia experience or school work. The price and features matches this category well and I would not look for anything more out of this unit.
Check out these Great Choices from Toshiba:
Why you should buy this Laptop?
1.Great Price.
2. Great Windows 10 integrated features
3. Great for school work and simple everyday tasks.
4.Lots of connectivity features and Legacy DVD drive.
Why you may skip this:
1.Not very powerful and you do get what you pay for.
2.Not easily upgradable or fixable as to get to the memory or anything else in the Laptop you have to disassemble the whole thing.
So guys if you are getting this for a child or simple work around the office or home I think you are making the right choice as this device is perfect for Windows 10. I do hope you enjoy your device and if you need something with a bit more power do check out our other offerings.
Save
Continue Reading we have even more Tips for you: