I never thought I would ever write an article like this,but here I am doing it. Well today we have a Laptop that's priced under $200 in the form of the Asus E402S or Asus E402SA. I guess when you review and have seen as much gadgets as I do you are bound to run into insane deals that just defy belief. I would like to share this great deal with you my readers and thus the review here today of this great budget Laptop. Also note that this review applies to all Laptops in the series such as the ASUS E402MA and such variants.
First Impressions
The model unit I had for review was a dark blue edition which is a very nice color as its easy on the eyes. The Laptop is super light and really makes me want to take it places compared to a laptop that's just too heavy to carry that's more of a bother. I liked this Laptop when I first saw it based on share looks. With that been said lets get into the details.
Laptop Specifications
The Laptop is a very nice with a 14 inches screen and contains a dual core processor from Intel which runs at 1.6 GHz, although variants can have higher clock speeds. You do get a very nice 2 GB or RAM and Windows 10 x64 is installed out of the box offering the best of Microsoft's brand new operating system for you to enjoy.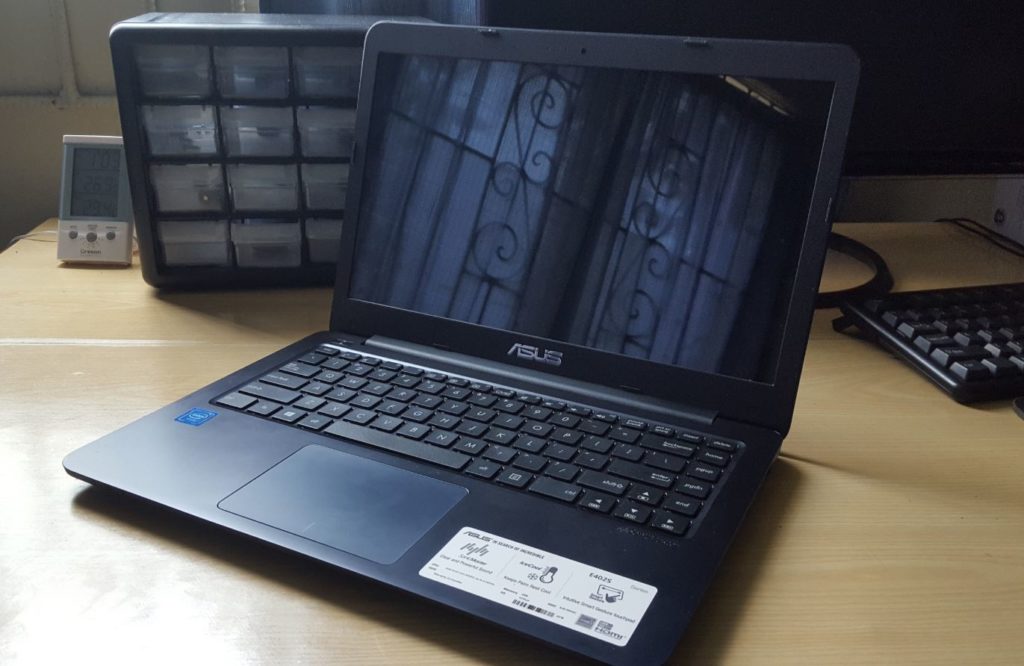 You get two USB ports one of which is a USB 3.0 and the other a 2.0 standard port. There is a VGA port, Bluetooth,HDMI. So you do get a lot of connectivity features. There is no DVD player present so you may need a external in case you need to have a DVD drive. The screen is glossy and really nice to look at and comes in at a resolution of 1366 by 768 which makes it a HD screen.
Why the small Hard Drive?
If this thing had a short coming its in the hard drive department. Included is a 32 GB of storage which for this day and age with Windows 10 is a sorry excuse for storage. This is not me bashing this Laptop but its the truth I would like to get that out there. So we now know how the manufacturers were able to cut cost. Just wish they had doubled the storage space for even a mechanical Hard drive. Another thing is while I know what to do to deal with such a small hard drive an average user wont and will use up the space fast.
My suggestion is that you save the storage for core applications and do remember Windows 10 will take more than half that space. Next use a Large Flash drive or SD card to store your files.And I do suggest you get a external Hard drive to keep media files and stuff on. If you want to really fix this Laptops short cumming I suggest you buy and install a large Hard drive.
Performance
When it comes to performance let me say that this laptop is only meant for the most basic of tasks. That is listening to music no problem, watching or streaming a new movie this laptop got you covered and doing internet surfing and research you will be good. But it will not break any speed records but its no slouch either. Its at that sweet spot in performance and price. I really love this laptop and can recommend it only on the basis that you keep your expectations grounded. If you also solve the Hard drive space mishap that I identified then you are well on your way to a happy life.
The cool palm rest feature is also welcomed,the last thing you want is your palms not being comfortable when you have to work or your hands breaking out into sweat,trust me you will love it. The Laptop also runs super cool and quiet. You will never know its on.
The Price
Lets address the really cool point that makes this Asus E402S Laptop really appealing and that's the overwhelmingly low price that's below the $200 mark.I mean they had to make a few cuts here and there but overall this is a really great laptop that you can work with for the price. Its way too good to pass up especially if you are strapped for cash. I can honestly say I have never seen a new Laptop for such a low and ridiculous price.
Check out
the ASUS E402MA
which is the same Laptop as shown here only with a faster processor but same great low price.
Conclusion
You will never find another Laptop like this Asus E402S I guarantee it. You are in even greater luck if you can find one with a greater clock speed in the processor than the unit I reviewed such as something with a 2 GHz plus clock speed, the unit I have linked to here in this article has such a great clock speed. I suggest you get this for a kid or your child that off to college. It can even work for you to do your work on or enjoy some great content online. It can also make for a great present for any occasion that I highly recommend it.
So guys do share your thoughts on this cheap laptop seen here after all the price is so unbelievable and is easily a best value for your money. Please leave a comment below and do share this deal with  friends on social media. It would be greatly appreciated my friend.
Continue Reading we have even more Tips for you: