For this article I would like to look at an issue where you are getting a Checking Media Fail Error when you try to boot from any external media on a Windows Laptop. You may be trying to do this in order to reinstall Windows but the Laptop is not allowing you to do so. This may be from media such as a DVD or a USB flash drive with windows. When you choose a bootable device you will see that the Laptop says : Checking media and then it will say failed.
Now this is a really bad issue as in most cases when you are trying to do this you really need to install or reinstall Windows for some reason and this issue can get in the way. Thus preventing you from doing anything on your device and the solution may not be apparent at all.
Devices affected:
I have seen this error on Toshiba Laptops but I see no reason why this may not happen on other Laptops so you should be able to use this on any device. The name of the settings might be a little different between devices but this article should point you in the right direction if not solve the issue totally.
Checking Media Fail Issue Fix
To fix this issue and get rid of the error do the following: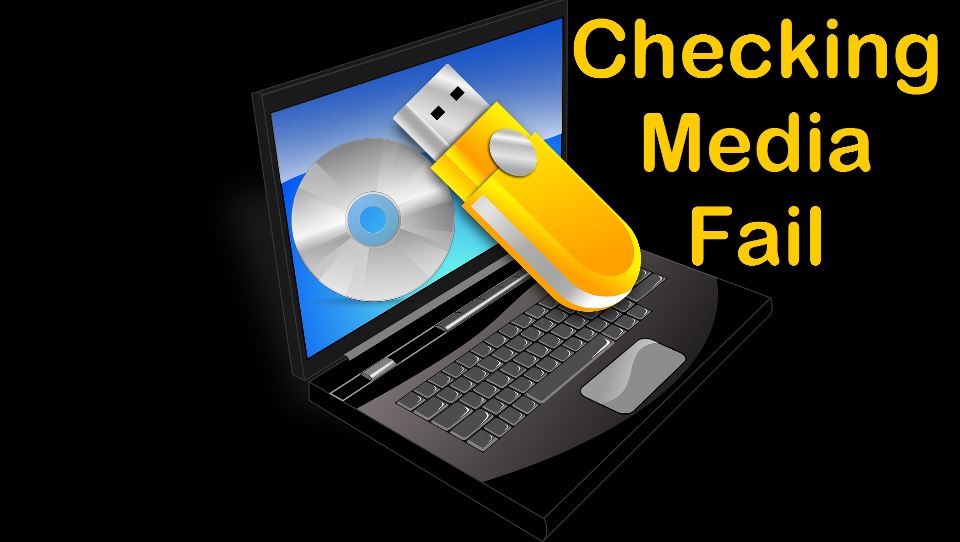 1. Power down your Laptop and you will need to boot into the BIOS. Alternatively you can press F12 repeatedly while booting to bring up the boot options. You need to choose the option to enter setup, this feature might not be on all device so booting into the BIOS with the F keys indicated as the Laptop start should do it. For Toshiba Laptops it's usually F2 key.
2. Now go to security and disable secure boot.Use the Arrow keys to move through options on-screen and enter to select.
3. Finally go to the Advanced Tab and go to System configuration. Next go to Boot Mode and if its set to UEFI be sure to set it to :CSM boot. You now need to save the changes you made. In this case the shortcut for saving is F10 and choose to save.
Now you can again go to boot options and choose your USB flash drive or DVD that you want to boot from. This time You will not get the previous error that was preventing you from booting from media or a bootable device. You can read our tutorial here on installing Windows from a USB flash drive.
I do hope you found this tutorial useful, if so please take the time to share this article as a lot of time went into preparing it. Also do check out more of our posts and consider subscribing to this blog for all your technology tips and tutorials.