For today's review we have the Oukitel U7 Plus which is a 4G phone or more of a Phablet. it's priced under $100 and comes with a fingerprint scanner. I want to thank the Guys at GearBest for sending us this second review unit. In case you missed it you can check out this cool accessory in the form of a smart wristband they sent us for review earlier.  I opted for the Rose gold version but you also can get it in Gold and grey. The service was great and I received both devices in record time.
Oukitel U7 Plus Unboxing
Inside the Package you get the Oukitel U7 Plus 4G Phablet along with a USB cable and charger. Also included is a small manual and warranty info. Do note that the included adapter is of an English design and will not fit the standard USA wall plug used by most countries. That's hardly an issue as most people have several adapters lying around that work just fine. The USB cable is good though.
Cheap Budget device under $100 with Fingerprint scanner
The Oukitel U7 Plus is really a great value you end up getting a cheapest 4G smartphone along with a built-in fingerprint scanner. I don't know where else you can get such a deal. Also Gear best is having a 48% off deal right now and that's why it's so affordable. Otherwise the price would be almost double the current cost. Already interested check it out here, for the price you will be getting a 5.5 inch smartphone that comes with Android 6.0 and contains a MTK6737 Quad Core 1.3GHz processor. It has  2GB of RAM and 16GB ROM or internal storage. You can even add a 32 GB MicroSD card and it supports dual SIM cards so you can be on two GSM carriers at the same time.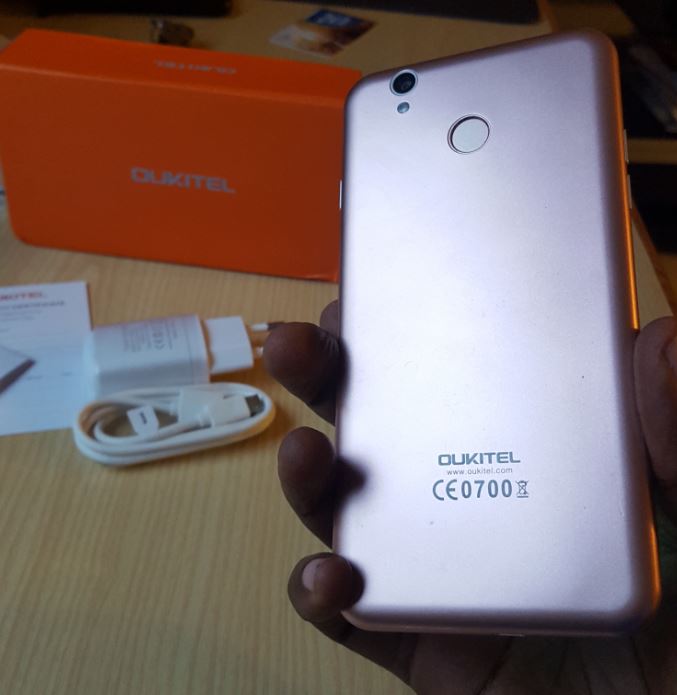 I can't believe so much is fit into this device and the price was kept that low. Setup is easy out the box. But be warned that there is a small strip of plastic over the battery that you will need to remove. Otherwise the device will not power up at all.
Build Quality and design
The phone is heavy and you notice it when you first pick it up. It's also big and you get a very big screen to steer into. The body is plastic despite looking like metal. The most flimsy part of it is the back cover so be careful when you remove it. The Rose gold looks nice and I wish the guys at Oukitel had included a case which would have sweetened the deal. The display is polished and seems to have an extra layer over the front display.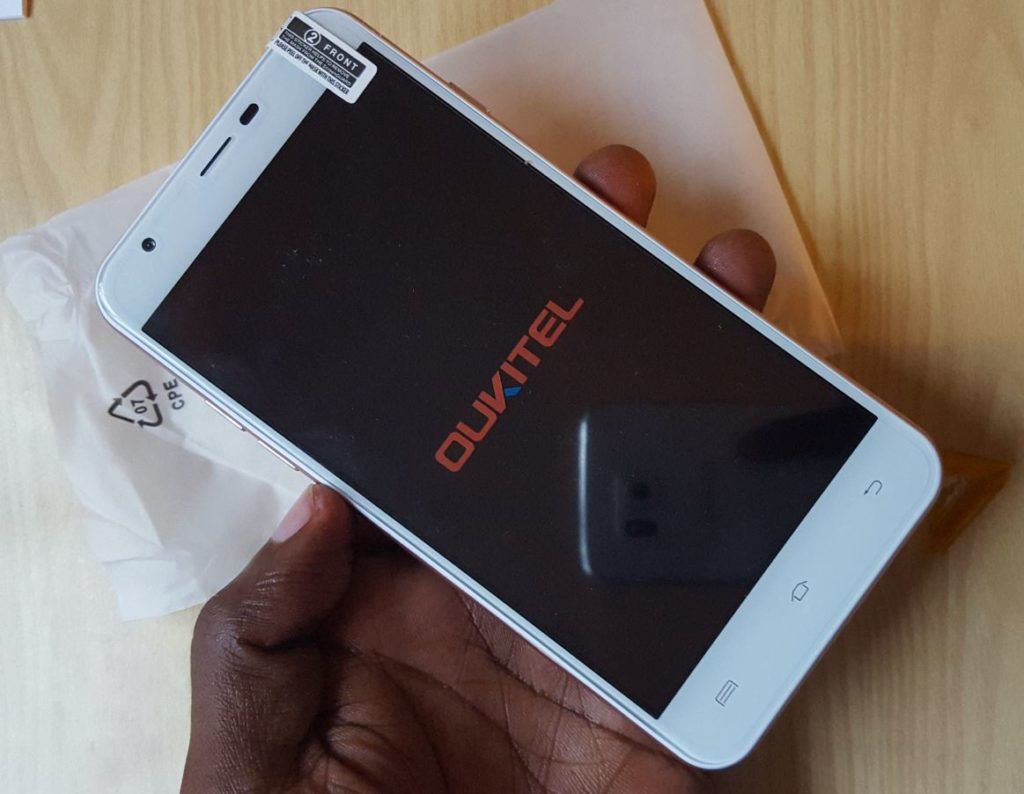 Overall the phone looks quite nice and is easy to looks at and could be mistaken easily for a way more expensive phone.
The Fingerprint sensor
I found that the fingerprint sensor is easy to set-up. Simply tap it repeatedly and it works. Best of all I found it was very fast and responsive. I tried to fool it in case it was a gimmick and could not. Being at the back allows for quick and easy access and it feels almost intuitive. Plus the ability to set a backup password or PIN in case that does not work is well thought out.
The Default theme
The default theme is quite nice and makes the device looks quite refine. I like it.The icons are large on the Oukitel U7 Plus and look pretty nice. The whole thing was nice to look at. I later on decided to install Nova launcher after I got tired of the look at it and it added a fresh look and streamlined the performance. I suggest you give it a try.
Overall Performance.
All the apps I tried played nicely including video. Don't be fooled though it did not start that way. Out the box when I tried the device I found things OK but a bit laggy. I soon connected to the internet and applied the latest updates from the manufacturer. I suggest you do the same. I notice an instant and major improvement after this. The little bugs and quirks I noticed before were gone. I was now loving the device more than ever.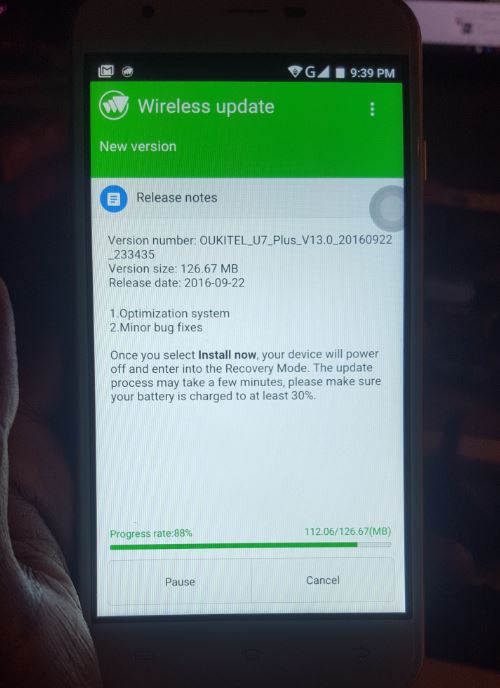 Video playback was good. Audio and Games ran smoothly. The display is OK at best but if you are accustomed to super sharp displays on higher end devices the new lower pixel screen becomes evident. It's not bad to ruin the experience but you do notice it.
Picture Quality and Camera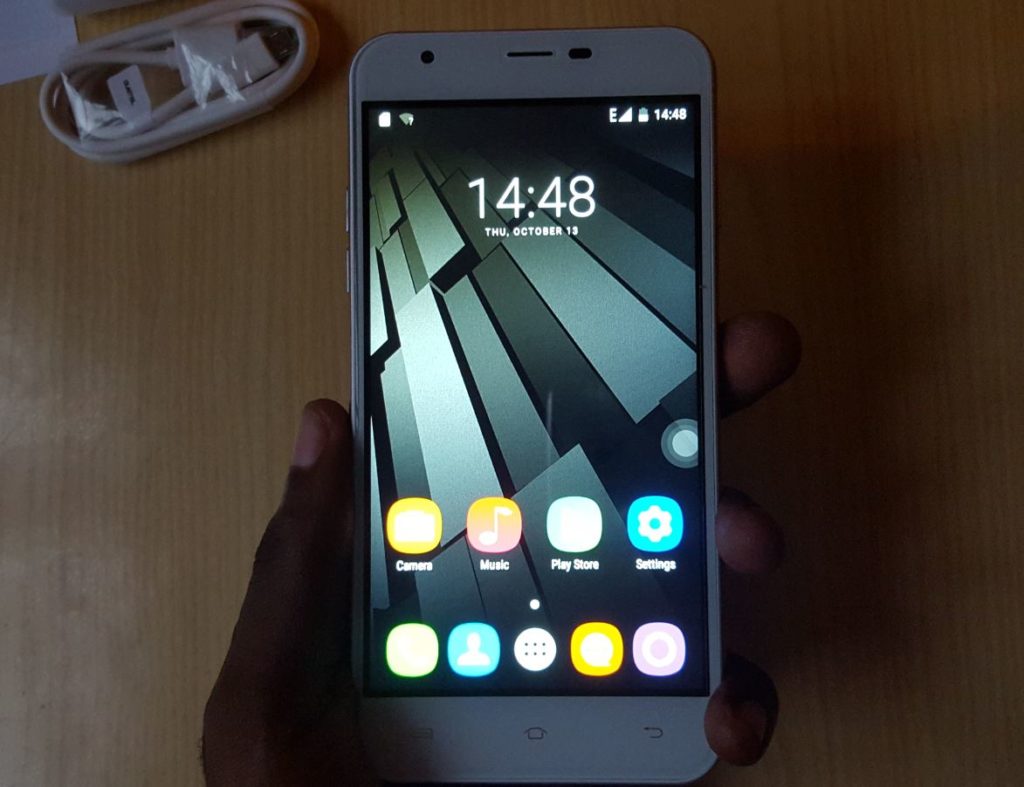 The front facing camera is 2 megapixels but interpolated and the rear is 8 MP but interpolated to be 13 MP. What that means is that due to upscaling the picture are made to look like an image that was taken by a higher megapixel camera. I was able to tell the difference. But that might have been the display. The images are OK but they are not as good as ones taken with a camera with the actual megapixel count the pictures are upscaled to. They are however better than normal. There is even LED flash which does a good job for low light photography.
Video recording is much like the pictures its OK and is clear but far from a picture quality from a higher end device.
Extras
You do get some cool extras that I have to mention that includes Radio,App lock,Backup and restore,wireless update, user manual on the device. The Android 6.0 also includes cool settings under the hood that makes the Android experience great.
You even have gesture support that allows you from the lock screen to open any app by making a special pattern gesture on the screen and that app will open.
Using special hand symbols when the camera is pointed at you will trigger a picture to be taken. I found that neat and a handy feature.
Why you should buy this:
Very affordable at under $100.
Comes with lots of features and Android 6.0
Has a finger print sensor and 4G.
Looks really nice.
Why you may skip this:
It's a bit heavy, does not comes with a case and out the box is a big laggy until you update which is not really a problem.
Conclusion
The Oukitel U7 Plus is OK out the box but after adding the bug fixes through update you end up with a very nice phone. Now I am not saying it will beat the best phone on the market but consider the under $100 price tag it really gives those $200 and higher phones a run for their money. I easily recommend this device and suggest that you buy it as you will get the ultimate bang for your buck. This device is packed full of features and has everything you could ever want in an Android device.Go ahead Buy it now.
Continue Reading we have even more Tips for you: