Today we would like to review the ThruNite C2 3400 mAh Compact Portable Charger which is a pint-sized portable battery bank that's highly portable and capable of keeping almost any modern power hungry smartphone charged while you are on the go and away from a wall outlet or power source. It can be tucked away in a pocket, handbag for the ladies or just about anywhere on your person. You will love the sleek metallic design and the simplistic controls that are very intuitive and it comes with some little extras too.
What inside the Box?
The ThruNite C2 model that I got comes in a small brown Box with the ThruNite logo on the top and sides. While I am at it I would like to thank ThruNite for sending me a sample unit for review. Also note to my readers that This will in no way influence my review and I will give this device a fair review just like any other device I have reviewed in the past.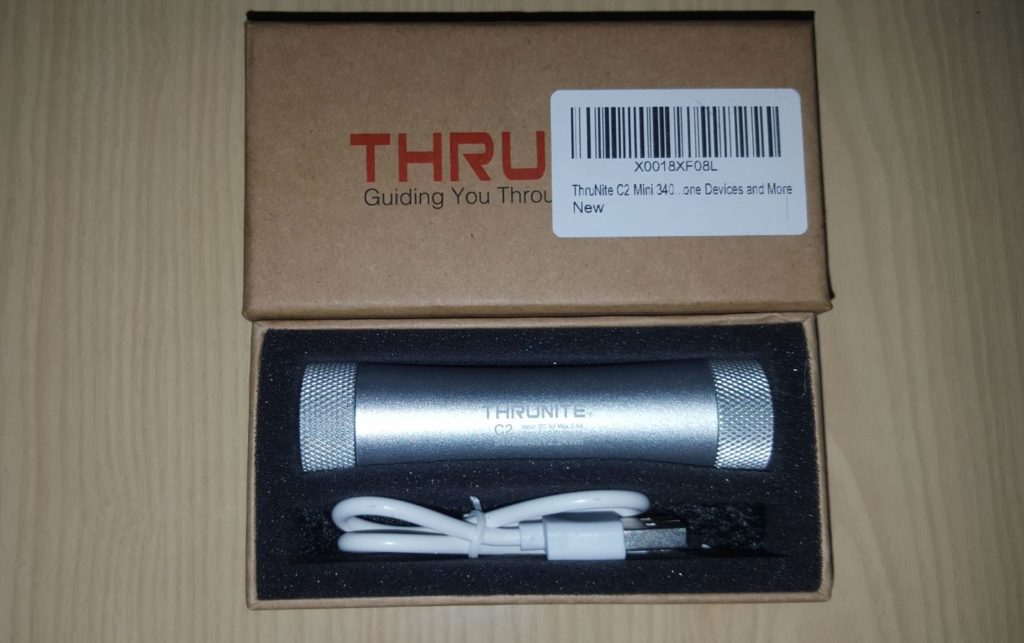 Inside that packaging you will find: The ThruNite C2 Mini Power Bank, user manual in various languages,A USB cable in white and a very cool mesh carrying case with a draw string. Everything is neatly packed and I must commend the designers for such attention to detail as the box is lined with Foam to make sure nothing gets scratched or damaged during delivery which is nice consideration. After all its the little things like these that really count.You can watch the unboxing video below.
Product Specifications
Input: DC 5V, Max 2.4A
Output: DC 5V, Max 3A
Material: AL T6061 aircraft aluminum body
Applicable Battery: ThruNite 3400mAh 18650 rechargeable Li-ion battery
Working Temperature: -20℃-40℃.
Size: 92.8mm(Length)*25mm(Width)
Weight: only 38g (excluding the battery)
ThruNite C2 Mini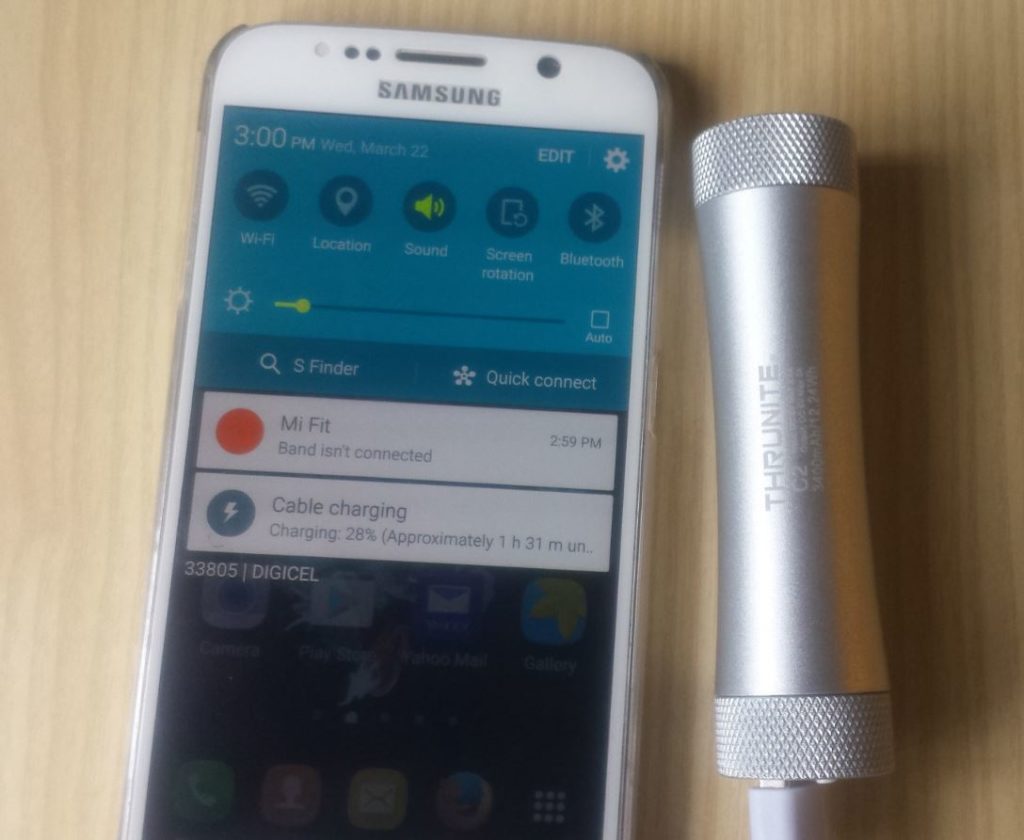 The first thing you will notice about the ThruNite C2 Mini portable charger out the box is how nice it feels, it looks small until you actually hold it in the hand and you find that there is a sturdy weight to it.The body is constructed from aircraft aluminum. The Battery bank itself has a nice silver finish and the ends have gritted surface for firm grip and so you can unscrew the base. The battery bank itself has a very nice capacity of 3400 mAh which when put into perspective would mean that you should be able to charge a Galaxy S6 with its 2550 mah battery easily or the Galaxy S7 has a nice 3000 mah.
Loving this product? You can
buy yours here
right now at a very good price.
So basically you should be able to charge any new or old smartphone at least once  seeing the Samsung Galaxy is basically the industry standard. Plus future Smartphones will work just fine so its future proof. The battery bank outputs a Max of 3A which should be more than enough for various gadgets and not only phones. It charges reasonably fast for a battery bank and the most interesting thing I like about the unit is that the Li-ion battery can easily be removed and eventually when the rechargeable battery gets old you can actually replace it and this will extend the life of this battery bank which is a feature you wont find on other battery banks.
Charging
Charging is very simple its a simple matter of understanding the LED notifications: Blue indicates a full charge, Red indicates the battery needs to be charged and purple is between the two. I love this implementation as its simple and you never have to guess what state your device is in from unclear LED notifications. I highlight this as I have a few battery banks and that stands out on a few of them as needing some work. The included USB cable is a bit on the short side but it gets the job done, you can charge your battery bank with a computer or a wall outlet using a standard charger. Simply reverse the USB cable for charging the unit or charging a device in case you are wondering where the charger or why one was not included.
The Mesh Casing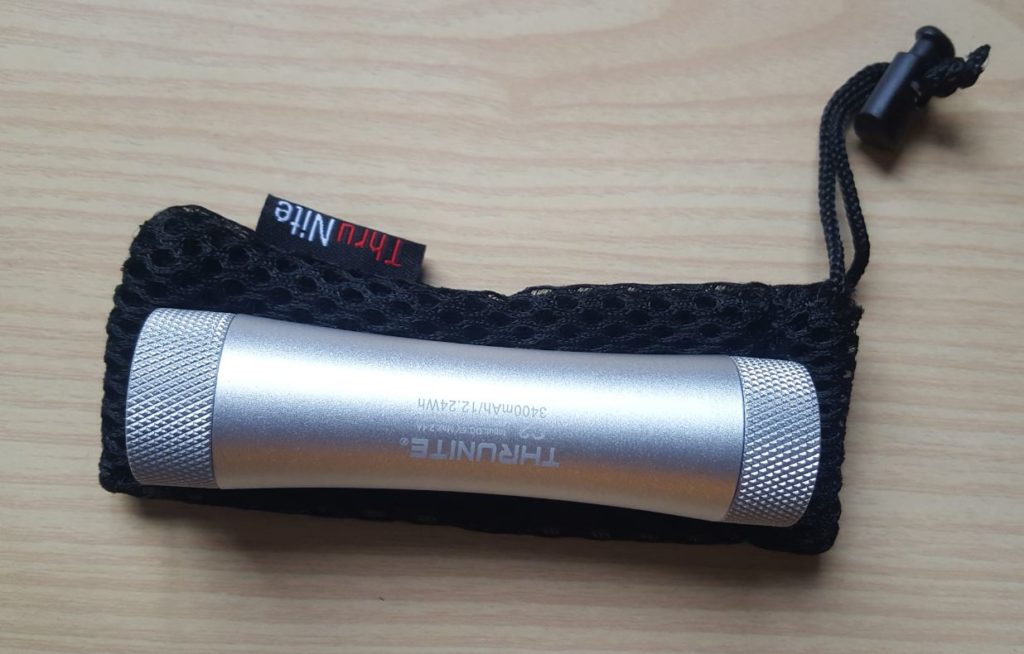 I love the Black mesh casing with the draw string, it makes what is a solid device now even more perfect as it protects your ThruNite C2 and makes it that easier to carry around. The case is not only for looks either as it really adds a cushioning to the device when inserted and you can feel it when touching the outer surface.
Why you should buy this:
1.Great Price.
2. Very Portable.
3.Very durable and will last a long time.
4. The battery is removable and replaceable which extends the life of this device.
5. Comes with some cool extras.
Why you may skip this?
The main reason you may skip this is the 3400 mAh capacity which is good to charge most devices once. But with devices like these mah is a swap between portability and a larger size for great mah capacity. So this is hardly a hindrance in a way as the main idea for getting this is the portability.
Where can I buy the ThruNite C2?
You can purchase the ThruNite C2 by Clicking here.
Overall Thoughts on this product
Overall I think the ThruNite C2 is a great product as you can see based on the design that time and effort was placed into its design which from a customer's point of view makes all the difference. When you get this product you can rest assured you are getting a solid product with great craftsmanship that worth the very reasonable price you will pay. Beside you loosing this thing isn't a problem as this is one of those product that will last for years, heck you might be passing this thing to your grand kids.
All jokes aside I love this thing as I find myself going for this over my larger 10,000 mah battery bank that's a hassle to carry around as I go through the door now I go for the ThruNite C2 as it's too easy not to carry with me. If the day is coming to an end and I am caught in a situation that I never thought I would have been with my battery going dead I simply take it out and I have a full charge that can last me an extra day. That's convenience you can't pay for normally which you will get in this product so I highly recommend you buy one right now.
Save
Save
Save
Save
Save
Save
Save
Save
Save
Continue Reading we have even more Tips for you: