The Samsung Galaxy S8 and S8+ has not been out for long but already there are reports of the first major issues already making its rounds. It seems that out the box some users are having a Red screen defect problem or Red tint issue with their device screens. This seems to be because some of the screens are not calibrated properly and as a result users are seeing a tint of red on their display that's very annoying when viewing content on your device.
Today we will be looking at how to fix the Galaxy S8 red screen tint defect to have your screen behaving as it should in no time.
The Issue:
The Display of the Galaxy S8 or S8+ will start to show a red tint to colors especially when looking at a pure white picture or background on the display. The screen will show a noticeable redness that will bleed through when there should not be and colors will look off as a result.
What causing the Red Tint?
Its seems that the red Tint on Galaxy S8 and S8+ devices is caused by a miss calibration of the screen. It is a simple enough issue that sometimes happens to devices and can be fixed fully with future software updates. As for now follow the instructions below to fix the issue manually.
How many Users are Affected?
This issue is isolated only to some users and is not wide-spread, so most likely if you are reading this article you have noticed the problem with your device and you are looking into how you can fix the issue. You will find a working solution below.
How to fix the Galaxy S8 RED SCREEN defect problem?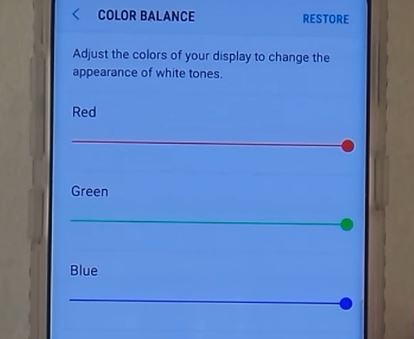 1.Go to settings.
2.Next select display and Screen mode.
3.Make sure adaptive display is selected.
4.Next Tap color Balance at the bottom.
5.You should have three sliders that control: Red, Green and Blue. Go ahead and turn the red slider all the way down and you can adjust the Green as you like. I find that you can keep the red all the way down or up just a bit and adjust the green as you like until the screen is displaying as it should in your eyes or as you like.
Final Thoughts
OK guys that's it, the recommendation is that we wait for a future software update that will fix this problem 100% or find the perfect settings balance as shown above to make the screen look normal. It's a annoying issue but not one that's impossible to fix. The above can also be used in others devices that have a similar issue once you know your way around Android and how to manipulate your device.
I do hope you found he article useful. Please take the time and share the article as well as well as leave a comment below. Also check out a few more of our articles below as well.