It's finally finished! The Galaxy S8 Review,it took some time but for you my readers I wanted to take the time to do it right. Meet the Samsung Galaxy S8, Samsung's best smartphone to date featuring all the bells and whistles you could ever want in a Smartphone. When you choose a Samsung Galaxy device its clear you are not one to compromise and you want the best of what Smartphone technology can deliver. And boy did Samsung deliver with this device.
If you missed it you can check out the unboxing of Galaxy S8 which was done in a separate article earlier. With that being said I want to make this review unique by touching on aspects of this phone others have not highlighted enough in their reviews as there are many hidden gems and over the top features you did not know you wanted that Samsung has wisely included in the S8.
The Infinity Display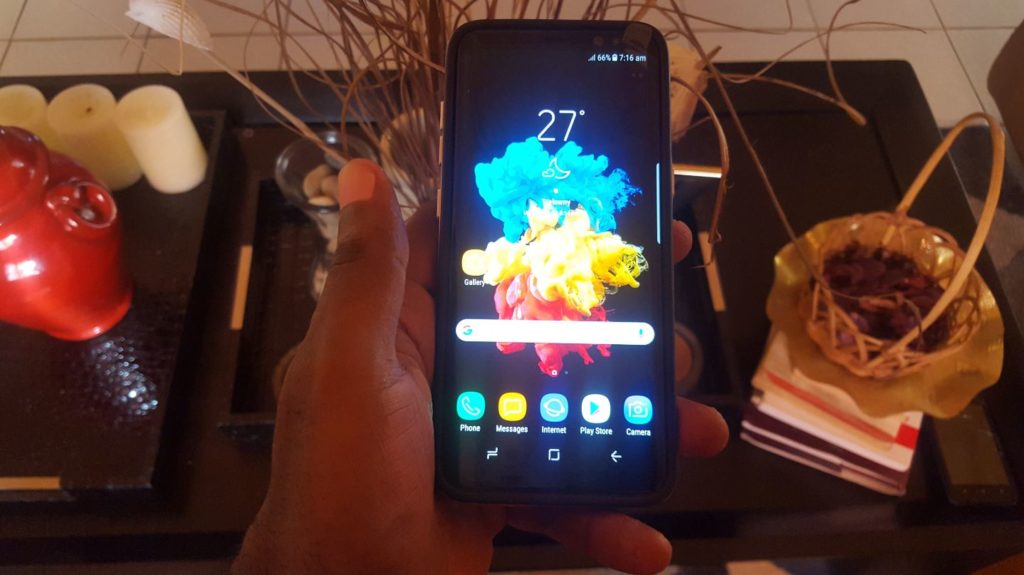 The first thing that will impress you about the S8 is the Infinity display which is so called as it has a 84% screen to body ratio. This makes front of the phone almost all screen, the first thing that also caught my eye is that Samsung also made the screen taller and due to the absence of bezels they were able to fit more screen in a compact space without making things much bigger which is a great feat in itself.
You will be blown away by how sharp the Super Amoled display is with its 1440 x 2960 pixels and 570 ppi makes everything more vivid. I literally can't get over how apps such as Instagram look on this thing, if you thought you were seeing your pictures before simply wait until you see them on the display that is the S8 (Drool).
Video Review:
Watch the Video review below by clicking play.
The Camera
The main back Camera with its 12 Mega Pixel f/1.7 sensor which is great at taking pictures in low light and takes your photography skills s to a whole other level when taken in ideal or less than ideal lighting conditions. When paired with the screen above pictures look really good and no detail is missed. Taking close up shots ended up displaying even the most minute details such as dust or dirt of small subjects or figures.
It's also next to impossible to mess up a shot as 99% of the time the Camera will take a fully focused and on point picture. I left from taking at least 3-4 pictures on my older device which I am coming from which is a Galaxy S6 to taking 1 picture each time, the Camera is that good. Auto focus takes a second and can refocus in another second when a new subject comes into frame. Also to think I was worried when Samsung reduced the Mega pixel count of the Camera. I can proudly attest that Mega pixels alone does not determine a good camera or picture quality.
I have never been one for selfies and I hardly ever used my front facing Camera on other devices. That's now over as the front Camera is just as good as the back and better than most other phones main Camera. Pictures are detailed and crisp. Also it's so good that you never have to ask someone to take a picture again as you can snap your self perfectly with it. With that being said selfies are no problem as well. The 8 MP front Camera is a welcomed addition to things, who knew.
I took the phone outside and did a bit of outdoor photography as you can see below with the picture samples and Close up shots were perfect as the camera zooms effortlessly in on targets for those close up shots.I was able to Capture nature in all its glory and cementing a single moment in time forever. I am loving the way the Camera makes a subject really stands out and pictures have a perfect balance of light and contrasts. Indoor photography is also very good as this Camera can do allot with very little light due to the improve f/1.7 of the lens that allows more light into the sensor.
Picture Gallery:
Do note pictures have been compressed to save space on this article and images without being zoomed or clicked on as shown should give you a good idea of the S8 Camera ability.
Sound Quality
The loud speakers are OK and produce loud enough sound to easily be heard clearly within comfortable listening range. Unless you are big on Audio you will love it but I find that while its OK it could be more powerful. The positioning is also bad as My finger always covers it up and muffle the sound. Especially the way I hold my phone instinctively due to the taller screen profile and I had to retain myself into holding the phone.
The AKG headphones are a nice premium addition this year and helps in offsetting the cost you pay for this device. Thank you Samsung for adding premium accessories that are of a high quality. I love the design of the AKG hear buds and that all the accessories come in black this year making them look very sleek.  The headphones perform very well and you should definitely hold on to them for enjoying your music.
Security:Iris and Fingerprint scanner
Many reviewers complain about the placement of the fingerprint sensor next to the Camera and while its true that it's a bad placement the sensor is forgettable and you can simply ignore it as the Iris scanner works like a dream and is more convenient. It takes seconds for the Iris scanner to scan your eyes and unlock the phone. It's so simple and intuitive you will wonder were was this feature all your life.
So unless you have a disability that prevents you from using the Iris scanner I suggest you use it and forget the fingerprint scanner or use it as a backup unlock method. I personally also find that while the placement of the fingerprint sensor is at a bad place with a few modifications to how you use your phone and retraining your muscle memory it can be fixed. I only dislike though the fact that the sensor is less accurate than my older device this may be to the placement or me not giving it time but that should be highlighted.
The Iris sensor for the most part was implemented flawlessly and is one of the main reason to get the S8. Minus a few early adopter bugs such as this one I reported on here that may occur with the Iris scanner and the sensors at the front of the phone you should have no issues.
Gaming and general Performance
Samsung has improved the TouchWiz or the Samsung UI significantly and lag is almost none existent. So if you are accustomed to installing a new launcher right off the bat you may want to give the new UI a chance. Android 7.0 meshes nicely with it and it runs buttery smooth. Settings have been given a total overall and things now are easier to find and you have tuns of bells and whistles to customize and change almost anything to your liking.
Gaming was very satisfying as I tested out Need for Speed No limits which has great Graphics and the phone handled it buttery smooth producing crisp Graphics and a very immersive Game play. One can only imagine later on when developers directly code Games for the new screen dimensions and capabilities. I also find even if Games don't support the new resolution or aspect ration of the Galaxy S8 you can force full screen and its hardly noticeable that its been forced. Even YouTube videos get the treatment that works really well.
Other Games also run well and better than the performance of past devices. The phone also does not run hot easy even after a solid gaming session. Samsung seems to have cooling and battery management on lock with this years smartphone.
Battery Life
I also must commend Samsung on its great battery technology. Seems they are taking no risks this time around as I notice the Galaxy S8 runs super cool even in situations where past phones would heat up excessively. The phone takes roughly 1 hour 35 minutes or so to charge from 5% battery using Fast charging which is very fast as it seems to be finished in less time,if you just want a quick power topup charging for a short 15-20 minutes gives significant charge fast.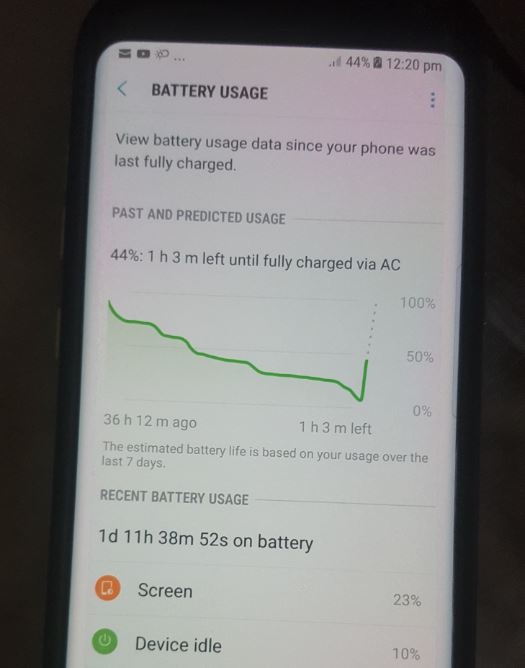 I was able to get a solid days use out of my device and the main drainer of the battery was the screen which gave me almost 5 hours of screen on time. I am really impressed with the performance of the 3000 mah battery and glad the battery safety issues are now behind Samsung. Also the management of the battery by the Samsung default maintenance apps is good. The system will maintain and mange apps so they don't drain battery and other resources constantly.
Through out the test period I also did not implement any power saving measures which could have been used to squeeze that extra performance out of the phone. But it's always great to know it's there in case you ever need it you can actually enable the feature.
64 GB Storage and RAM
Samsung started the base model of the Galaxy S8 with 64 GB of storage and that was a smart move as you are less likely to run out of space for all those cool pictures you will be taking along with videos. The storage is fast and works well and in case you run out of space you can get a MicoSD card up to 256 GB to extend the phones internal memory.
Forget about closing applications with 4GB of RAM as with the help of the Samsung management and maintenance systems in the background the RAM is manged efficiently as you can have a whole lot of applications loaded and waiting for you to call on them in a moment in memory. This makes multitasking one of the strong suits of Samsung Galaxy S8.  So use apps and switch between or have them all running at once ether way the phone will not skip a beat.
Price
This phone is by no means cheap but you do get what you pay for and more. I have found though that you can either go with the Galaxy S8 International Versions that come in at a better price which is basically the same device which is unlocked:
Or you can go with the Carrier branded devices or the US Version.
The choice is really yours which version you go with as both phones are the same.
Conclusion about the Galaxy S8
Should you buy the Galaxy S8? I can 100% say yes if you are in need of a new Smartphone and have the money this is the phone to own right now, it offers the best of features on the market. This is especially true if you are coming from a Galaxy S6 or older device as the technology has improved by leaps and bounds. RIP to the physical home button and welcome to the era of the Infinity display, we can truly now step into infinity and enjoy the immersive experience of more screen real estate that pulls us into the content we love to consume on social media and the internet in general.
I personally have no remorse about buying this phone and if I could do it all over again I would buy it once more. I am that impressed with what Samsung has produced for us this time around.
Why buy the Galaxy S8:
1. The Infinity Display is the best display.
2.The front Facing and Back Camera takes super beautiful pictures and takes perfect shots 99% of the time.
3.The Iris scanner is the future and its here now and works perfectly.
4. The base model all start at 64 GB of storage plus the Micros SDcard slot is back.
5.Lots of additional features too many to list them all of which you will need.
Why you may skip this?
1.The price is expensive. All things aside while it is expensive it's really worth it for the features you get so if you have the cash go for it.
2.If you have the Galaxy S7. If you have last years model upgrading is not a must. To me however the S8 outclasses the S7 in every way but there may be less merits for you coming from a closer generation than someone coming from an older device.