This tutorial is really cool for Galaxy S8 and S8 Plus owners as most of you may not realize that you can customize the  Edge Panel Tab or Handle. So not only can you add various edge panels but you can customize the look, feel, transparency and size of the tab that appears on the home screen which is really cool. So don't simply settle for the default style or position but make it your own by changing things to your liking.
What the Edge Panel or Edge Panel Tab?
All Samsung Galaxy Edge devices have a cool slide out panel known as Edge Panels the slide out once you swipe the edge tab or handle that's usually visible on the home screen of your phone on the upper right side. House inside are cool tools such as Peopel edge,Apps edge,Smart select and more. These tools are ready to be selected at a moments notice should you need them for quick access.
Customize the Edge Panel Tab
To do this:
1. Slide out the edge panel by swiping the edge tab or handle from the home screen.
2.One the Edge panel is out click the gear icon at the base to access settings. From here you can add extra edge panels or customize the current ones that are loaded but we are interested in another setting.
3. Tap on the three vertical dots in the upper right of the screen.Select handle settings.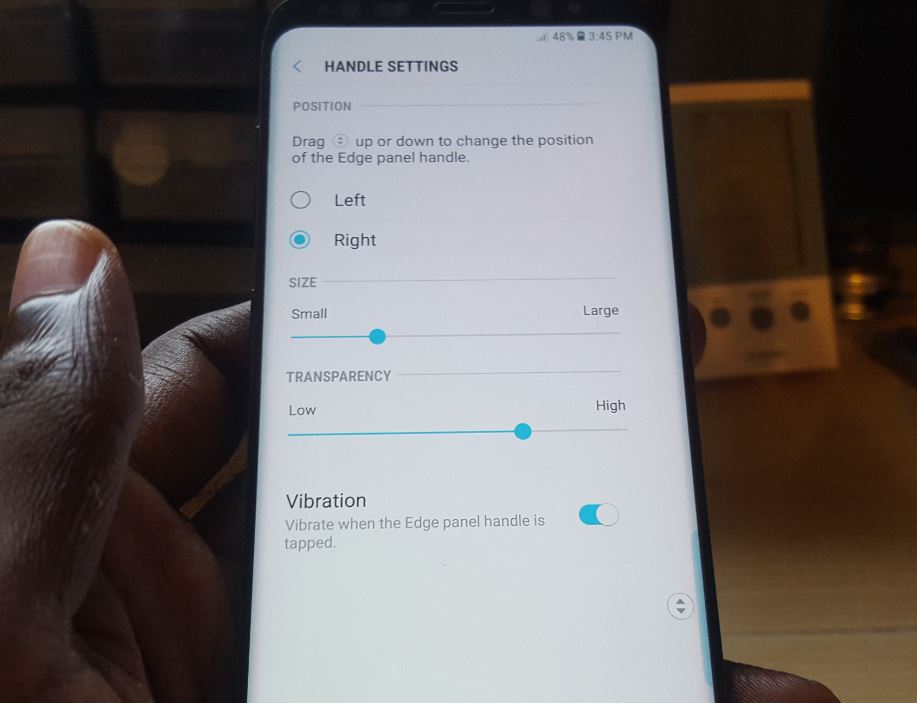 4.Now you can choose whether the tab appears on the right or left,the size of it, transparency, position on the side of the screen and whether it vibrates or not when pulled out.
Video Demonstration:
You can follow along reading the instructions above or watch the Video below on adjusting edge panels and see how its done step by step.Also consider Subscribing to my YouTube channel for regular reviews,fixes and updates.
What do you think?
Did you enjoy this tutorial or found it useful? better yet do you use edge panels ? answer these questions or anything else you may have on your mind below in the comments.I would love to hear from you my friend and do remember to share this article if you found it useful at all.