So it's another month and the Samsung Galaxy has rolled out another Software update or security patch to improve the Galaxy S8 and S8 plus. Guys always remember to manually check for updates from time to time as sometimes updates might be there and you don't get prompted as they are available. Also to every one else if you are getting updates slow don't worry it seems Samsung rolls them out on a fazed basis depending on where you are located globally.
The August 1 Update
The Update is dated as an August 1,2017 Android security Patch. The update itself is a whopping 600.35 MB in size. The version or build number is:G950FXXU1AQH3/G950F0XM1AQH3/G950FXXU1AQH3.According to the update log and observations the following changes have been made:
1.Improved Auto brightness control.
2.Improved PC connection stability.
3.Applied monthly Google security patches (Aug).
4.You have to double tap to hide or pin the navigation in place.
It also outlines as usual that security patch can include: Bug fixes,Stability improvements,new or enhanced features,improved performance as we have come to expect over time.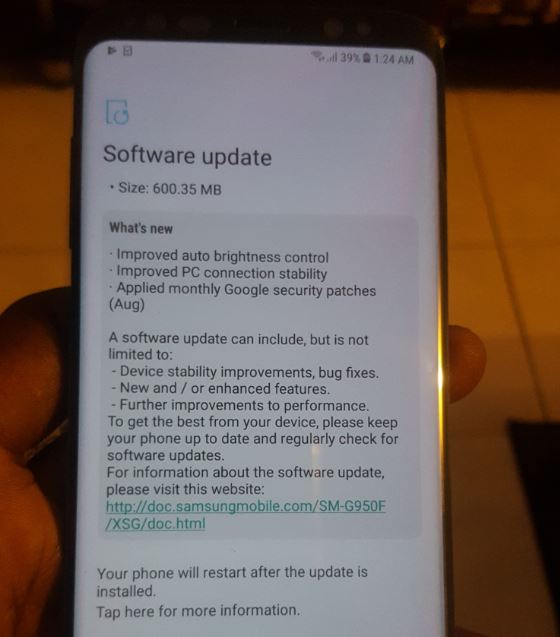 My thoughts on this Update
I am glad that we can look for monthly security patches as with the state of affairs with technology the last thing we want is a major security volubility in our devices to go un-patched for months and leave us exposed so thats a plus. I also love that auto brightness was updated as users were complaining that it was killing their batteries fast and it was best to set brightness manually.I will have to test if the new update curves that behavior.
I have yet to have the issue with my Iris Scanner and front facing camera crashing fixed yet by these updates which is disappointing at best. But we will see for future updates. I have not noticed any new features added to the Galaxy s8 unlike the last set of major updates. The PC connectivity update was great although I saw no issues when connecting my PC but who knows some people might have had some issues.The double tap to hide and pin the Navbar in place is a good idea as now you wont mistakenly turn the feature on or off unless you want.
Conclusion
Loving the relatively fast and timely security patches compared to the past years with Android and hoping for some more bug fixes with the Galaxy S8 or S8 Plus for the future seeing they get the same update. If you have any questions or comments please leave a message below and I will be glad to get back to you guys.