I recently got my hands on a RCA Cambio Tablet and decided to do a review of this 10 inches Windows 10 Tablet PC seeing the affordable price and that this could be your next Computer potentially. The first thing I like about this device is how relatively light weight it is compared to the traditional Laptop. It comes with a detachable keyboard and you do get a variety of inputs which is always nice to see.
The Features and Inputs:
On this RCA Cambio you will find a Touchscreen,32GB of storage memory,Intel Z3735 processor,Detachable tablet main portion,Microsoft Windows 10 OS. On the side of the device you will find: HDMI port,Mic,power port,head phone jack,USB 2.0 port,power button and dedicated Windows key.
The direct back has the RCA branding to the center and a loud-speaker to the left. You will also find a camera to the right along with reset and volume up and down buttons. The slot for the SD card to extend the devices memory which you will need is towards the side and back a bit. To the base is the clip on section for the Keyboard. There is also a sensor or another camera to the front of the device. This review applies to the RCA Cambio W101 V2,RCA W 1013 DK or other similar devices.
The Display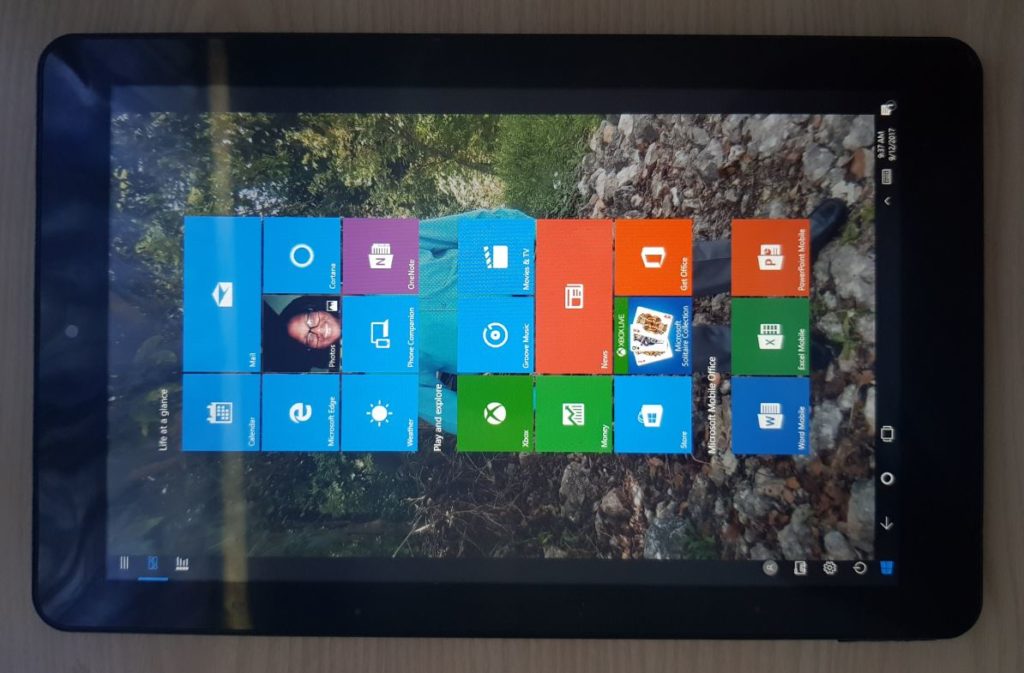 The display looks really nice and it has those traditional thick bezels to the side which are OK but you tend to notice them seeing everything is going bezel less.  The display is 10.1 inches which is a great viewing area for a device of this size.You can get yours in Black or Blue, I got the Black version with a nun glossy finish which is a bit of a fingerprint magnet.
Experience and Usage
I must say using the Tablet version of Windows feels strange yet familiar. I say this because the interface is very inviting if you have ever used Windows you already know where everything is,but you do get thrown off a bit because the Tablet version of Windows places everything in tiles. After about five (5) minutes or so though you should be good as the interface does grow on you fast. I was using the device like a pro and finding everything I needed just like on the desktop which is great.
The trick is to use your knowledge of using desktops while accepting this is a new device and things are a little bit different. Once you accept that it should be smooth sailing.With that out-of-the-way I soon realized that device like these are really great for listening Music and watching movies and playing simple Games but it's not so great for heavy-duty work or resource intensive applications. In fact its a bit tricky to do lots of tying and its nothing like on a full blown desktop or a laptop and you will have to make some major adjustments to do so. I am not saying its impossible but takes too much work.
The Battery life:
The manufacturer promises 6 hours battery life but I got more along 5 hours plus but this depends allot on what you are doing. Close enough in my test but that may just be me and I am sure it could possibly give the rated 6 hours. But overall you can get allot done on battery so that's not something to worry about on this device.
Video Overview and my Thoughts:
Should I buy this?
Should you buy this RCA Cambio? well it depends on what you want it for. If you want it for basic computer tasks such as listening music, watching movies and moderate to light spreadsheet and word processing and internet browsing go ahead. But if you use heavy-duty applications and do a lot of typing,spread sheets and do so in a time sensitive manner get a Laptop or something with a bit more power as this is not a power house device.
Get this for the style,portability and convenience and very little else. If you bear that in mind then you should be good.
Where to Buy:
You can purchase yours below.
Why Buy This device:
1.Great Price.
2.Very portable and light weight.
3.Great Battery life.
4.looks really nice and has a variety of input options.
5.Nice display and convenient if you are familiar with Windows already.
Why Skip this:
1.Its not very Powerful and only runs simple applications.
2.Not meant for hardcore Work like a high-end laptop or desktop.
If you have any comments or questions do ask them below and as always remember to share this article with a friend or Two.