So the guys over at ROMOSS where nice enough to send us a sample unit of their ROMOSS SE10 Power Bank for review. So in today's article I would like to look at this device and give you my honest review after using the Battery bank for a while.Please note that although I was given this sample for review this in no way influence my review as I will be stating both the good and bad of this device so you can make an informed decision.
The Packaging
I like the all black box that the product came in as it makes the device look sleek. The Box is also very small which maximizes space above all which I like. They did a solid job on packaging this product. Inside the packaging you will find: The ROMOSS SE10 Power bank, A carry mesh type bag with draw string, User manuals and  warranty, Micro USB charge cable and that's about it.
The ROMOSSS SE10 Battery Bank
The first thing you will notice about the ROMOSS SE10 Power bank is how dense it is, I mean this thing is weighty and you do notice that in the hand. It has capacity of 10000 mAh and can charge a Galaxy s8 about three (3) times with some power to spear. You can of course charge other devices as well that includes other smartphones, tablets and so on from Apple, Android and more.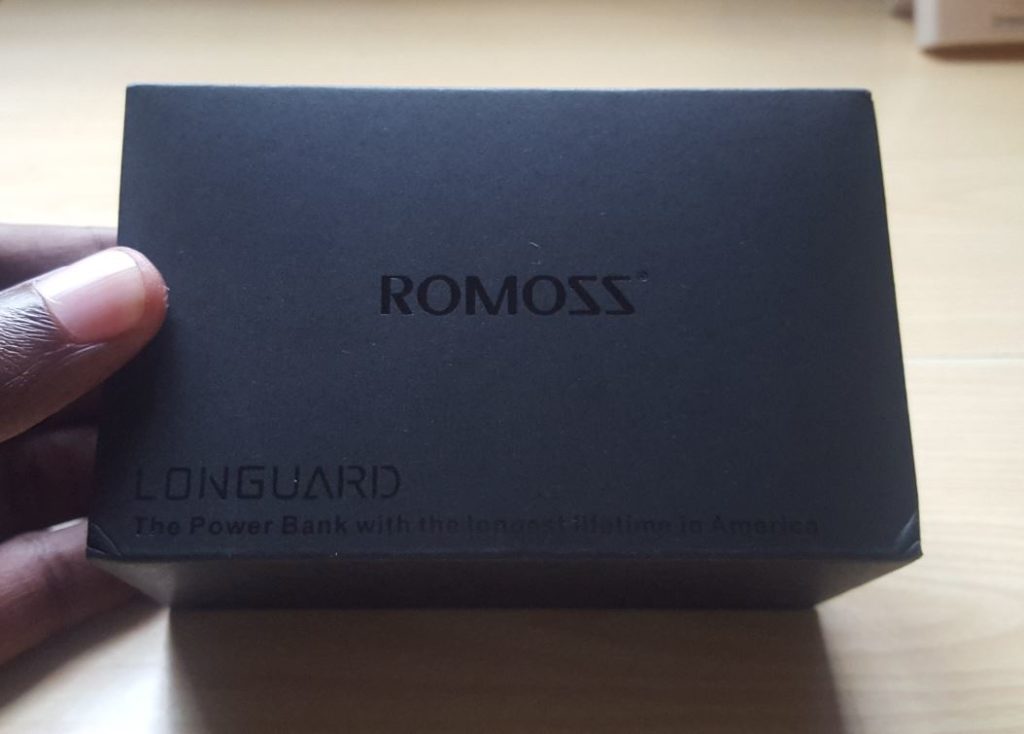 The casing of the ROMOSS SE10 is made of metal and it has a nice black finish, as you may know I have a thing for the black color schemes. I love the way the power button and charge indicator is integrated with the battery symbol for added effect. It looks really cool and carry's off the front of the device nicely. You have two ports for input which is new which includes a Micro USB port and USB type-c port too. There are two regular USB ports for output or charging. Both pots charge devices at regular speed but the battery bank does this intelligently regulating power so as to make sure your device is getting power at the correct voltage.
The battery bank charges easy you can do it at the wall or connect it to your computer.The USB ports have an output of dual 2.4A outputs for Max 4.8A and you can charge up to two device at the same time without any issue. The interface is also easy to read and understand at a glance as to what the LED power indicators mean even before you take up the manual that comes with the power bank out of the box. Do remember that you will need to charge the device out the box as it does not come with any charge and will need an initial charge before you can start enjoying it.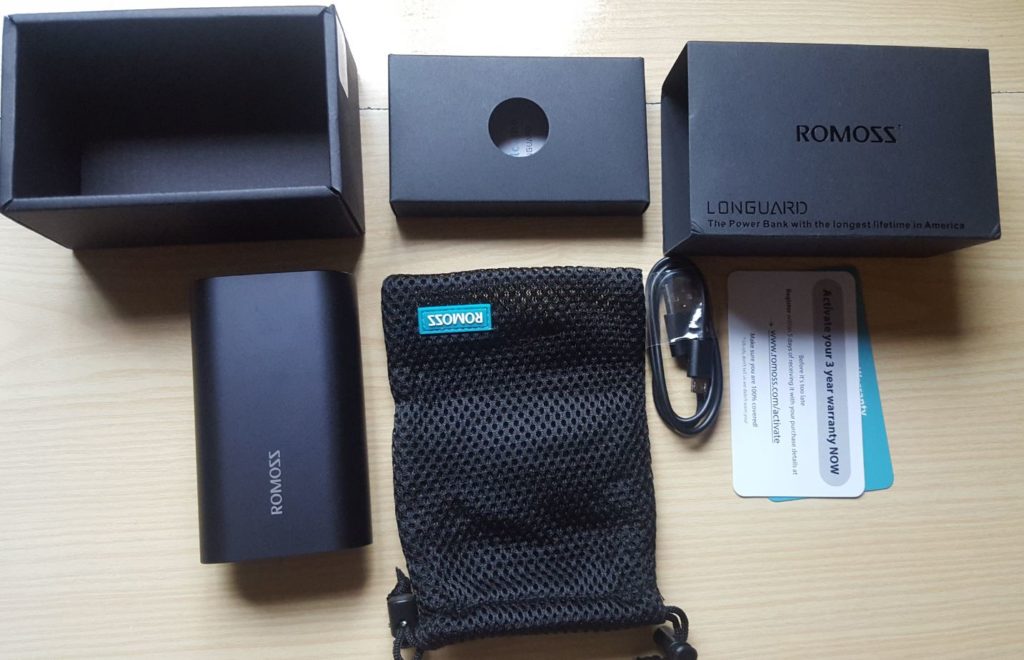 The Extra Weight!
It seems the extra weight of this device is because of the quality of the cells inside the battery bank which certified for over 1000 charging cycles which is 60% increase in lifespan over other power banks on the market. I can attest to this as other battery banks tend to have around 500 charging cycles or less. The battery technology in this power bank is the same as that in top electric cars. Most impressively the RAPID RECHARGE technology allows the battery bank to Fully recharged in 5 hours which is really impressive.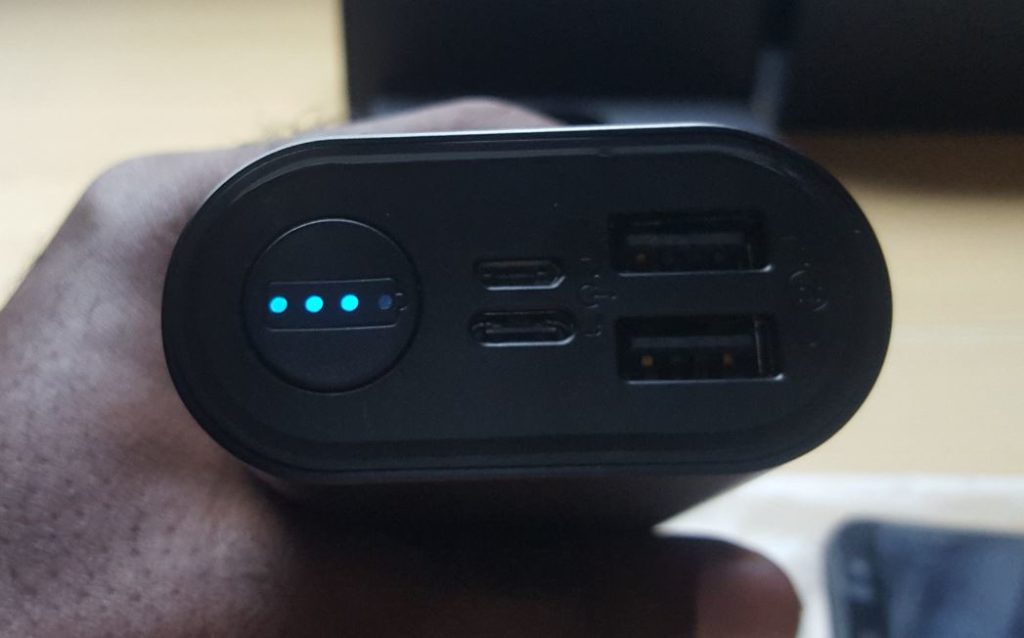 You also have  battery cell monitoring and 9 different built-in safeguards, which continually self-diagnoses itself and protects all electronics or gadgets you will connect to this device from overcharging, overheating, short circuits and excessive current conditions. I love these features as I don't have to think twice before connect a gadget for charging.
Video unboxing and Review:
Below you will find the video unboxing and review which you can watch to see and get a better sense of the product.
Why buy this Battery bank:
1.Very Good Price.
2.Fully charges in 5 hours which is fast.
3.Impressive 1000 charge cycles (Double that of some power banks).
4.Bunch of safety features built-in to protect your device.
5.Made with same battery technology of high-end electrical cars.
6.High charge capacity of 10,000 mAh.
why I should skip this:
1.Its has some weight to it but do note this may be because of the quality of the cells and the increased life span of 1000 charge cycles.
2. Does not have features such as true fast charging for supported devices. This is an extra and would be a nice feature if it had it.
My Thoughts on this Device
At first I was really intimidated by the weight of the ROMOSS SE10 power bank but once I read through the information on it and came to the conclusion that the reason the device was so heavy was because of the quality of the cells that hold the charge inside the battery bank which are very high quality as the ones in electric cars. Once I understood the fact and the impressive 1000 charge cycles the weight was not an issue when compared to the very good price of the battery bank.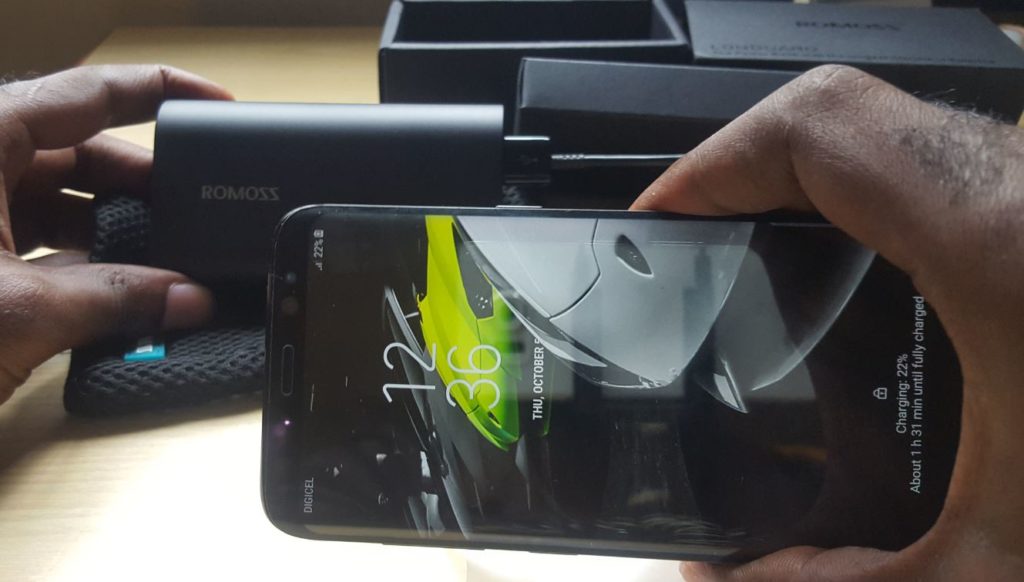 With the above out the way you can really appreciate the thought that goes int o the design and quality of this power bank as it charges very fast which is something I noticed right away after connecting the charger the first time. You can even get enough charge when on the go quickly which could save you later by charging your phone.The price also makes it all the more impressive and you should definitely give this product a chance and not take it at face value as the more I find out about the material and technology behind this battery Bank the more I love it.
Where to buy the ROMOSS SE10 Power Bank?
You can get yours below now.
So I hope I gave this review justice and you can now make an informed decision about the ROMOSS SE10. My advise is that you get it and don't look back,you practically cant loose with such a well thought out and well designed product. I am so excited to see what their next model will be like as they improve on things.
Continue Reading we have even more Tips for you: