So it's finally here the Galaxy S8 Android 8.0 Oreo official update and it can't be soon enough. So I have been anticipating the Android 8.0 Oreo update for my Samsung Galaxy S8 for a while now and in March that long wait was rewarded as I got the update and so far I am loving the improvements. A lot of small and large improvements have been made and my hope is to actually high light them here in this article, I will do my best to be as thorough as possible as it relates to the most important improvements.
Galaxy S8 Android 8.0 Oreo official update
The Android 8.0 update is a whopping 1378.50 MB and also comes with Samsung Experience 9.0 update which changes the overall feel of the device and performance.  Before my device was running Android 7.0 or Nougat which was getting timely updates but the transition to Android Oreo was well appreciated. This update should also be out or rolling out to the Galaxy S8 Plus and other devices soon as well.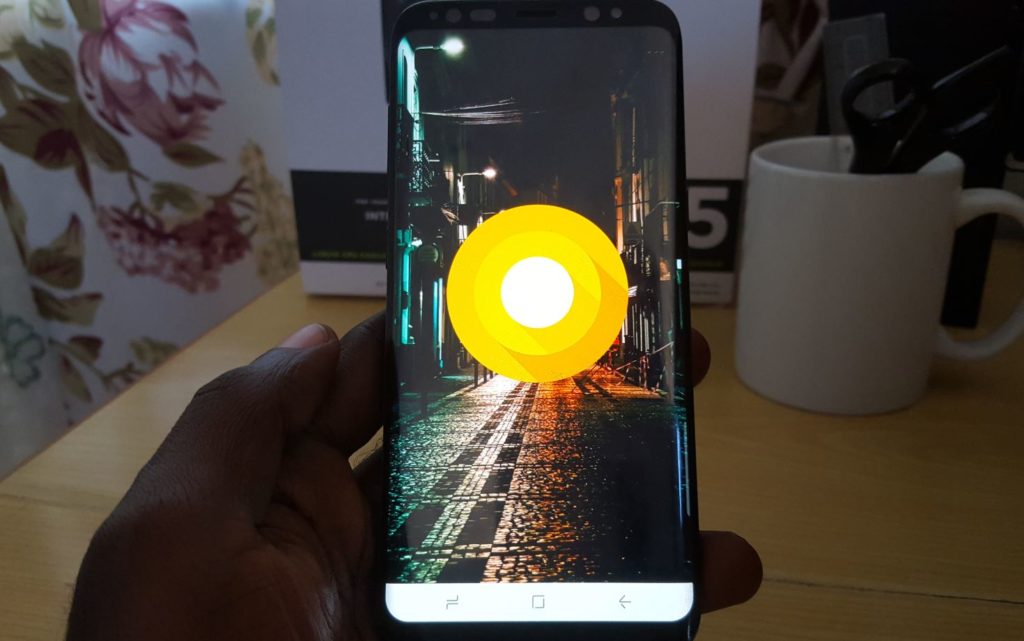 Video Tutorial:
Watch the video below to see exactly what I am talking about.
Whats new?
So here are some of the major changes and improvements I have notices so far from updating my Galaxy S8 which are noted below or you can watch the video above to see what I mean.
1.Sharper Icons and Text: The first thing you will notice is that some main icons have been given a sharper maker over and text. This is very evident in the Gallery app which looks sharper and has a better color compared to he previous one. Other noticeable edits have also been made to popular icons that the keen eye will notice.
2.Look and feel of the Notification Tray,badges and Toggles: Changes have also been made to the Quick toggles in the Notification tray area.The most noticeable however which is one of the major changes is the way Badges and Notification Icons work. If you clear a message in the notification area it will also clear the notification badge on the app which helps allot with notification management.
Also you can enable added features in Badges that allows you to see new notifications on long pressing an app that has a notification Badge. You can also clear notification from said area easily.
3.New Settings and Layout: If you go into settings thing will look familiar for the most part but if you really dig down into them deep you will find that things have changed such as in the Layout for about device, Added options for user profile within settings.
Cool features such as dual messenger is also here and allows flexibility in managing multiple accounts while using one device which some users should find really handy.
4.Gallery update: A bunch of new settings have been added to the gallery and this can be accessed from viewing any picture on your device. You will see the new settings beneath each picture. These options allow you to edit your pictures quickly versus diving into any menus to find the same options as in the past.
5.New Samsung Keyboard: Samsung decided to give the beloved Samsung keyboard a refresh which looks really nice. No more are the emojis located at the bottom of the keyboard but they are now on top with other new features such as access to the clipboard, new stickers and more.
6.Apps Edge Makeover: Samsung gave the Apps edge a makeover and it looks much sharper and catching to the eye, especially in the transparency of the tabs.
7.Always on Display: The always on display has been given an update and improvements as well. There are new clock faces and other small improvements to make it more suitable for the end-user.
Other Features:
The new improvements are too numerous to mention every one but other improvements of note to watch out for include: Improved Biometrics for security,Performance improvements as background apps and services are limited to save battery life,Edge lighting effects,Better management of your Samsung account,manage Samsung cloud,Improvements for Samsung DeX,Bluetooth Audio updates and more.
Final Thoughts
If you have anything to add or you would just like to ask a question then please do so below in the comments. So that's it for the Galaxy S8 Android 8.0 Oreo official update please share this article and do check out even a few more of our articles and other consent.