So today I have an extra special review in the form of a Light bulb Camera, yes I know really secretive tech will be the focus today. Thanks to the Alfawise team for sending a review sample of their WiFi light bulb camera in for review. I will be going into detail on the device below as reviewed to share my experience with the Technology.
Alfawise Light bulb Camera
The Alfawise Light bulb Camera really looks like a genuine LED light bulb you would pick up at a store. It Produces light but there are a few extras built-in such as a Camera, night vision, Speakers, WiFi support and so on.
The camera itself is at the base of the bulb with lights been produced from the sides of the device. Don't worry though as when the Bulb is on you can't see anything such as the cameras. When it's off it looks like a fancy LED and nothing else. Who would suspect there is a security camera in a light bulb, well not me until now.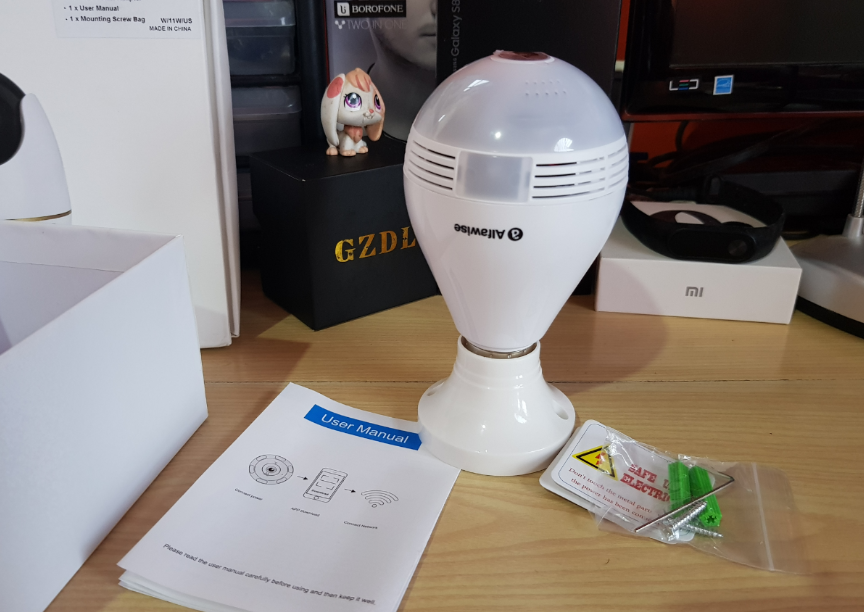 Setup Process
Setup was very easy, screw the bulb in flick a switch and download the app, after which I connected to the light bulb Camera and configured every. Features of the Smart security camera Bulb was easy to control from here. Also you will need a MicroSD card that's not included a max of 64GB is supported.
You can ether screw the bulb into a traditional socket or use the base that came with the Bulb Camera and mount it at a convenient place of your choice. I think this was a great addition to have as it really add flexibility to things.You also get mounting screws and a nice guide in the box to help you out with everything.
Camera Quality
The Camera gives a Panoramic 360 view of the surroundings in which its placed. It can cover a large room easily. I love that the panoramic view which may take some time to get used to by some users does a very good job of capturing everything in a big space much like a bird's eye view.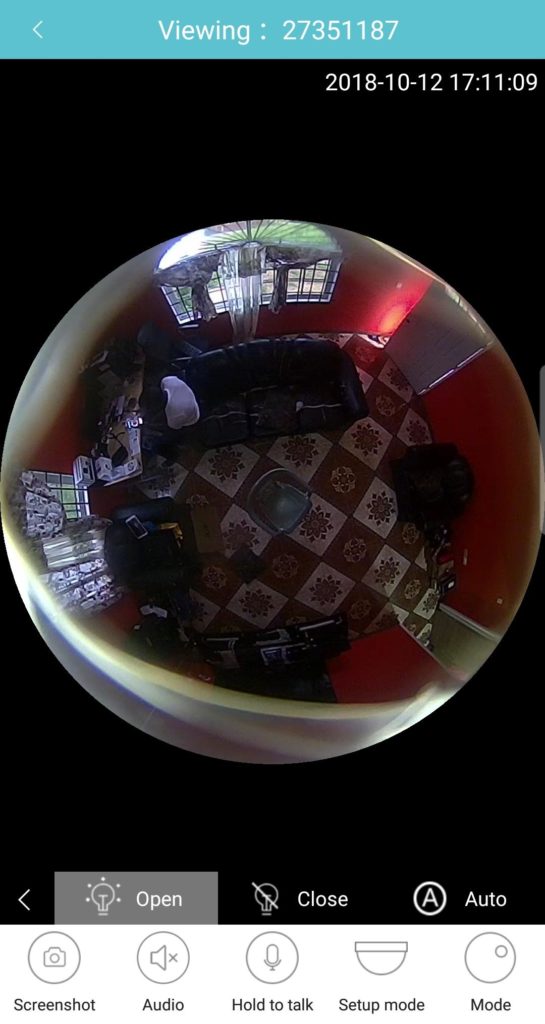 The picture Quality is also HD, not super high-resolution but enough to easily identify people, objects and so on. I also love that you can cycle through several modes to find one that best suits you.Camera aside the bulb does produce light but I really wish it was brighter as the light is dim and not adjustable, the manufacturers may want to really adjust that as for a larger room this would be a definite problem.
Audio Quality
I love the Audio feature that allows you to speak and to hear it come through the bulb. I can see where this may be able to scare off someone in some situations when you think of it.
I also love the built-in alarm it can be clearly heard inside, but not so much outside if your apartment has thick walls. If its outside the sound would carry better although this bulb is meant for indoor usage. I did have some audio feedback on my unit though which I guess could be a bug that would need fixing or it could be because I was in the same room which generated a feedback loop or sorts but that's just a guess.
Remote Features
The remote features requires that the Light bulb camera be connected to your WiFi network and then you could be anywhere in the work and keep an eye as to what is taking place back home. You can turn the lights on or off and any of the other Features such as Alarm function.
My thoughts
I really love the Alfawise Light bulb Camera, reason being that it's the perfect hidden camera that no one would suspect. Thieves may break in and vandalize your main security camera but they would not suspect a bulb to have a camera.
I also love the alarm system that's built into the bulb that can really scare away a potential thief and the best part is that you can even speak to someone at a distance over the bulb which can have many applications. The only two issues I have is that I really wish the light from the bulb was bright or adjustable and that the audio feedback issue would be fixed otherwise this is a really solid product that I can't hate.
Hopefully with future firmware updates some of the bugs can be ironed out to have an even better product. Until then I have not found anything to really break this handy product as I will be deploying it around the house at the best possible location to take advantage of its strengths and that will minimize the weaknesses.
Buy Yours Now:
So you can purchase your Alfawise Light Bulb Camera here On the Gearbest website.
Why you should buy this product?
1.Great Panoramic Camera.
2.Two way Mic.
3.Alarm Function.
4.Remote control of light while being away from home.
5.Best hidden Camera that looks like a bulb that no one would suspect including the bad guys.
6.Easy to setup and use out the box.
Why Skip this
1.The Bulb could be brighter especially for larger rooms.
2.Audio feedback under some conditions.
If you love the review or have questions don't be shy and ask away in the comments as I would love to talk with you.
Continue Reading we have even more Tips for you: