So if you have a Acer Aspire E15 then this guide will show you How to Perform a Hard Drive Replacement. This could be a Acer Aspire E15 SSD upgrade guide or just a regular upgrade as well.
As a bonus we also show you how to upgrade the RAM, check them or replace them all together. So follow along as we show you to do all this.
What Devices does this guide apply to?
This guide applies to the Acer aspire in General especially Laptops in the Acer Aspire E15 line of Laptops. The model used for the demonstration is the Acer Aspire E15 ES-576-392H.
You can use this for upgrading or replacing your Hard drive with another Hard drive or a SSD. Additionally we show you how to change, upgrade or clean your RAM.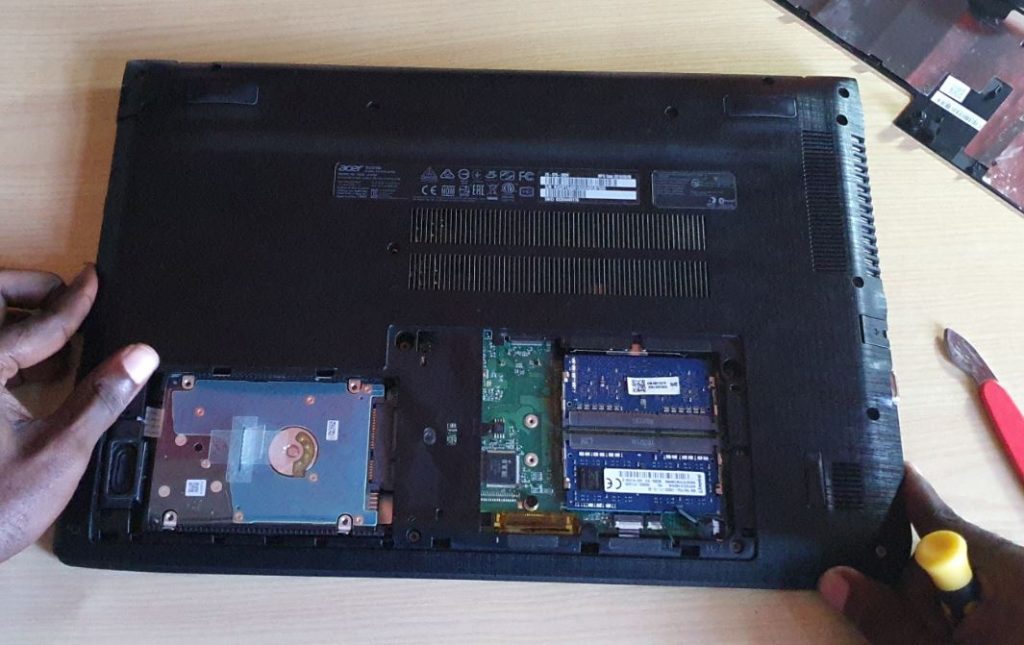 Acer Aspire E15 Hard Drive Replacement
So the easy way to learn How to do this would be to watch our video below or continue reading:
1.Make sure the Laptop is off and unplugged from the wall outlet.
2.Turn the Laptop over and find the panel on the back.
3.The panel is held in place by three screws. Go ahead and remove them.
4.Pluck and remove the back compartment.
5.To remove the Hard drive look for any screws that may hold in in place and slide the drive back and remove the Hard drive.
Replacing the Hard Drive
1.To replace the drive remove the cradle on both sides by removing the screws.
2.Place the cradle on the New drive or SSD.
3.Replace the drive and slide it back in place.
4.Replace the back panel and screws.
Note:If its a new SSD or Hard Drive remember you will need to reinstall Windows.
Replacing or Upgrading RAM
The RAM slots are next to the Hard Drive.
1.Press the metal lever on both sides of the RAM.
2.Remove the RAM. From here clean the slot with canned air or brush clean. Replace or upgrade the RAM.
Remember when upgrading RAM the upgrade is limited by the Max RAM size supported per slot. Also remember which slot should be supported first.
3.Close the panel and replace screws.
For the full disassembly video click here.
Before you Go
Before you go please comment below and share this article on Acer Aspire E15 Hard Drive Replacement. I would also appreciate if you could check out more of our content.