Smart Home technologies are revolutionizing the way we do Home automation. By purchasing a few key gadgets we can tie them all in with our smart virtual assistants such as Alexa from Amazon or others and have a home of the future today.
That future is here now with a Gosund Smart Socket. Which is a mini smart socket that you can buy for a very affordable price and install within your house easy.
Best of all you can control it with or without a virtual assistant.Your smartphone will easily control the switch at the click of a button.
The Gosund Smart Socket will make Home automation really easy and start you out on the path to full modern smart home easy and you can do it yourself. Thank the team for sending over a review unit to look at and test.
What you Get?
The Gosund Smart Socket team includes with their product a variety of options. I was able to test the Mini Smart socket set that comes with four (4) sockets and a included user manual that runs you through setup.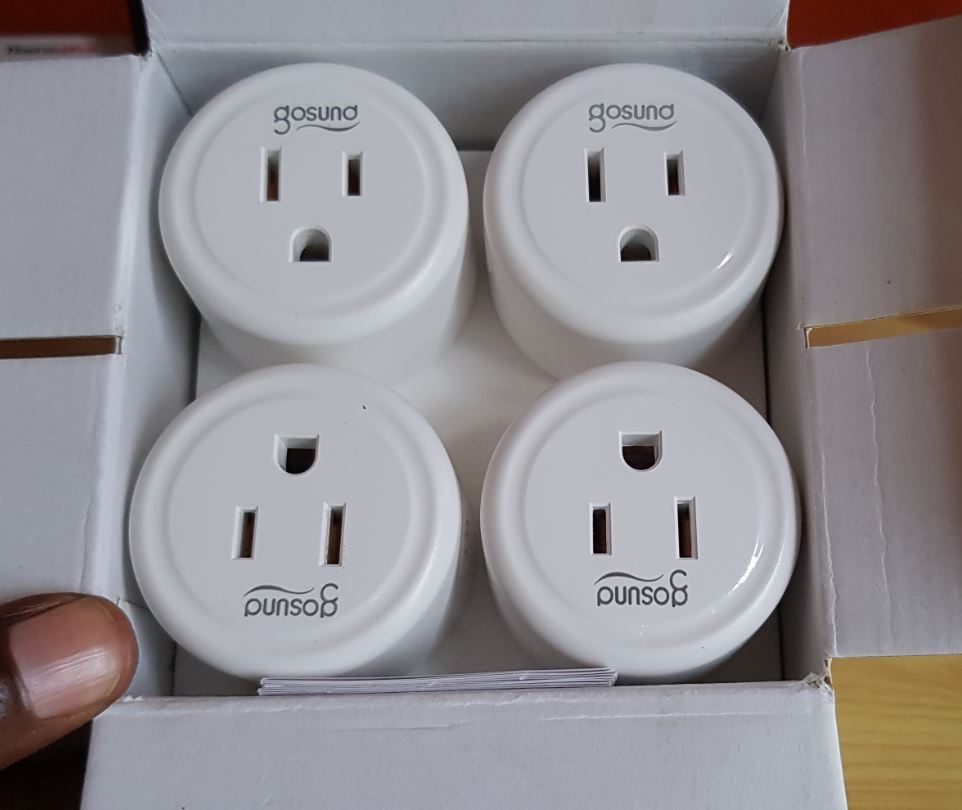 You can also get a set with one, two or more sockets to get started with. The box also comes with all you need including QR codes with links to the apps you will need and detailed product information which is really handy for those who want to jump right into things without necessarily reading the guide.
Everything is clearly written and includes handy pictures so you can follow along and get started in as little time as possible.
Features of this Product:
This Gosund Smart Socket has the following features.
Works with Alexa and other virtual Assistants.
Works with Android 4.4 or above and IOS 8 or above.
Turn Electronics on and off easily remotely.
Set power schedules for appliances with custom times for on/off.
Housing made of Flame Resistant material.
The Gosund Smart Socket
The sockets themselves come with a plastic covering around the sockets that's easily removed. The Gosund Smart Socket model here was the Gosund Smart Socket WP3.
I love that's it made from a flame resistant material. Its always great when a company puts safety first. Setup was easy and the instructions clear and to the point.
I was able to easily connect all four sockets. I used the smart life app to tie the smart sockets together.With the touch of a button I was able to switch stuff on or off or even schedule a on/off times.
Video Review and Unboxing
Watch the video unboxing and review of the Gosund Smart Socket.
Cool Stuff you can do with your Smart Switch
One of the coolest things I can do with my Gosund Smart Socket is connect my TV and cable box. The TV and cable box though must have the ability to power on in the last state they were to work.
So I simply connected the switch and with the press of a button I can turn on the TV from anywhere in the world. This is great for simulating being home when I am not.
I also connected my desktop lamp and security camera system. I have them all labeled in the app.
If I had a virtual Assistant such as Amazon Alexa I could pair the Assistant to the App and control everything by voice commands. This feature is optional though and you can fully enjoy everything just using your smartphone.
Conclusion
The Gosund Smart Socket is the ideal place to get started with Smart Home automation. Its simple enough that you can integrate regular devices and make them smart.
Its so much fun being able to turn stuff off with the tap of a button or stay from anywhere in the world and turn on anything. It even adds a layer of security as no one will be able to tell when you are away from home.
This can be achieved by turning lights and appliances on and off as if you are actually home. which other gadget you know can add such functionality to stuff you already own?
With all that being said this is one of the best affordable gadgets you can purchase today and be smack in the middle of smart Home technology.As you go along you can also add more and more gadgets to make your home even smarter.
Where to Buy
You can buy yours below.
Why Buy this Product?
1.Great price for what you get.
2.Easy setup and instillation.
3.Constructed from Fire resistant material.
4. Great addition or starter kit for smart Home setup.
5.Remote access to turn devices on or off from anywhere in the world.
6.Integrate with Alexa and other smart assistants for full control.
So if you have any questions regarding Gosund Smart Socket I can answer them so ask them below and I will get back to you.