So I finally put on my big boy pants and bit the bullet on the purchase and got myself a iPhone 11. If you know anything about me its that I do review allot of tech Gadgets.
But over the years I had turned my attention to Android mainly as my main phone. I do use Apple device and have them from time to time. But with the growth of the YouTube channel and this website I decided to get one.
Well I went with the iPhone 11 64 GB in Black. You know I had to represent that Black.
I must say that in the years that I have not owned a iPhone allot has changed and now coming back to the ecosystem and looking at everything through fresh eyes does feel great. This is my review of the iPhone 11.
The main Specifications
6.1‑inch (diagonal) Liquid Retina IPS LCD capacitive touchscreen (79% screen-to-body ratio).
Resolution: 828 x 1792 pixels, 19.5:9 ratio.
Rated IP68 (maximum depth of 2 meters up to 30 minutes) under IEC standard 60529
Dual 12MP Ultra Wide and Wide cameras
4K video recording at 24 fps, 30 fps, or 60 fps
Dual SIM (nano-SIM and eSIM)
Weight 194 g (6.84 oz)
4Gb RAM
Battery Non-removable Li-Ion 3110 mAh battery (11.91 Wh)
Available Colors: Black, Green, Yellow, Purple, Red, White
OS: iOS 13, upgradable to iOS 13.3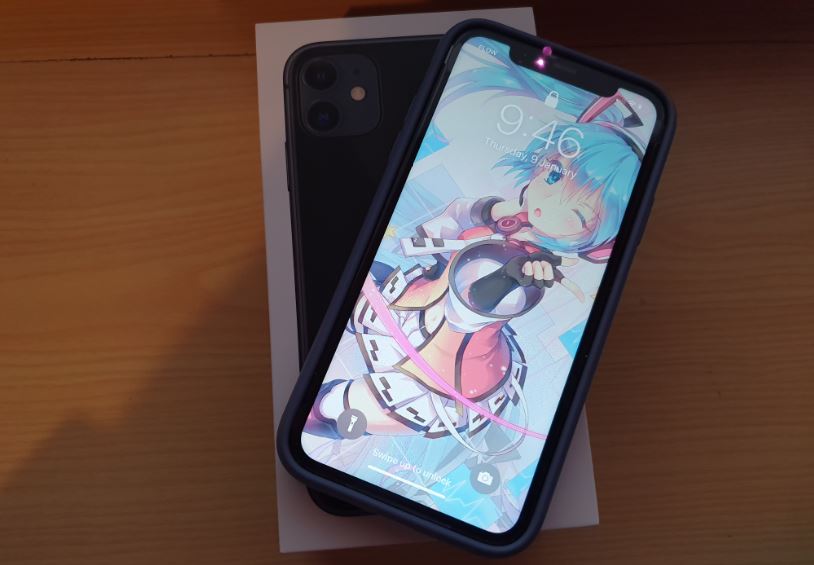 These are not all the specs but the main ones right off the bat.
What in the Box?
Why tell you what in the box when I can show you. Check out the unboxing and see it all for yourself in detail.
Build Quality
The iPhone 11 is made out of Aluminum and glass. The Glass back makes for a fingerprint magnet and you will spend most of your time cleaning it unless you get a proper case.
The front as well offers a very hard glass and again I would not put it to the test unless you want small nicks and scratches. With that being said its a good idea to get a screen protector as well.
Overall this device stays true to Apples known build quality and attention to detail as its a very nice device to look at and feels like a polished piece of marble in hand.
The various color options as well really shine through and set it apart from last years devices.
The Cameras
The main draw of the iPhone 11 is the additions of the Cameras being 12 MP both front and back there is no compromising at all. The addition of the wide Angle lens adds a new dimension to the photo taking never seen before on Apple devices.
I love the quality of the pictures as they are true to life and very accurate. I also love the impressive stabilization when shooting video and the quality of the end result.
The usual features are all there especially portrait Mode, Animoji's and Memoji to name a few.
The Software
The software is what keep Apple fans coming back and IOS 13 is better than ever and as normal, familiar. Its as if you never left if you have ever used a Apple device or Switched camps for a while.
Updates also serve to really boost and refine your device like fine wine as it ages. I love the tap to wake or simply rise your phone to wake the display. Face ID is faster than ever and can really make it seem as if your phone is not even locked, until someone other than you try to access it.
Dark mode as a part of IOS 13 also makes things easier on your eyes at night. Also love that more and more Apps such as Instagram are all integrating dark mode as well.
Its easier than ever to control as well privacy and your data on a app by app basis. This is very important considering privacy concerns and leaked data going into 2020.
Video Review:
Check out my review of the this great device after using it as my daily device for some time now.
My Experience
Its been a while since I have owned a Apple device and while I use them from time to time. Its really great returning and seeing all that has changed. The same could also be said about someone that owns a iPhone 7,8 or one of those older devices.
Its time to upgrade and see how much things have changed. Its simply mind blowing. Also the iPhone 11 is the perfect price point and bring with everything especially in performance that the other devices in the iPhone 11 has minus a few compromises here and there.
Compromises such as the 828 or 720P resolution screen, A little less RAM, No fast charger in the box, One less Camera, Greater Quality display than LCD, Smaller bezels and so on.
If you look away from what you are missing out on and see what you get, you will realize it really does not matter. The iPhone 11 is a killer device that for Apple is equivalent to having the best of both worlds.Also the battery can easily last a day plus based on usage.
Conclusion
Should You get this iPhone? without a doubt yes. Why you may ask? well you wont need to totally break the bank and if you been holding out for some time this is the device you were waiting for.
Go ahead and get it and while you are at it be sure to also pick up a case and Screen protector. The iPhone 11 hits the sweet spot of affordability, features and quality making it potentially this years best selling iPhone.
Buy it Now:
Get yours in the link below
Why you want the iPhone 11?
1.Great Performance.
2.Solid Price for a Apple device.
3.Beautiful color options this year.
4.Wide angle lens.
5.Better Battery life.
6.Great picture quality.
Why Skip it?
1. You definitely need a better screen.
2.You cant better those bezels and lower screen resolution.
3.You don't mind spending the extra cash to get the best.
Sound off in the comments and tell me why you like the iPhone 11 over Apples other offerings.
Continue Reading we have even more Tips for you: