So this will be my review of the X-Dragon 34000 mAh Solar Power Bank. I have owned the older model of this Power bank and it has served me well.
When I got the chance to review the newest model I was so elated. Knowing the product personally means I could see where the device had improved and if X-Dragon has learned anything over the years.
This is my review of this unit and I do hope you enjoy the review.
What You get?
Out the box you do get the 34000 mAh Power bank wrapped in protective foam bag. A User manual, a string or harness with leather like clasp for holding and finally a Micro USB charging cable.
Everything come sin a brown box with the X-Dragon logo and name. The Power bank is very dense which is to be expected from the 34000 mAh of power that it can store.
Features of the X-Dragon 34000 mAh Solar Power Bank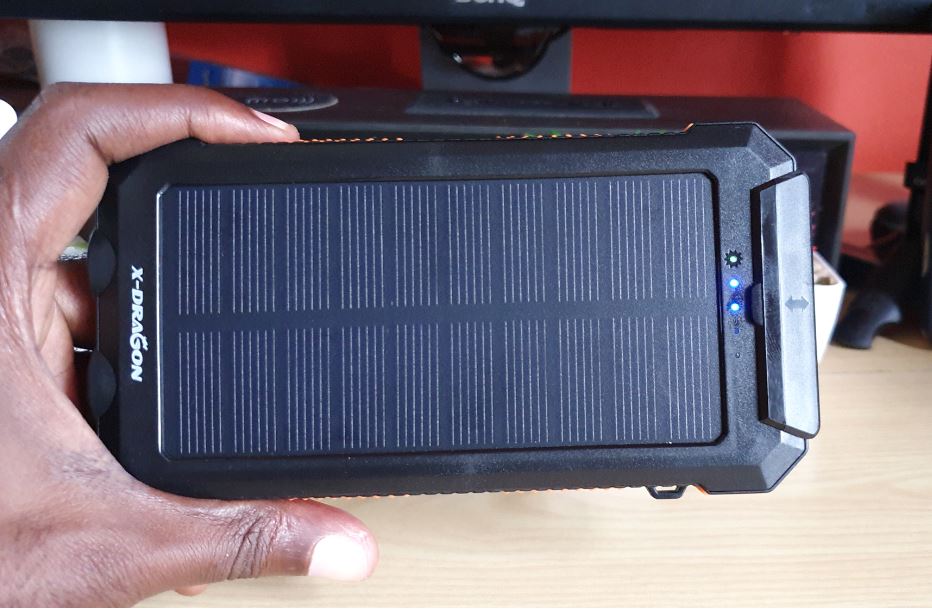 1.Has a 24000 mAh Capacity.
2.Features solar charging.
3.Dual 2A Inputs & 2.4A Outputs.
4.Micro and Type-C dual inputs.
5.Two (2) bright LED flashlight with SOS strobe mode.
6. Made of durable and reliable ABS+PC+Silicone material.
7. Shock and drop proof, waterproof. Housing protects against dirt.
8.Surge and short circuit protection.
Video Review:
Check out the video review below and see the product in action from the unboxing, testing and everything in between.
Improvement over the Older Version:
I have noticed that the X-Dragon 34000 mAh Solar Power Bank features major design improvements. The 34000 mAh capacity is a major jump in capacity compared to my first unit.
I personally love the choice of materials for the back and front of the device which seems more durable and less prone to stains from dirt. The plastic cover over the USB compartment is a welcomed addition as the former rubber version would break off eventually.
Love the addition of a USB Type-C connection for faster charging and the improved flashlight with dual LEDs. Love also the SOS function. The optional strap or harness was nice as well.
Finally the compass is great for those who use this while camping. The Solar charger is better than ever and much more efficient.
My Views on this Product
I love that the X-Dragon 34000 mAh Solar Power Bank now has a much higher capacity. I mean to be able to charge my iPhone 11 a total of 7 times or a little bit more when the power bank is fully charged means I can stay away from power and outlets for a longer time when on the go. Samsung Galaxy Android phones can easily be charged 5 times or more.
I love the side grasps to make sure you have a firm grip. But we warned that there is some weight to this battery bank. I love that its high capacity but wish it had fast charging which is the only missing feature that I can complain about. Otherwise its a fine product that's well worth what you pay.
Why you should Buy:
1.Great Price.
2.Solid durable design.
3.Cool features such as Compass, flashlight and more.
4. Can be charge by the Sun.
5.High Capacity power storage.
6.Charges up fast by USB Type-C.
7.Solid grips at the slide.
Why you should skip this?
With all the improvements this model does not have fast charge and you will have to rely on slower charge speeds which in some cases can be a drawback.
Also check out this cool solar charger from X-Dragon and USB Detector from X-Dragon.
Buy it Now
You can purchase yours below at the link shown.
Conclusion
If you are looking for a High Capacity Power bank that's affordable and is ideal for camping or to carrying around while being away from home or a outlet then look no further.
This product is reliable, long lasting, can survive drops and even charge in the Sun. Its perfect for a survival kit or everyday use.I love mine and use it all the time as it has now replaced my Older X-Dragon power bank.
I highly suggest that you buy this especially if you always go camping as the built in compass would be a plus along with the ability to charge your phone several times. Go ahead and buy this product.
Continue Reading we have even more Tips for you: