As a male child growing up all we wanted were Transformers toys, trust me when I say there was nothing cooler and more awesome than these action figures, come on which other toy in the world can be a robot one minute and then change into a car or dinosaur or even a spaceship. Trust me our small impressionable brains were blown and this magic has not lost its edge from generation to generation as Transformers toys are still the toys to get all year long from summer time to the holiday season and even birthdays, all kids want are the latest and coolest transformers to play with and have fun make believing.
Whats makes Transformer toys so awesome?
Well for one they have something that kids crave and that is they are flexible and not boring as some toys that kids play with once then forget like a bad day. Kids actually like playing with Transformers and will come back to them time and time again for more fun so if you are seeking a gift idea or holiday kids gift-go with Transformers trust me.
The Best Transformers Toys Money can buy
To help you smooth things over with the kids we have compiled a list of the best Transformer toys around so that you may choose from, after all they are all winners: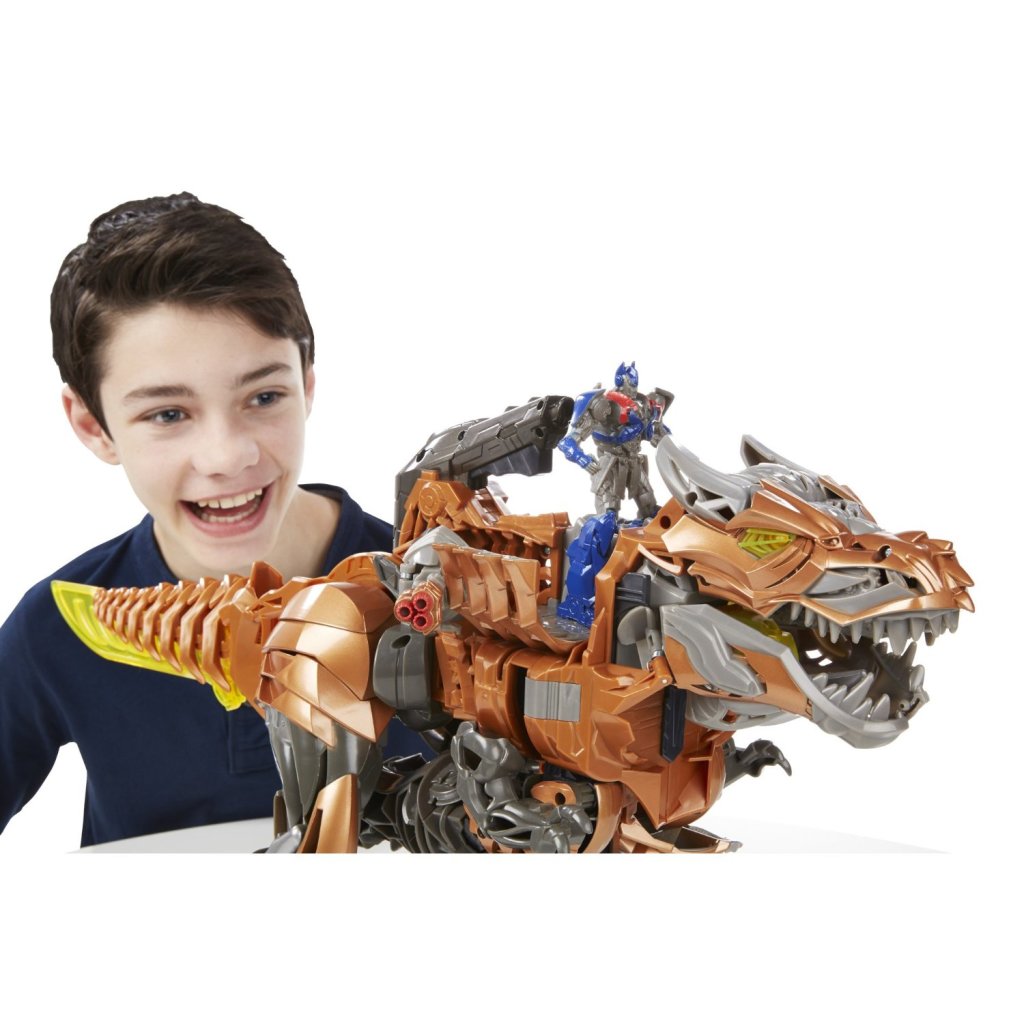 1.Transformers Age of Extinction Flip and Change Grimlock
This cool transformer changes from a Robot into a T-Rex, if you have seen the latest Transformer movie you will recognize Grimlock if you don't then do not worry just mention the name to the kids and they will give you a run down of the history, just look out for the expressions on their faces and you will know weather this ones a perfect fit or not.
2.Transformers Age of Extinction Generations Deluxe Class Scorn
Scorn is one of the coolest Dinobots from the Transformers series that has the ability to transform into a Spinorsaurus, this is so cool as he can be in robot mode one minute and then a dinosaur the next just imagine the hours of make-believe fun the kids can have with this Transformer toy.
3.Transformers Age of Extinction Voyager Class Evasion Mode Optimus Prime
Optimus is the most famous Transformer there is and one of the most beloved characters in the Transformers series, you cannot go wrong with good old Optimus that transforms from robot into a truck.
4. Playskool Heroes Transformers Rescue Bots Energize Heatwave the Fire-Bot Figure
If the kids are a bit smaller then go for the Playskool Tranformers, which does the same thing as the transforming Optimus prime above but in a more kid friendly manner that smaller kids can identify with and love.
5.Transformers Age of Extinction Generations Deluxe Class High Octane Bumblebee
Optimus may be the leader but Bumblebee is the coolest of the Autobots and undoubtedly if it were not for Optimus Prime then the kids would be going totally crazy over this very cool Autobot that transforms into a car, more specifically a Chevrolet Camaro sports car which is downright awesome if I do say so myself. The best thing that I like about these transformers toys is that they are quite affordable and all top rated units.
6. Transformers: Dark of the Moon – MechTech Voyager – Megatron
No kids toys would be complete if we only focused on the good guys so now presenting top bad guy and leader of the decepticons Megatron and mortal enemy of Optimus Prime, Megatron transforms into a truck, he simply looks totally bad ass.
7.Transformers: Dark of the Moon – MechTech Voyager – Ironhide
Ironhide transforms from robot into a black pick up with blaster on top, they don't make Transformers much more awesome than this.
8.Transformers: Dark of the Moon – MechTech Voyager – Shockwave
Shock wave is very cool and transforms into a space age looking vehicle that equipped with cool weapons and the works.
9. Transformers Age of Extinction Stomp and Chomp Grimlock Figure
We though we would save the best for last as this transformer is huge and quite the treat, the kinds minds will be blown at the size of this humongous Transformer toy, let just say if I had this as a kid I would not grow up period. This is also a top pick for holiday toy list most wished for toy by kids so bear that in mind.
OK I think I might have found my inner kid right there with these great Transformers toys, they do bring back some fun memories that I had as child playing with Transformers, they were always the toys I treasured the most and would last me the longest as I played with them time and time again, lets hope you are able to help your child in making some fun memories that they will cherish as I did. If you would like to qualify for free shipping then check out this article here.
Continue Reading we have even more Tips for you: