Summer is just around the corner and you need a rugged Bluetooth speaker solution that can keep up with your active lifestyle as you hit the beach or go to the pool to cool off and beat the summer heat, then the Arespark rugged Bluetooth speaker is just the portable speaker that you are looking for with built-in features such as:
The newest Bluetooth v4.0 Technology for low power consumption and fast connection with devices and an impressive range of up to 33 feet.
Two 7W acoustic drivers will give you great stereo sound.
Comes with a built-in Li-Ion 1700 mAh rechargeable battery guarantees up to 12 hours playtime and charges in 3-4 hours with built-in microphone for hands-free speaker phone calling which is Easy to pair as no code or pin need.
Dedicated selfie button to take pictures from your camera.
Build-in Mp3 player will automatically play the music with a stand alone Micro SD inserted but remember one is not included.
you will also realize that this speaker get its name because it's both shock and splash proof and can be taken almost anywhere without you worrying that it will break or get damaged easily.Perfect for family get together and outdoor experiences that regular speakers would not go to easily without you worrying.
Packaging of the Arespark rugged Bluetooth speaker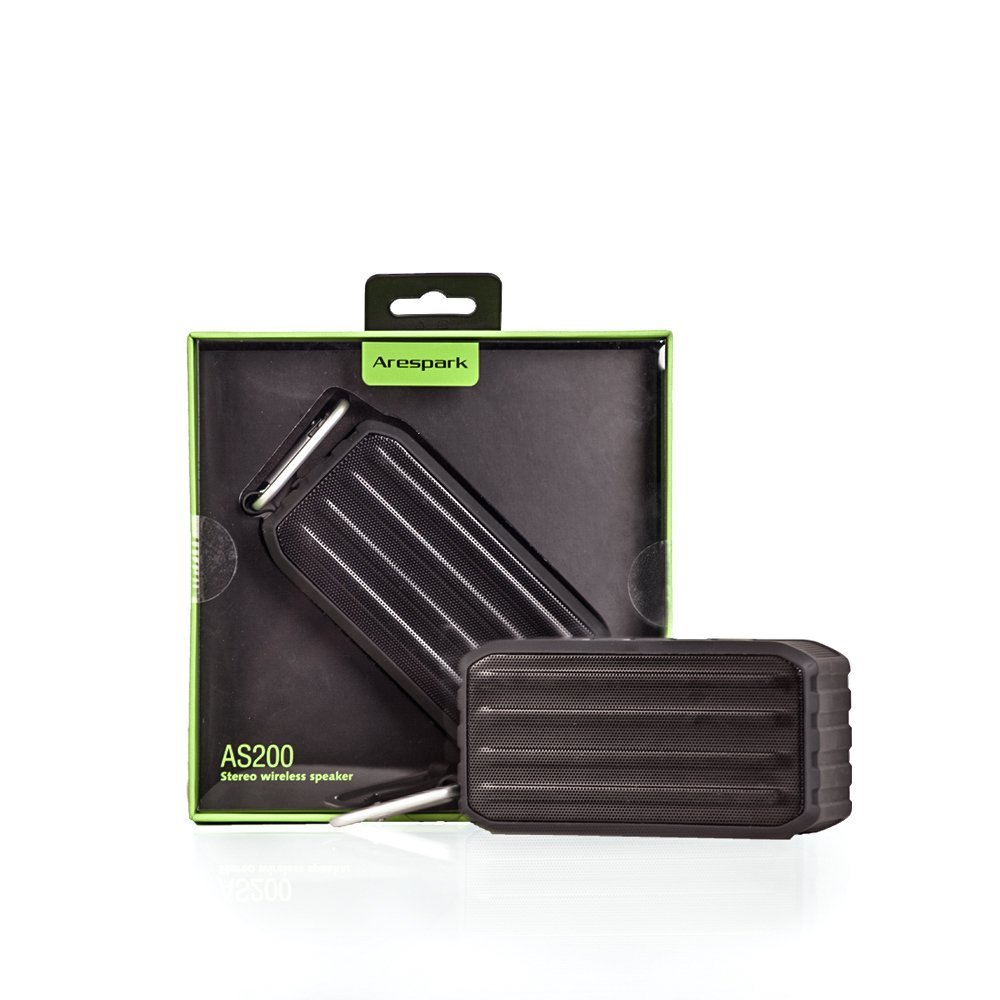 The packaging is simple with a preview window at the front to show off the device and the specifications as we have outlined above is clearly written on the back of the device. It's relatively easy to remove from its packaging with little to no frustrations which is nice while the packaging offers ample protection.
Inside the Packaging we have: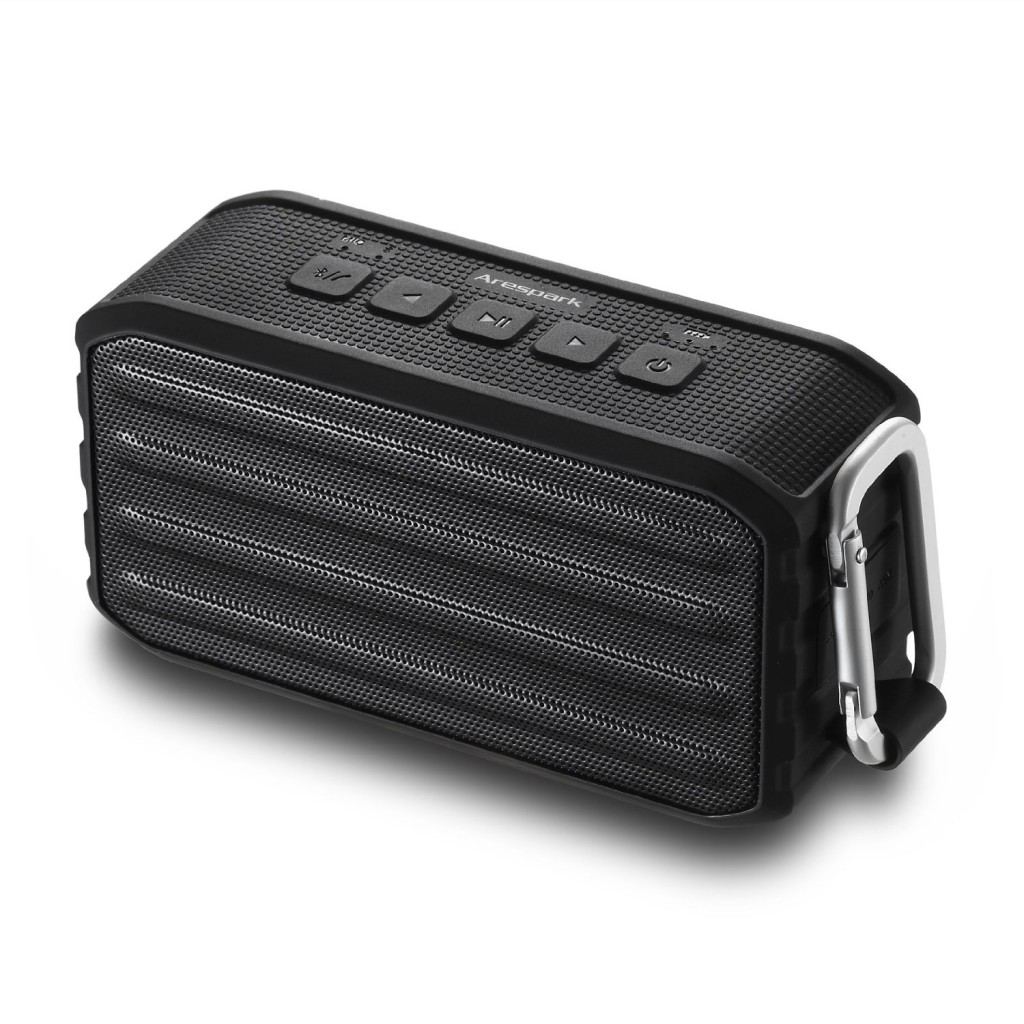 1. The Arespark rugged Bluetooth speaker.
2. Quick start guide
3. Micro USB charging cable to connect to the PC.
4. 3.5 mm auxiliary cable to connect to older devices.
Design and feel: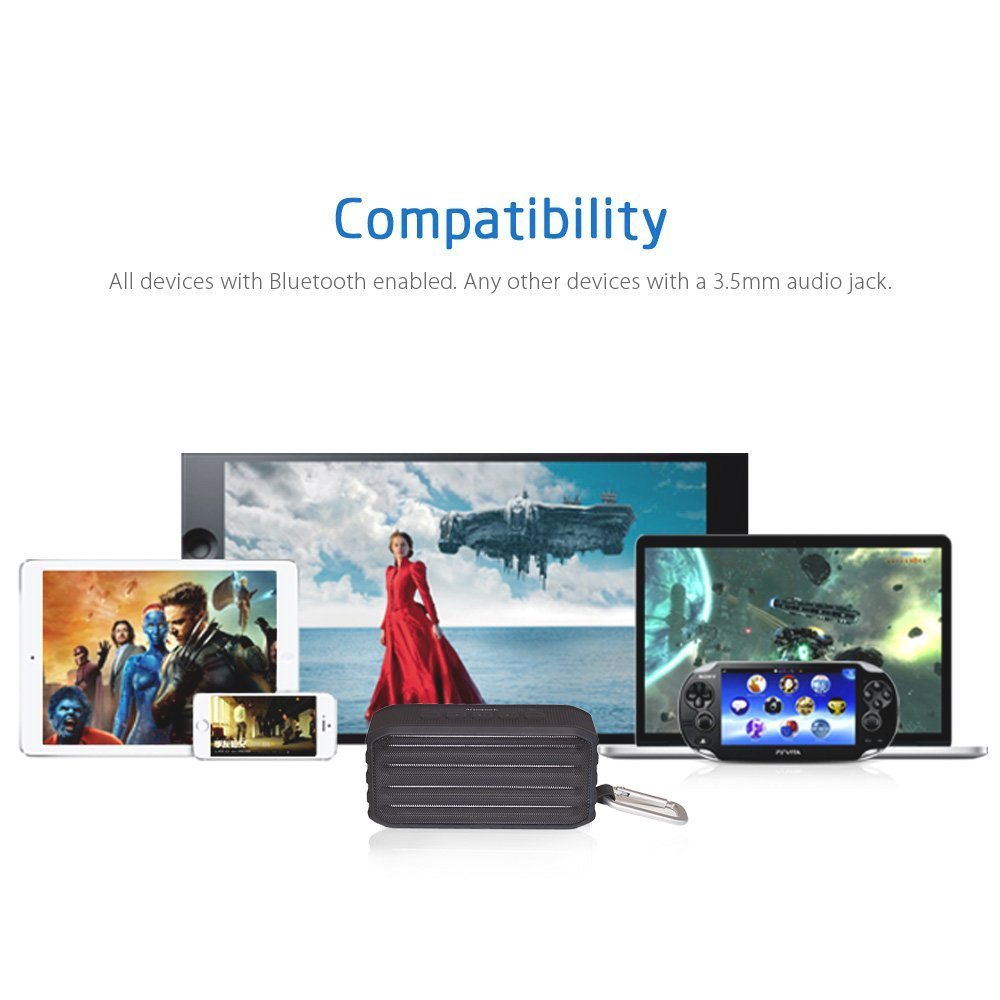 Button Placement
The first thing you will notice about this speaker is that it has a bit of weight to it and feels solid in the hand. It also feels really rugged and has a nice build quality that makes you feel like you are holding a premium device in hand. On top you have the company logo and your usual buttons that includes power, play and pause, skip forward and backward. There is also a mike indicator light and Bluetooth indicator and right next to that is a dedicated Bluetooth button and finally there is a power indicator with three LED's.
Covered Port
On one side there is a snap in place Lid that provides protection from splashes and this can be opened to reveal a 3.5 mm auxiliary port, a USB micro charging port  and a slot for the micro SD card. I like the slot for the SD card as this mean that this device can act as a stand alone player and you can conserve battery life on your smartphone and enjoy great music from your device. Also you might miss it but there is also a reset button in case you have any issues you can reset your device.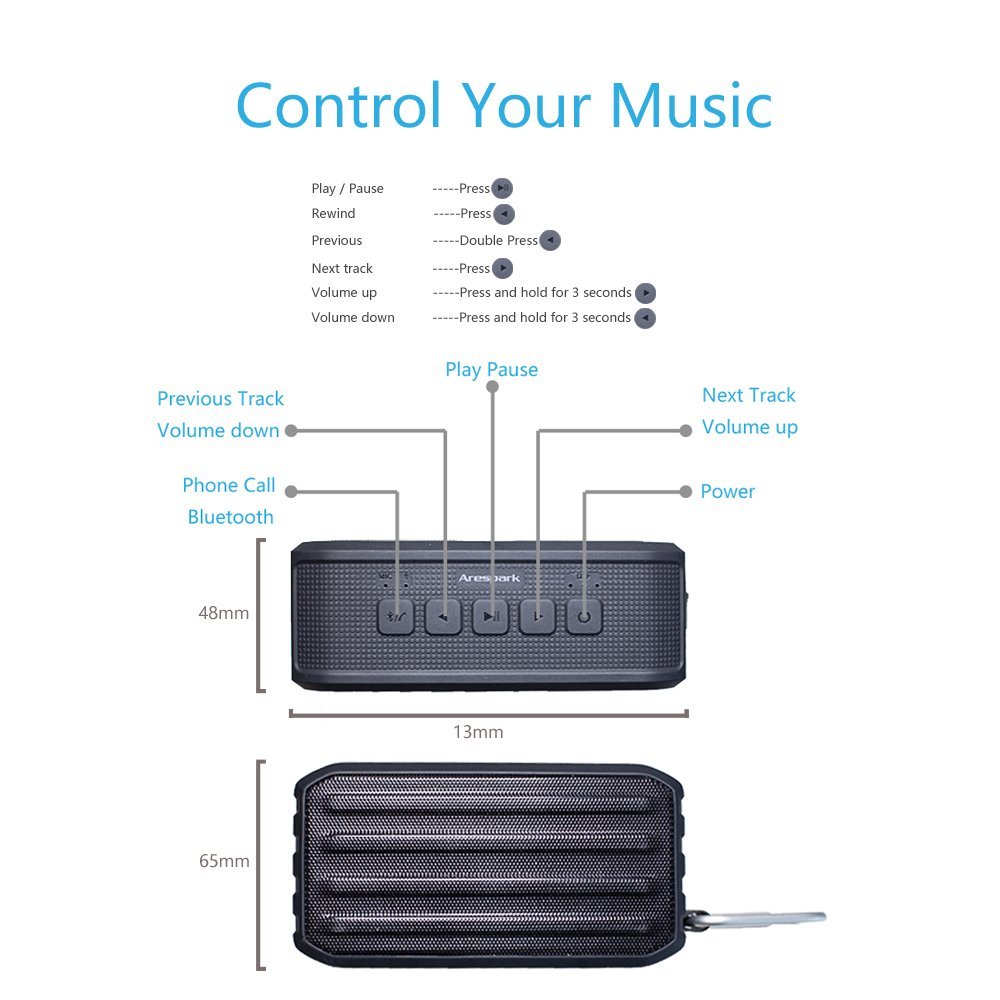 Clip
There is also a clip that works perfectly for hanging this from your pants loop, in the shower or on a grill and you can enjoy great music.
Performance and Pairing
Power up the device and right outside the package you will notice that it does come partially charged which is always great and it was already in pairing mode so all you have to do is get your phone and search for a Bluetooth device and connect. I must admit that it was super easy as you can pair this in about 30 seconds or so right outside the package which makes for a hassle free experience.
Sound and Audio Playback Quality
Trust me when I say that this thing is loud so much so that you can feel the base rumbling in it and it really sounds great. A simple drawback though is that you will have to control the volume from your smartphone or long press the skip forward or back button to control volume, this is not really apparent and most people will miss this right out of the box. When really turned up the Bass is so good that it actually moves the speaker and remember we told you before that this thing is sturdy so that should give you an idea of the force of the bass and overall quality of this Arespark rugged Bluetooth speaker.
The Selfie Feature
Now this is a really strange feature and one that you would not expect to see on a device of this type but here it is. But note that you will need an Apple device for this particular function to work that includes a iPhone, iPod or iPad and it works by setting your phone at a fixed position and using the speaker as a remote to snap a shot. So you could set the camera and pose with friends and then use the Bluetooth speakers to take picture without anyone needing to be behind the phone camera.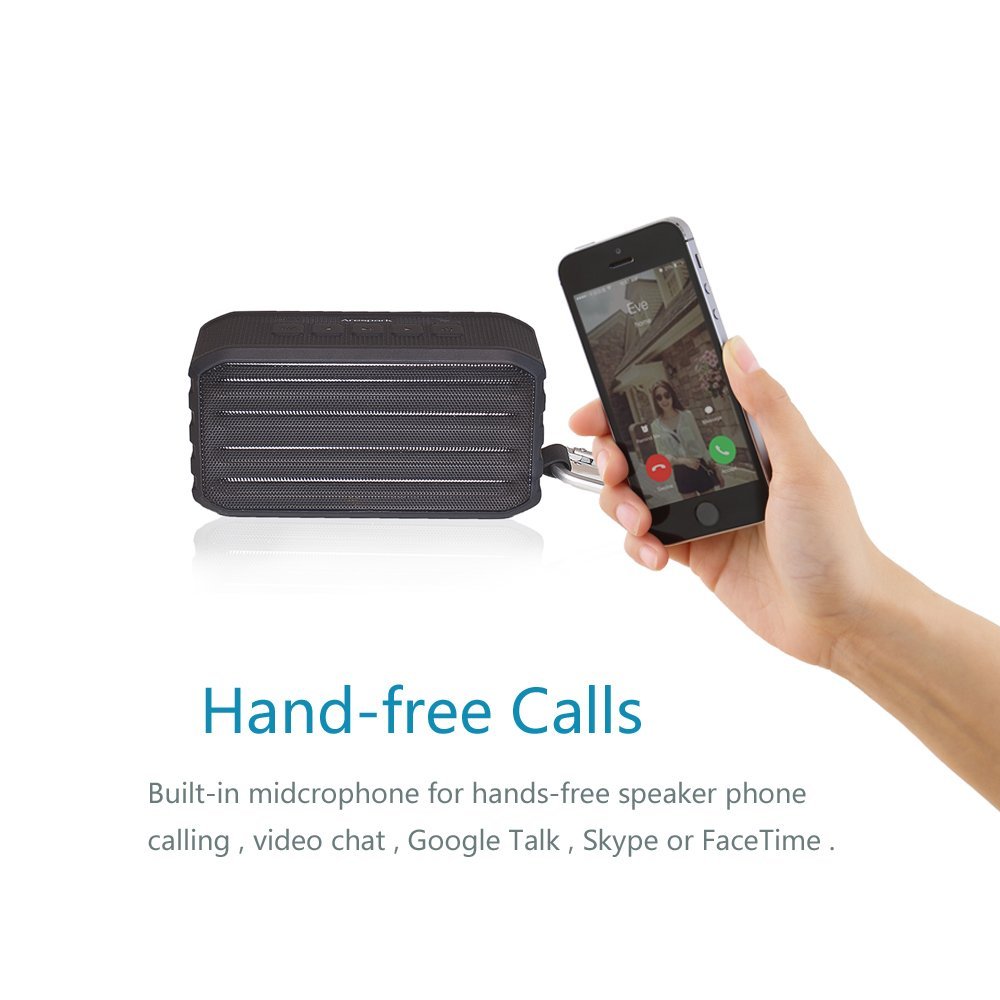 Hand Free Calling
This is a featured that while your phone is paired by Bluetooth that you can still use your phone through the Speakers as it has its own mike built-in. The feature works easily and the party at the other end has no issue hearing you without you shouting or holding the device really near to you.
I personally like this speaker as more expensive speakers exist that don't even come close in audio performance to this the Arespark rugged Bluetooth speaker.
Why you should buy this.
1. It's very Loud.
2. For the price you get a lot of feature.
3. Has great and easy connectivity capability.
4. Really efficient on Power.
5. Unique Selfie Feature
6. Can be a stand alone player without your smartphone.
7. Supports Android, Apple device or any other smartphone.
Why you may Skip this:
1. The volume feature is not easily found, but if you read the manual you should be fine.
2. Selfie feature only works with Apple devices.