When you know your way around computers there is one thing that often comes up and that is triple monitor setups and weather or not they are worth it to get a triple monitor versus getting one big monitor. I personally have used all versions of these setups ranging from a dual monitor all the way to a triple monitor setup and a main large display using a large screen TV as a monitor so I have extensive experience on what worth it or not. Basically getting a triple monitor boils down to the individual and their needs.
What are the Advantages of a Triple Monitor setup?
So to really understand if a triple monitor setup would work for you lets first look at the advantages of such a setups: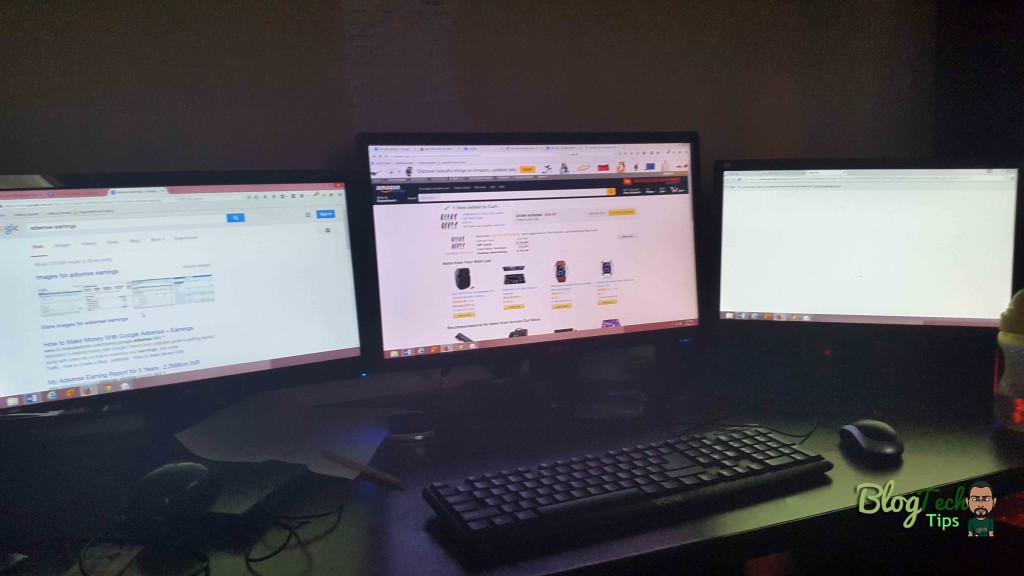 1. You will be able to better multitask using several programs at once versus switching between them by opening multiple tabs and transitioning between them.
2. You get way more screen real estate
3. You will have a wider field of view in Games.
4. It looks super cool.
With that being said most people choose to go triple monitor for the ability to multitask better versus a single monitor and because it looks cool. So while we are on the advantages some of the disadvantages includes the problem of dealing with a bezel between each display which is distracting, the relatively high cost of three screens and the hardware needed to run such a setup.However if you already have a Gaming rig then you basically have all the components that you will need.
How to set up a triple monitor system?
To setup a triple monitor system is not so hard especially if you have one of the latest Video cards from Nvidia or as in my Case a descent Gaming Graphics card. You will also need:
1. Three (3) matching sized monitors.
2. HDMI or DVI to HDMI cables.
3. Also if you choose you could go for a Triple monitor mount.
Once you have got everything together its a simple matter of setting it all up and connecting the displays to your video card of your PC that supports multiple displays and going into personalize, then display and then adjust resolution to detect and extend the display to the extra monitors and that's it.  You can now enjoy the fun of tying a document while researching it on another monitor and editing a graphic on another and seamlessly transition from one to the other without loosing track of what you are doing for a minute.
I personally love multiple display considering that monitors are as cheap as ever and setting up one of these systems is easier than years past. Please share your thoughts on this in the comments I would love to hear what you think of triple monitors.
Continue Reading we have even more Tips for you: