Recently I did an article on the Android Porno Virus or Sexy Virus and while a lot of users were having the issue I found that the easier method that involved using an antivirus like lookout, Norton,AVAST,Stubborn Trojan Killer or some other Antivirus and it did not  get rid of the Pop up,Porn or Ads Virus then do not worry as I have a new method that has a better success rate in removing this annoying virus.
So you can finally remove those sexy, Sexy hot and annoying pop up adverts on screen. Also note the porno virus is not picked up from adult sites in most cases but from infected .apk files that you might have installed or received from a friend unknowingly.
Warning!
Do not click on the shortcuts you see with the name sexy or the ads that may pop on your home screen to exit use home button to get around them until they are removed.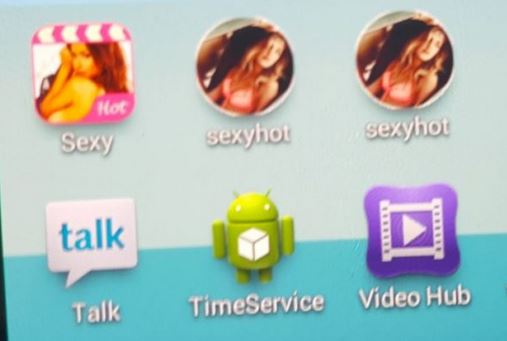 How to get rid of the Android Porno Virus or Sexy Virus a better method?
1. You will need to make sure your phone is rooted, in case you are not sure I suggest that you use this app called Root checker basic, launch it and check your root status, if you are rooted then great you save yourself a step. If not you can learn how to root your device here or here. You can watch the Video above for a detailed guide on everything here.
If your phones too slow and you want to save time you can scan your installed apps or icons and see if you have an App icon for: Super user or SuperSu or something like that which would indicate that you are rooted.
2. The next step is to install the main App called Titanium backup which is free but it will need root access to work thus the steps in step 1 above. Once Titanium backup is installed launch it and you will need to grant root access when it pops up, go to backup/restore. From here you will see all apps installed on your device and titanium backup will allow you to uninstall any app even those that were unable to delete under normal cases. When you find a virus with a name similar to the names below tap on the app and you will have the options to : backup or uninstall, if you are not sure the app is a virus then backup first but otherwise you can go ahead and uninstall.
This is excellent as many users complain that when they try to uninstall the Android sexy or porn virus they were unable to uninstall not even with most Antivirus or even in safe mode. So you will need to find all the apps that are viruses that are running and uninstall them all without leaving one.
I suggest that you look for the following but note the names may change in your case and may not be limited to these:
Proxyserver.apk
Love Beauty
Sexy Hot
Sexy
Lutu
engrils
BeautyVideo
!Strange chinese or Japanese text!.
An easy way to spot what to uninstall is to look at running apps and weird new installed apps or use an Antivirus like the one we suggested in the previous article and record all the names of the viruses it detected and uninstall them through Titanium backup. The issue is fixed when the Ads disappear and the strange apps.
How to prevent this Virus in the Future and a alternative removal method:
I suggest that for the future you seek out a great Antivirus app such as Stubborn Trojan Killer which can deal with the above virus and other that are hard to remove but know it needs root and remember to keep it up to date as it will get rid of a virus if its already on your device or after you install a new infected app as it is great at scanning new apps and warning or preventing you from installing new threats unknowingly thus preventing situations like this in the future.
I do hope this was helpful please leave a comment below and do share this article along with checking out a few more post that may be helpful to you.
Continue Reading we have even more Tips for you: