So I finally got my hands on a new Epson Powerlite W29 for review and I must say I am really impressed with this projector from Epson right out the box. So today's review will be focused on this high Quality projector that great for home, office or professional use. So if you are thinking of getting a new projector let me show you why this is a solid contender for your money and show you how it stacks up to other modern projectors that you may be eying.
What in the Box?
The projector comes in an unassuming brown cardboard box with the following Accessories and items:
1.PowerLite W29 WXGA 3LCD Projector
2.Power Cable
3. VGA Cable to connect to your computer.
4. Projector Remote Control
5. Starter Batteries
6. User Manual DVD
7. Software DVD
8. Quick Setup Guide
9. Warranty Card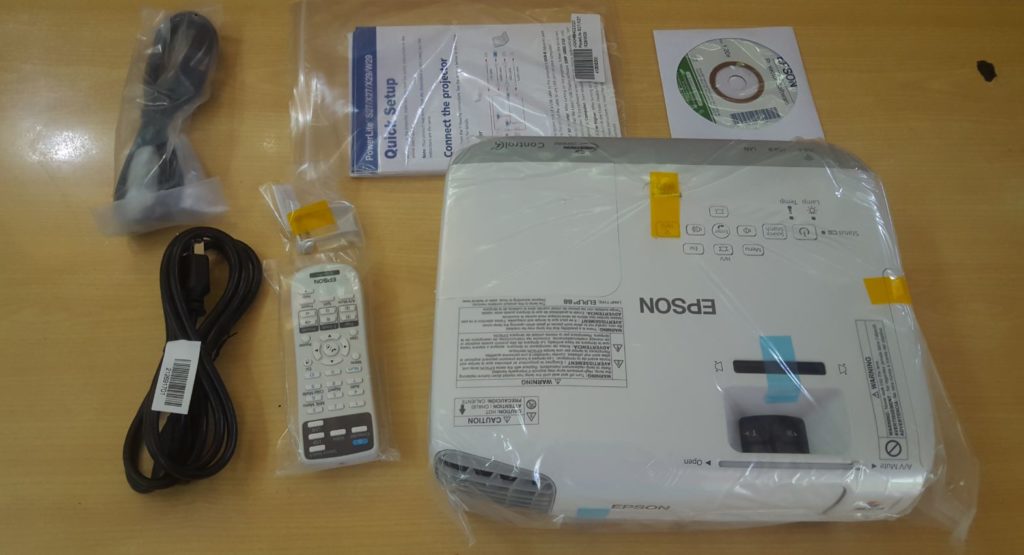 I was very unimpressed with the box, but whats in a box after all its the product we were interested in. Also a sore point to note here is that a carrying case was not included with the projector so if that's a big deal you will have to get that separately.You may only need such a case though if you are intending to move the Projector around which not everyone will need to do.
Video Unboxing:
Check out the video unboxing right now below and see a realistic hands on of the product.
The PowerLite W29 WXGA 3LCD Projector
The looks of the box aside the PowerLite W29 WXGA 3LCD Projector looks really sleek and sexy. I must give Epson props for the fine job they did with the design. It's not small as some units but everything seems well placed and pleasing to the eyes. It's the kind of project you would enjoy putting on display for others to see. This thing is also well cooled with a heat venting fan on the front beneath the cover and the front lens comes with a nice lens cover that's built on, all you have to do is slide it to close or open which is nice as the last thing you need is a removable part that might…will break eventually.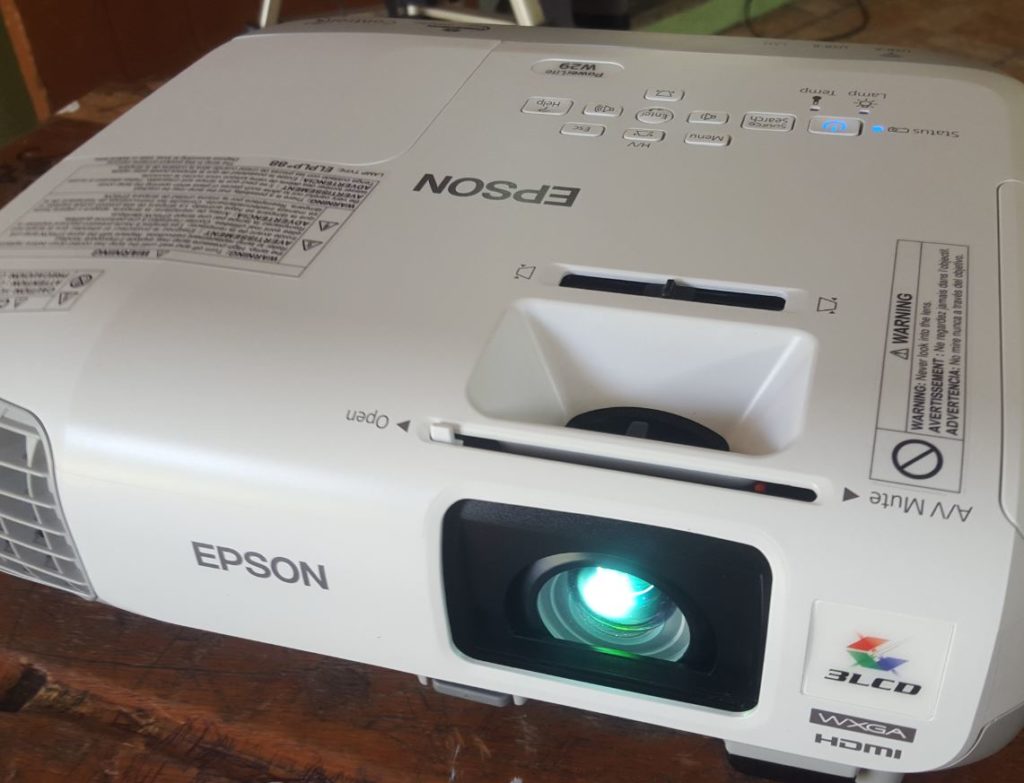 The usual lens controls and focus controls are where you would expect and the buttons on top include: Power, Source search, volume up and down for the built-in speakers, menu, enter, escape, help and so on.It's also light despite looking a little bulky which makes moving it easy. Also a feature I like is that if you forget to open the lens cap that is slideable the Audio and Video will turn off or mute which means the lens wont simply turn on and cause overheating while the lens cap or slide is closed. Now that intelligent design.
I have found too that the picture quality will auto adjust to the environment with the Projector adjusting things such as Keytone without you needing to do anything. Its also quiet and runs cool out the box which is a big thing when you want to enjoy Games, movies and so on. Another recommendation is that you get new or proper cables when settings things up as this can affect your picture quality, what I mean is if you are using an old corroded cable it matter as those cables due to rust or corrosion can cause the picture quality to look really shabby and you might think its the project but its a bad or inferior cable. Just something I observed that I thought I would mention.
Inputs and output Options
A good projector is made or ruined with its input and output panel. It brings a smile to my face to highlight that the Epson Powerlite W29 has every conceivable input you could want. This includes: HDMI, 2X VGA for computers,Audio 1 and 2, Monitor out,RS-232c, S video,RGB Inputs,USB A,USB-B,LAN and so on. If you have a device to connect in the home or office already this thing will connect to it no joke.

How well does it Perform?
Performance wise this thing is a beast and what I love off the bat is the ease of use on setup, this projector is practically plug and play. I say that to mean that as soon as you connect a device the Epson Powerlite W29 will connect and find the device without much need to be searching for the input source and so on.So if you are a beginner or accustomed to gadgets you will be right at home from the first moment.
The Picture Quality is really good,we are talking about very high picture quality with a native WXGA resolution and 16:10 format that bright with it vivid colors. I almost cant believe this is actually a projector and not an actual solid display when its functioning. For example I had this setup for the first time in a room that had lots of ambient light from all sides and it was displaying clear enough to see perfectly to attest to the brightness that W29 produces. I also tried several other projectors in this room that failed miserably as the room was too bright, can you just imagine what would happen in a room with ideal conditions.
I had a camcorder connected to it for a function where it was needed to display a ceremony in one room to guests in another and it worked wonderfully. You can easily project a 120 inch screen or smaller from this projector in stunning high-definition. So this can be used for a large room or displaying stuff to a large audience. I literally love everything about this projector.
Were can I buy this Product?
You can get yours below right now:
Cheap Replacement Lamps
One of the biggest decisions to consider when buying a project other than the performance is how long the Lamp will last and how much it will cost to buy a new Lamp and as you may know lamps are not cheap and it sucks when one dies. Here is where the Espson PowerLite W29 shines as the Lamps are long lasting and the when it comes time to change one depending on your usage at the end of its life  it will be very affordable as you can pick up one for cheap.
Why buy this projector:
1.High definition video quality with a crisp projection.
2.Built in speakers.
3.Every conceivable input/output you could want.
4.Very large projection of up to 120 inch or so.
5. Well designed and looks really good with great features.
6.Affordable replacement Lamps and they are long lasting.
Why you may skip this?
1.No carrying case or bag included.
Final Thoughts on this Product
I work with lots of Projects on a daily basis and I can tell you the flaws they have tend to show up really fast when you have them under various display conditions. The Epson Powerlite W29 get two thumbs up from me as it has lots of inputs which makes life easier, its really bright and ooh boy the picture quality is marvelous. I can say that if you get this forget buyers remorse as it will be worth it trust me. Epson has gone above and beyond with its Projectors to the point that I am a fan of their work in this department and will be looking to them for quality projectors from now on as should you.
Continue Reading we have even more Tips for you: