Today guys I have a special device in the form of the ARTlii Energon 1 Home Theater Projector which was sent over from the guys at ARTlii.I want to formally thank them for sending this projector in for a full review and as always we will deliver a honest review of this product.
I have spent the last few days getting to know this device inside and out and I have prepared this in-dept review for you my readers.
Projector Unboxing
The ARTlii Energon 1 Home Theater Projector comes packaged in a nice black and Orange box with a convenient carrying handle.
The color schemes compliment each other wonderfully, which is in my opinion is great presentation considering this is the first thing you see of the product.
Inside the Box there can be found: A remote control (No batteries), AV Cable, Power Cord, HDMI Cable (Braided sleeve Red and Black), Power Cord and the star of the Show the Energon 1 projector.
For a detailed unboxing see the video below that goes through everything that's included in the box in detail:

Device Specifications
This projector main features include :
4200 Lumens of Brightness and Sharp picture Quality.
250 inch Max Projection Size.
Supports:Fire TV Stick, Chromecast,Nintendo Switch,PS4 Pro and XBox.
Dual HiFi Dolby Stereo Speakers.
Zoom function for dynamically adjusting screen size on the fly.
Sharp Screen edges for better picture towards the edge of the projection.
Output up to 1080P HD video Quality max with 16:9 Aspect Ratio.
Touch Controls.
The ARTlii Energon 1
The ARTlii Energon 1 projector features a black brushed finish. There are ventilation holes on the back, sides and front of the projector for maximum cooling.
On the top of the Home theater projector you will also find a well placed touch sensitive buttons. These include: Source, Menu, Power, Back, direction keys and OK touch buttons.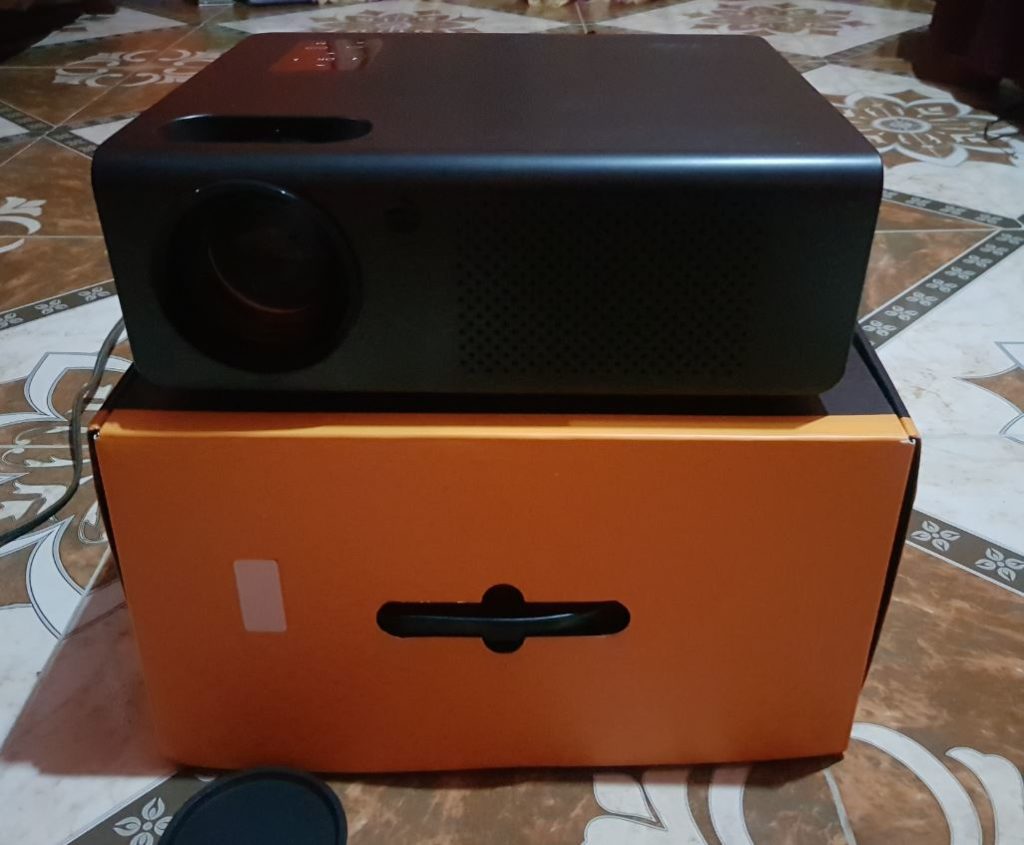 On the back you have 2x HDMI which is great, AV jack,Headphone Jack, SD card slot, 2x USB and VGA outlet. Which pretty much includes all the inputs you would ever need.
On the front you have a focus rotating knob that built into the lens mechanism for the Projector lens and a tilt control to adjust the projected image. There is also a set of built in full speakers for sound reproduction.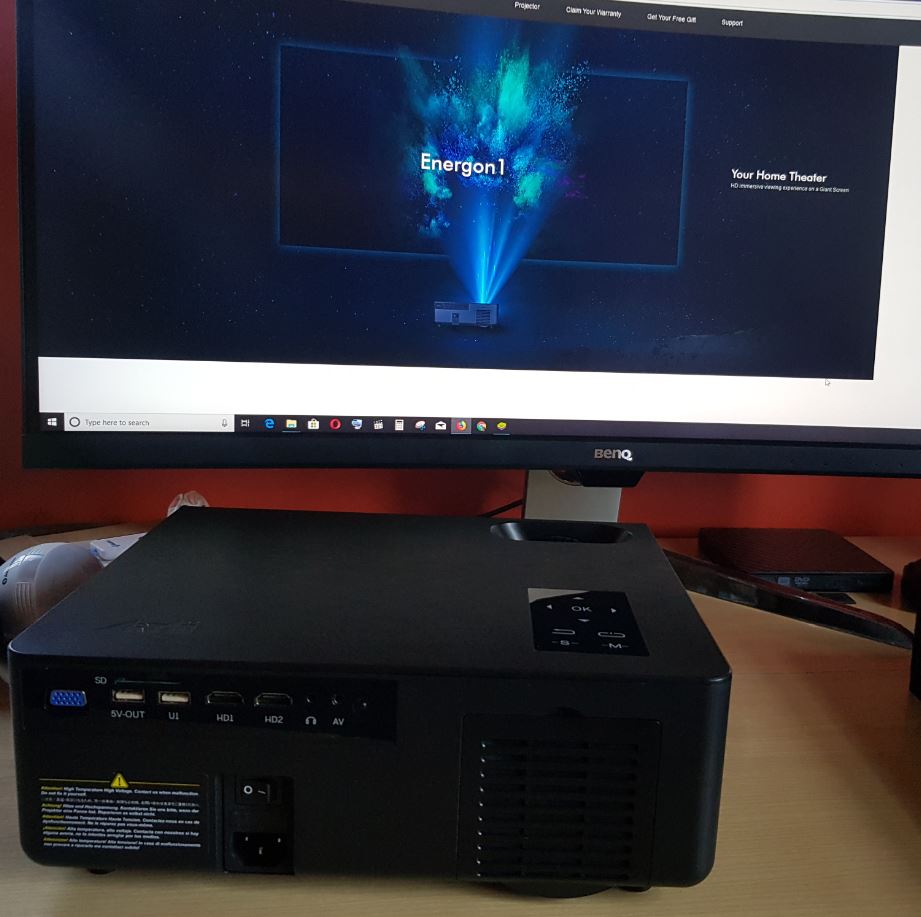 The Projector itself a bit of weight to it,not overly heavy but a noticeable weight and size to it. All this should not be much problem through as it should be install it and forget it as part of your entertainment setup, so not much moving around will be necessary.

Video Review:
Watch the following video to see the detailed review in video form.
Gaming Performance
I had the pleasure of connecting my PS4 Pro to the ARTlii Energon 1 Home Theater Projector and I must say after loading up GOD of War 4 which I have already completed it was like seeing a all new game on the Energon 1.
The characters were life size even at the 100 inches which I had the Projector displaying at. Mark you I can get a total of 250 inches Max but weather you want that size display is up to you.
I was impressed at How fluid the ARTlii Energon 1 handled Game play. There was no input lag whatsoever. Game play was fluid and I felt like the characters were right in the room with me. Naturally I had to play the Game all over again and this after playing first on a 47 inch HD TV.
There is literally no comparison and its something that must be felt to be believed. I highly recommend this as a Gaming Projector as you can easily connect any modern console which is supported such as the Nintendo Switch,PS4 Pro and XBox.
I suggest that If you are considering a Gaming projector or even a display such as a TV for Gaming that you give this Home theater projector a serious consideration as I can almost guaranteed you will not be disappointed.
Video Quality
The Video Quality is really good on so many levels that I hardly know where to begin. Lets start with brightness, the 4200 Lumens of brightness easily outpaces most projectors on the market that are way less in quality of brightness.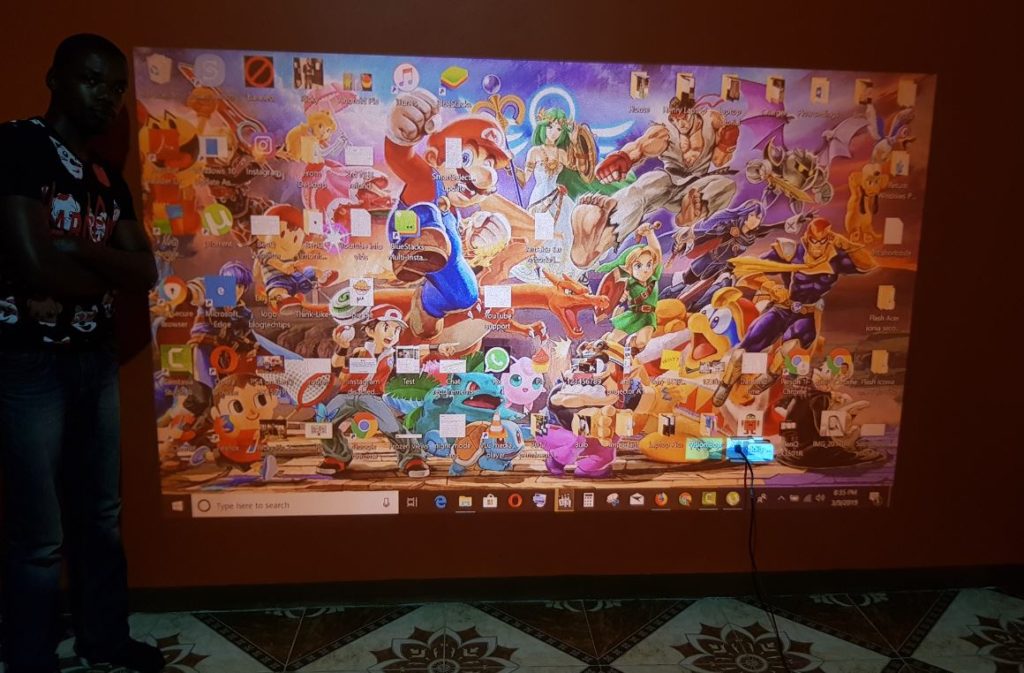 The Projector is so bright that even in a room with decent lighting from outside or a window and the projector will still display a clearly visible Image. This is way better than most older or even some newer Projectors that could never pull off the same feat.
Also if you can get a projector screen for the display surface it would be best but even on a normal wall the projector still manages to impress and work really well.
Video Quality was uniformed across the screen and I was really impressed with the sharp image with vibrant colors and clear video playback. Switching between and connecting to various devices such as my PC, Cable box and Amazon Fire stick for Video streaming was also perfect.
Under ideal conditions the performance simply impresses to no end. This even includes at very large screen size projections. I had mine at 100 inches. At which point the images were really crisp and reproduced correctly on screen color wise.You will find a new joy for your favorite movies and series that you watch.
I must commend ARTlii for a fine job on the Energon 1 its been a long time since I have been really impressed by a projector. There were also no defects or dead pixels out the box which is always great to see.

Built in Speakers
I was pleasantly surprised by the Dual HiFi Dolby Stereo Speakers. They produce full body sound that great for enjoying the full Multimedia experience such as Games, Movies and the works.
They are not the type of speakers you would expect on a projector. They easily beat those on my Laptop and TV default as I always use it over those built in speakers every time.
Mind you its no dedicated soundbar or surround system but for what it is its more than enough for anyone's needs.
Noise Production
Seeing the ARTlii Energon 1 is a projector you can expect that the Lamp will produce lots of heat and also the fans for cooling will produce some amount of noise as it cools the projector.
From my testing the Projector at point blank range was producing roughly 48 DB of sound which is about the level of a Quiet Library and at a distance about 37 DB which is about the level of a whisper.
This was all while the fan settings were set to medium which is the default out the Box. I personally find the sound level to be OK and you can of course tweak things more and make sure its not installed directly to where you will be sitting.
Touch Buttons and Settings controls
The settings on the projector is really detailed as you can customize sound, Video, Fans and even Zoom. You can do all this as well with the included remote.
The touch controls are a welcomed addition as it only takes a light tap to select any option. The buttons are highly sensitive and beats physical tactile buttons that you would have to press repeatedly.
This was a really good addition which was well tough out and implemented.
Why you should Buy this Projector:
1.Gigantic image size at Max of 250 inches.
2.Super bright at 4200 Lumens.
3. Built in Dolby Stereo Speakers for great sound.
4.Uniformed and clear HD Picture/Video Quality.
5.Great connectivity and Support for many modern device such as Streaming Dongles and Gaming consoles.
6.Great Price for the features and functionality you are getting.
7.Detailed and thoughtful settings to customize your experience.
8.Everything needed out the box to enjoy your Home entertainment.
9.Touch Controls that are highly responsive.
10.You can adjust Projection size without repositioning the projector.
Why you may Skip this Product?
I could hardly find any faults with the product and I am truly impressed. Its well balanced product. Any fault here is really nitpicking.
1.It has a bit of weight to the Projector and its a descent size. Should not be a problem though considering it will be installed to a stationary position.
Where to Buy?
You can purchase your ARTlii Energon 1 Home theater projector from the ARTlii website here or here from Amazon.
Special Coupon Code:
For a limited time ARTlii is offering the readers of BlogTechTips a special 20% off discount to be used before checkout.
Artlii Projector coupon code: 2051FVZ6

Valid: 2019-3-1300:01PDT
Expired: 2019-4-1123:59PDT
Conclusion
The ARTlii Energon 1 is one the best Home theater projectors that money can buy on the market right now. By purchasing this Projector your are investing in a solid Home entertainment device that very flexible for all members of the house to enjoy all there entertainment as a family or by themselves.
I can see that allot of love went into this product. It was swell tough out and much care placed into its design and features. I find myself going back to the ARTlii Energon 1 as my preferred source of for Games, Movies and the works.
Go ahead and buy this product with confidence as you are getting a really great product that's worth the investment.