So I finally decided to get a Carbon Fiber Back Cover Protector Film for Samsung Galaxy S8 they are also known as skins due to the way they cover the phone. I decided to get one because my Tempered Glass screen protector was preventing me from fitting a normal case and I love when my phones remain slim and are not bulked down by a case. The Carbon fiber Skin also exists for the Galaxy S8 Plus and others phones as well.I got mine and I am very impressed with this product.
What is a Carbon Fiber Back Cover Protector Film?
As the name suggests the Carbon Fiber Film is made out of carbon Fiber and its semi-transparent and has some cool patterns. When added to any phone it basically takes the color of the phone or allow the natural color to shine through while adding that Carbon Fiber pattern to things. It gives phones a unique look and those looking on will swear you have on some type of case. It really makes the phone look sleek and slim and stand out from others.
Features of the Carbon Fiber Back Cover Protector Film:
The Carbon Fiber Back Cover Protector Film comes in a pack with three (3) but you only need one and it has:
Durable and anti-scratch resistant surface.
Oleophobic coating and chemically treated with crystal clear transparency.
Resists oil fingerprint and other stains as well as smudges.
Protect lens from damages and scratches
Easy to install
Dust-proof
Make your device stronger
Allows for a firm Grip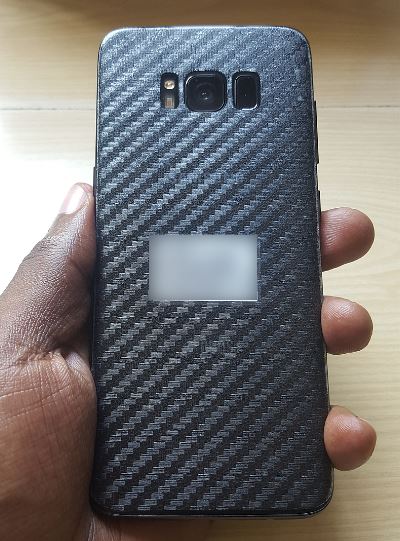 Carbon Fiber Back Cover Protector Film for Samsung Galaxy S8,S8 Plus and More devices
Once I placed the Carbon Fiber Back Cover Protector Film on my Galaxy S8 I was really impressed. First don't fear if you mess up the placement as it can be peeled off and applied again several times, simply make sure you don't get dirt on the adhesive like side. I love how thin it makes the phone look and the Carbon Fiber look on the back of the phone makes it seems as if there is a case on the phone. It also takes on the color of the phone. I suggest you clean the back of the phone before applying this Carbon Fiber skin.Also only smooth things over when the placement is perfect.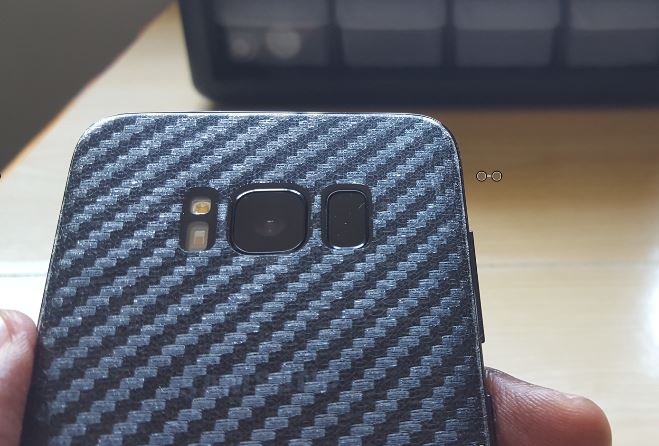 Also this did not come with instructions although it's not needed,when you are ready to install and remove the protective section from the Carbon Fiber Film you will need to easily remove the cut outs at the back for the Camera and sensors. Next when peeling off the back to reveal the adhesive like back start pealing from the Carbon Fiber side and not the back its easier that way.
I have Sweaty palms and I notice that once the Carbon Fiber film was place on the phone it resisted the sweat from my hands and would not smudge at all. Also I have the Glossy Black S8 and this thing is a big help as I have no more smudges at all. I also have a solid grip on the phone and it feels great in the hand. The skin also makes the phone really sexy has it does not add any bulk. I can also put the phone down on any surface without fear of scratching it. I simply love this thing and from now on I will be using these skins or films on my phone along with a full cover tempered glass screen protector.
The Bad:
This Carbon Fiber Back Cover Protector Film while great and makes the phone stronger offers very little drop protection from what I can see. So if you are prone to dropping your phones this is not the product for you at all. But if you are careful with your devices and need the thinnest possible case or like to rock your devices without cases this is the product for you no questions asked. Other than this one flaw this product is perfect and works great.
Where to buy it?
You can buy yours here.
Conclusion
I simply love this Carbon Fiber protective film on my phone it feels great to touch the phone and there are less smudges on my phone. In fact it really makes the phone unique and you can bet other will ask you where you got your case and will be surprised to find out that it's not a case. If you like this product you can buy yours above and give the extra to a friend as the pack comes with three of them which is great for other devices or keeping an extra one around.
Continue Reading we have even more Tips for you: