So the owners of Cloud Eye recently sent me a sample of their product for Review and I decide to do a in dept review for you guys. Who would not want to review the World's Smallest Live Camera? well it pretty exciting stuff and this is my review of this product.
The first thing you will notice about the Cloud Eye camera is how small it really is. This thing can fit into a pocket,bag,purse or be left on a table and you would never think it was a security camera or a camera of any kind. That's what I really love about it.The small unassuming size that really does a lot along with the other little features that come in really handy.
The Features of Cloud Eye
The Cloud Eye camera has a 2 MP optical Glass lens, 1080p HD Video, cloud storage and remote control functionality. You can have several of these working together or just one and it works for fun video recording or serious security camera to monitor a store,house and more. You can record Video or capture pictures and it has its own App that you can use to interact and interface with the device itself.It has a built-in small battery that keeps it powered.Four (4) LEDs for recording in less than ideal lighting conditions or light up a area to take a picture.
What can I use this for?
You can use one or link up to four and monitor them all with your phone. You can use these as:
1. Security camera (Home or Business)
2.Car DVR and monitoring.
3.Pet cam
4.Baby Camera.
5.Personal use such as selfies and Action camera.
6.Nature and Landscape photography and video.
Whats inside the Box?
Inside the Box you will find the Camera, User manual and USB cable with Micro USB tip. Everything comes in a nicely packaged box and it well packaged and looks really good.
The Cloud Eye App and setup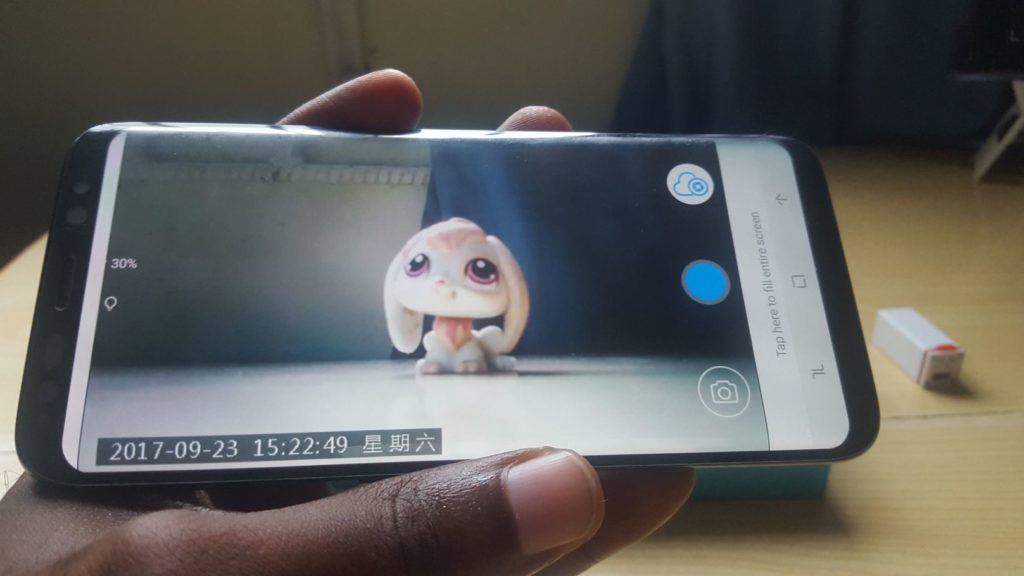 Setting up the Cloud Eye App was relatively easy with just a few things that new users should be aware of which can actually prevent them from using the device out the box. The user manual actually missed this and I was stuck on it for a while during setup and could not figure what was wrong for a short time. So here is my improved setup guide.
1.First scan the QR code that comes within the user guide of your device. It will download the Cloud Eye App.The App was not available in my Play store contrary to what the manual indicated.
2.Power on the Cloud eye by pressing the first button on the back.Now launch the app you downloaded and installed earlier which should be an .APK file and you will need to allow install from unknown sources in settings if you are on Android, iOS may be similar.
3.When finished and this is the key part launch the while you are connected to the internet and create an Account. If you try connecting to the Camera first and launching the App it will open to a blank white screen with a single dot at the bottom and no explanation as to whats wrong. So once you launch the App while connected to the internet you will be able to create an account with your email and activate your account with a code sent to said email.
4.Log into the App and then click on the cloud Eye icon. If the Cloud Eye App does not show up. Simply disconnect from your WiFi and connect to another broadcasting device that should show up under WiFi as: AKIPC-XXX. Once connected go back to the App and connect to the camera and select the cloud Eye from the list.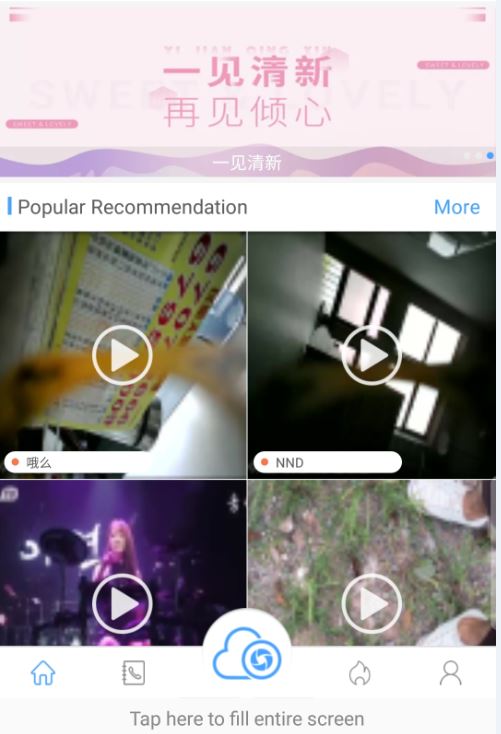 5.You can now take picture, share and do a number of stuff from the App.
The App itself has a few issues,first there should be a Fully English version or the option to change the languages. It should be published in the Google Play store and other popular App stores. Also as mentioned above the user instructions is less than written perfectly to get you started with ease. Otherwise though the App does offer some good functionality and makes using the device possible.
For best results though it seems that in order to full advantage of the device its best to use mobile data to connect with the App to the internet while using the WiFi to connect with the camera so you can use all the features.If you use WiFi only you will have to load the App first then switch the WiFi to the camera and then go back to the App that's loaded for it to work as instructed above. This is fine if you have good mobile data but I rather use WiFi as t more convenient.
Did you know that Jewelry can be smart? check out great Smart technology that looks like bracelets but is actually a smart band too:
WenWen
.
Cloud Eye Camera
I love the housing of this thing as it really tough and durable and it makes you wonder how they fit so much into something this small. I notice that when the device is in heavy usage it does get pretty hot which could be bad for functionality.There is no battery indicator as well on the device which should be fixed as that important to have.Only way to see the battery percentage is to launch the App and connect to the camera and on the shutter screen where you take pictures or record video you will see battery percentage to the left with controls to turn the LED s on and off.
I was able to connect to the Camera and use it and it does work quite well but as an English speaker the App did have a mix of Japanese and English I think,but you do get the feeling it was more Japanese with some English added as an afterthought to accommodate other users, not a deal breaker though as I was able to find everything I needed.
I would recommenced they do a totally English version of the App. The App does make the user experience a bit clunky and it does make me scratch my head at times. The idea behind the Camera is good but the App needs refining and the camera itself which is OK needs a few more touches. What they did do right is that once you have it up and running it really works nicely and you can move the camera around and get relatively good video and pictures that clear enough to see and distinguish between people and other objects,which is great for a 2 MP camera.
To charge simply connect to the PC and for storage the app stores everything in the Cloud or online, it would have been great to store everything on an SD card though as I would feel way more comfortable in keeping all my security or personal footage there than some server in the cloud of which I don't know exactly where.The remote or Live features are there I think but with the interface as it is with the app its a bit difficult sifting through it.You get 5GB of Cloud storage and you can review pictures and videos you have taken under the profile icon that looks like a persons outline and share them as well if you like.
You will be more using the main feature where you connect to the device though and it not too hard to figure out the live feature if you really want to which is a option on the shutter beside snapping a picture or video.The community has some videos and it seems users from Japan/China use this app and Camera as they have uploaded several videos and various footage. The App even integrates various social media features for easy sharing of your content and more.
There is even some cool accessories to this device that can be found on main website or Web store for the cloud eye camera which are pretty interesting to say the last.  I will be sure to adjust this review in the future if I make any more major discoveries about this device.
Video Review and Demonstration:
Here is the video review of the Cloud Eye Camera.
Why buy this?
This product definitely is not perfect and does need work which I am sure the developers will keep on refining.But here is why to get it.
1.It does work and does an OK Job.
2.The small portable and convenient size is perfect.
3.Its very tough and rugged.
4.It has four LEDs on the front for recording in dark places.
5.OK Picture Quality for 2 MP camera.
Why Skip it:
1.Setup instructions are less than perfectly clear,that may give new users that are less tech savvy issues.
2.App needs to be refined and feature a Language option versus a Mix of English and Japanese.Also needs inclusion in the main App stores.
3.Does get hot with use, features need more refining and the option for Local storage and offline features for the App.
Where to get or Buy this product?
If you are interested or want to check out this product you can find it on IndieGoGo here. You would need to back the project there if you are interested based on my review. Remember the choice is entirely up to you and you should be able to make up your mind based on my review.
Conclusion
Do I recommend this product to every one? not fully, I suggest you get this only if you are accustomed to dealing with technology and Gadgets as it can have a learning curve to it. Its fun to mess around with and use but it does need more refining before the average consumer can actually take this up and use it really well without issues. In my experience I would say the main problems is the App which control the device and the lack of local storage features.
I would want to store my files locally and not necessarily online. A SD card could do that easy and the App does not need to really push the community features,they can be there as an option but not a necessity.I can see this being more popular in Markets like Japan/China or so on. But to have main appeal to a Global audience such as the United States and other countries it needs some slight adjustments. A version 2.0 refresh with these features would solve this problem and really make this a product for people to use Globally.With all that being said please take the time to share your views below and please share this article.
Continue Reading we have even more Tips for you: