Today's fix involves an error where you cannot install the Facebook app as you are getting a 504 error code. In some cases this is really annoying as the Facebook app is one of the most downloaded apps on smartphones and without the app being installed you can't conveniently access Facebook until the problem is solved. You may also realize that other apps are downloading fine while only the Facebook app is giving issues as you try to download it.
The error:
The Error reads:Can't install app "Facebook" can't be installed. Try again and if the problem continues get help troubleshooting (Error code 504).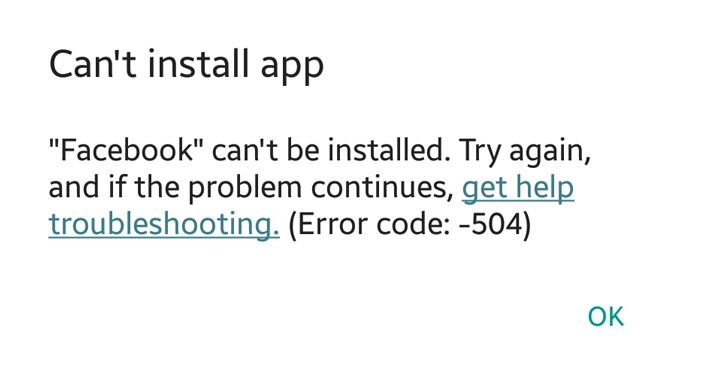 How to fix Error Code 504 Can't Install Facebook App On Android?
Uninstall the App and clean up
1.Try uninstalling the Facebook app and Facebook messenger and reboot your phone.
2. Use a cleaning app such as Clean Master, CCleaner to clean up junk files on your phone.If you can't install any new apps then clear the cache of the Facebook and Messenger app before uninstalling manually by going to settings,apps and finding Facebook-go to storage and clear cache.
3.Reinstall the Facebook app and messenger once more, it should install now.
Clear Cache
1.Go ahead and boot into recovery and clear the cache partition as shown here.
2.Reboot phone and try installing the app again.
If all else Fails:
If all else fails Backup your files and do a hard reset which will erase everything from your phone and return it to a condition that's similar to when you got it out the box.
Final thoughts:
I do hope you were able to fix the Error Code 504 Can't Install Facebook App On Android and you are now able to install the app once more. Please take the time to leave a comment below and I will be sure to get back to you. Also please share this article and check out our other posts.