So recently a client brought in a Laptop for me to look at which was a Dell Inspiron 15-3000 series Laptop which was only a year old. He noticed that when he was typing that as soon as he was working on a document which was text-based entire chunks of it would disappear or become deleted as the keys of the laptop was malfunctioning. Do join me as I show you how to perform a Dell Inspiron 15-3000 series Keyboard replacement in order to fix the issue with this Laptop.
The Issue:
So in detail the backspace and delete keys mainly of the Laptop would press even without being touch and delete entire chunks of text, also buttons would press without being touched and enter text.This made text input and document preparation next to impossible on the laptop. There were even dead keys and it was not a case of a stuck keys as by all indications the Laptop keyboard was damaged and in need of replacement.
What devices does this tutorial refer to?
This tutorial can be used as a general guide for Keyboard replacement on any Laptop as they are all designed similarly. However this guide will work exactly as shown for the Dell Inspiron 15-3000 series Laptops and show how exactly to replace the Keyboard.
Dell Inspiron 15-3000 series Keyboard replacement
First be sure to get a replacement Keyboard from Amazon you can Dell Inspiron 15-3000 series Keyboard and make sure its compatible with your device. You can search for example for: Dell Inspiron 15-3000 series Keyboard .
1.Once you have the new Keyboard in hand go ahead power down the Laptop, unplug it and remove the battery.
2.While the Laptop is on its back go ahead and remove the screws on the back in the general area of the keyboard, these will be some screws that are longer than the typical ones and might have a symbol of a keyboard beside them in some cases. Also look inside the battery compartment and remove any screws there.
3.Turn the Laptop back over and flip the screen up. This time using a flat-headed screwdriver look for some slight indentations above the F1,F2-F12 keys, you should notice a straight line and then some breaks. Place the screwdriver inside the holes and press and try getting a finger in and ease the keyboard out gently and follow along that line and do the same at each of about 4-5 junctions or holes.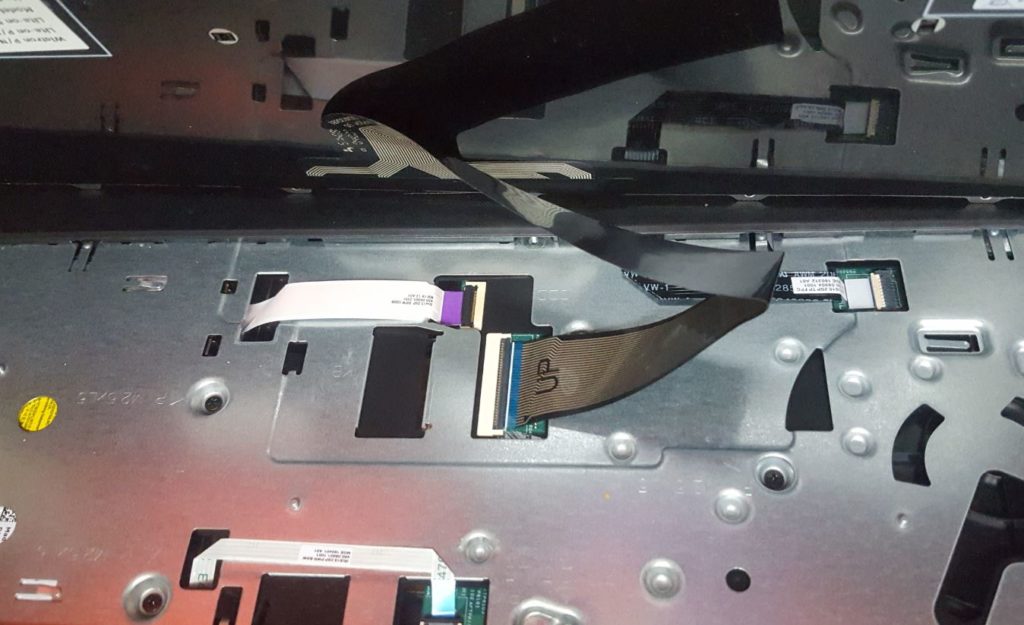 4.The Keyboard will snap out easily-Don't pull it all the way out– simply lift slightly at an angle from the top. Notice there is a ribbon cable behind the keyboard. Go ahead and find the black tab that secures the ribbon cable and flip it up by picking on it with a nail.
5. You can now remove the keyboard, go ahead and place the new one in and make sure it sits flush in its cradle and flip the black tab back in place. Slide the keyboard back in and snap it in firmly.
6.Replace the screws at the back of the laptop and replace the battery and power up. If you did everything correctly the new keyboard should work flawlessly.
Video Demonstration:
watch the detailed video below of the issue and how to replace they Keyboard.
Troubleshooting
If for some reason the new Keyboard did not work or work properly then check the following:
1.A totally dead or partially dead new keyboard could mean you did not connect the new Keybaord properly. Disassemble the Laptop and ensure the ribbon cable is in fully and that its making contact.
2.The Keyboard wont fit: Check to see if its bent or that you actually have a matching or the correct keyboard in size, shape and main connections.
3.Also make sure that the ribbon cable is not twisted or connected in the wrong direction which will affect its functionality.
Final Thoughts
So that's how to perform a Dell Inspiron 15-3000 series Keyboard replacement. If you have any questions then please leave them below in the comments and please share this article with a friend or two. Also be sure to check out our other articles as we have plenty.