Wouldn't it be cool if you could install two (2) Whatsapp on the same phone? Well you can along with other Messengers and social media apps such as Snapchat and Facebook. This is great in cases where you have two separate accounts and can save you time from actually logging out of one account only to sign into another.
What devices does this Work on?
This feature works on Samsung Galaxy Android devices and in my tests it works on the Galaxy S8,S8 Plus, Note 8,Galaxy S9 and S9 Plus respectively and I am sure it works on other Samsung phones as well.
What Apps will this work on?
This will work on Whatsapp,Facebook, Snapchat and other apps.
How to Install two Whatsapp on the same phone?
The procedure is the same for other Messengers but I will be using Whatsapp as the example as it's the main app most people would love to install two (2) versions of on the same device. So with that being said let's get started.
1. Launch settings on your phone.
2.Now go to Advanced features.
3.Now scroll down and go to Dual Messenger and select the option.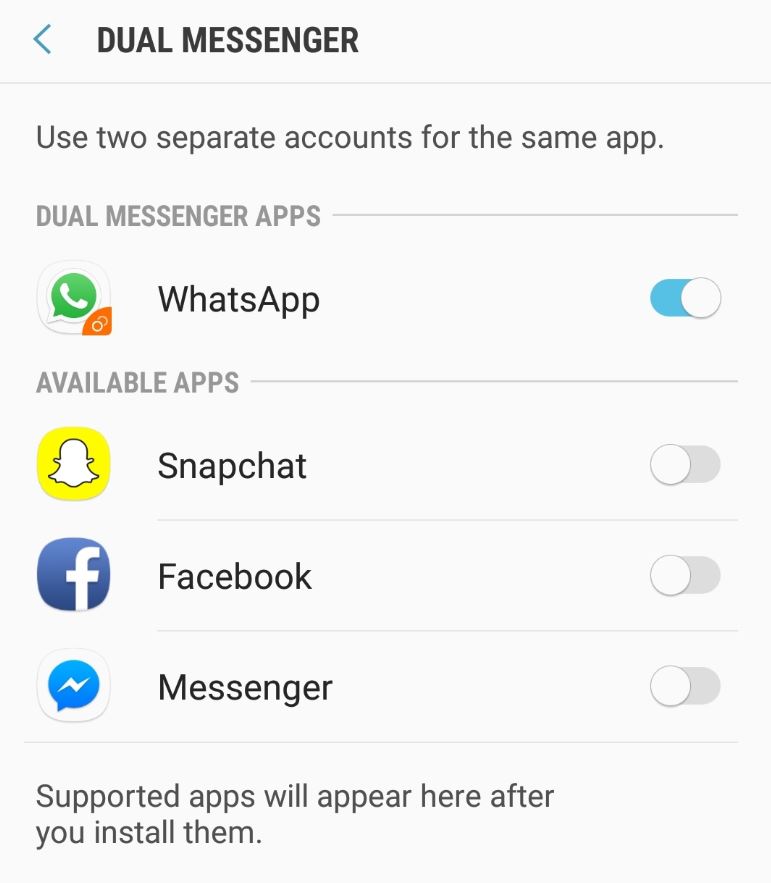 4.Now select Whatsapp from the list or another compatible app and turn the toggle to the right on. Read the instructions and activate the feature.
5.Look for a second version of Whatsapp with a special icon in the bottom right hand corner in red with two circles and launch it.
Depending on the app you will of course have to have two different accounts. Because Whatsapp allows only one install per phone number you will need to provide a second number for activating the second whatsapp on your current phone, this should be OK if you have two mobile numbers.
How to deactivate the feature?
If you want to deactivate the feature simply go back to settings,Advanced features and Dual messenger and turn the feature off beside the app you want to disable it for.
Video demonstration
Watch the video below and see how its done.
What is Dual Messenger?
Dual messenger is a cool new feature that allow users if they so choose to use two separate accounts for the same phone in apps such as Whatsapp,Facebook,Facebook messenger,Snapchat and so on.
Final Thoughts
So that's how you Install two Whatsapp on the same phone or other Messengers easily. So guys what did you think? If you have any thoughts please share in the comments below and do remember to share this post with a friend on social media