Today we will be reviewing the ZOSI 1080P Wireless Two Way Audio and PIR Thermal Sensing IP Camera. This product is a great looking IP camera from the company ZOSI which makes some really nice Security Systems.
A IP Camera may just be the Camera you need at home or in your business to keep you and yours safe weather you are at home or away.
I want to thank the ZOSI team for sending this product in for review. We love nothing better than testing new technology of all types.
Features of this IP Camera
The camera features a bunch of innovative and cool features such as:
1.1080P High-definition Weatherproof Wireless Security Camera
2.Aluminum weatherproof housing, cameras can be used indoors and outdoors.
3.Easy Setup & Remote View with ZOSI Pano App from App store or Google Play
4.PIR Motion Detection–Highly Sensitive PIR motion sensor offer almost no false alarms. No human movement can slip through without your notice. You will receive instant app push notifications when motion events are detected.
5.Two-way audio- Built-in mic and speaker let you stay in touch with your household.
7.SD Card Recording & Remote Playback] – Built-in with a micro SD card slot support up to 128GB (No Included).
Whats Inside the Box?
Inside the box can be found the IP Security Camera, Mounting Screws, Security Sticker, User manual, Adapter for the Camera. Its all stored nicely in a Light blue Box. A simple but effective and well put together package that gives you everything you need to have a fully functional camera right from the box.
No Micro SD card is included and the camera can function without it but you will not be able to record video or pictures or playback footage from the camera.
My Experience with this Product
Overall I have had a very pleasant experience reviewing the ZOSI 1080P Wireless IP Camera. The motion detection was on pint and you can even adjust its sensitivity. I love the setup process which was very easy as I was able to get it correct the first time.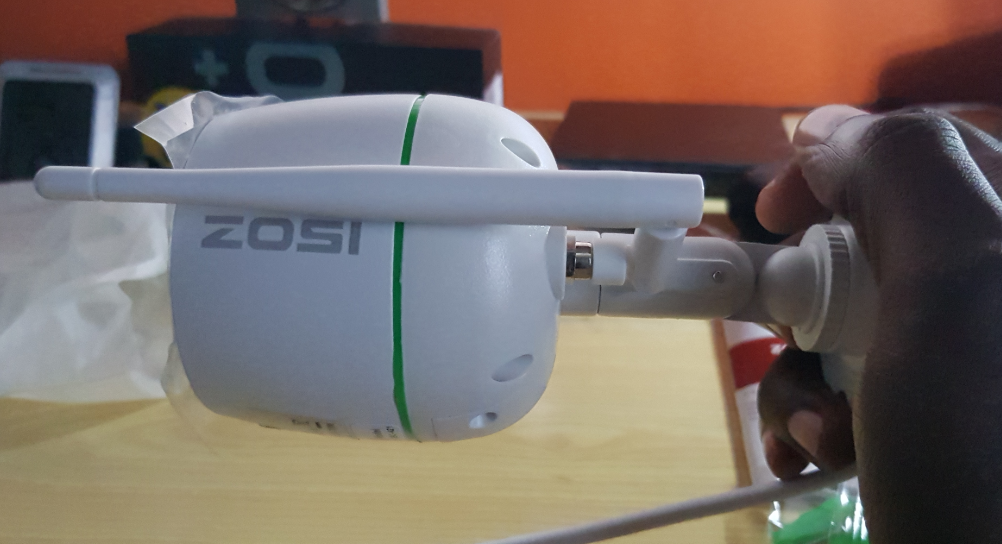 The Night Vision is very sharp and clear. I also love that you can switch between SD quality for the Image or go full HD at 1080p. I found I was able to zoom at a distance and see what was on my phone screen from across the room, mind you it was not super clear but clear enough to make out stuff on the phone screen.
The video quality is good with crisp Images but you do get some grain on zooming which is to be expected. The two way Audio works but got some interference which might have been due to the video recording equipment though.
The app was also very detailed allowing you to customize your device to your liking. With the right SD card inserted you can have smooth playback and great performance while being at home or on the road.
Video Review
Watch the Video review and see this product for yourself and in action.
Where to Buy
You can purchase this product for yourself below.
Why buy this Product?
1.Great Price.
2.Solid Night Vinson that's really clear.
3.Made out of sturdy Materials.
4.Good Video Quality.
5.Easy to setup and comes with all you need to get started out the box.
Why you may Skip this?
1.Two way audio is not super crisp or very loud.
2.Must be in WiFi Range to work properly which limits install locations based on WiFi coverage as with all Cameras like this.
Conclusion
I have not been one to shy away from IP cameras as they are energy efficient and affordable. You can get great performance from them once you know what they are and the limitations.
I love mine and have it setup indoors and it does a solid job of detecting motion and notifying me which is a big plus for security at home. If this device matches your needs then go ahead and buy it now.