I recently had my Desktop which I use to create articles on this blog and Videos on YouTube die on me. It simply would not boot and when it finally did it was up for a week then gone again which all happened in a weekend. That was that I decided to get a laptop to hold me over until I designed a new work Horse computer or Gaming Rig. But whatever Laptop I would get needed to be a capable Laptop that could handle my workload and I so eventually went shopping and settled for the Acer Aspire 5 A515 51 as you will see in this review.
The Acer Aspire 5 A515 51
Please note that this will be my personal Acer Aspire 5 A515 51 Review that I bought with my own money and this should apply to any device in the series as they will either have better specs so you can use this as a base model. My specific model is the Acer Aspire 5 A515 51-37V1. Please also note that mine came in another Language but I simply Installed the USA version of Windows. Otherwise its all good,the only noticeable thing is that while all keys are similar to the USA key layout they do place punctuation's in other places so you will need to know where these keys are from memory.
You should not have the same issue as me though as I have linked to the US version below.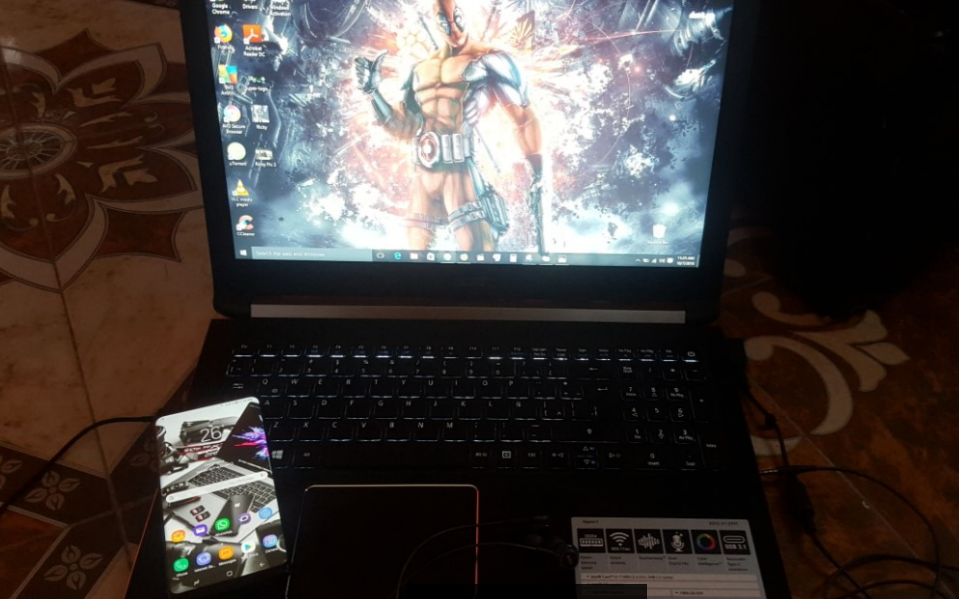 Build Quality of the Acer Aspire 5 Series
I love the design of the Acer Aspire 5 A515 as it has a thin design feels really sturdy and the swing hinge for the Display really looks tough and not like those on other Laptops that breaks really easy. Also my version comes in Obsidian black which is a nice looking color but its a bit of a smudge magnet as soon as I touch it Oil marks are left but due to the color it's not so obvious.
They decided to skip on the DVD drive which is not missed at all. I also love that the keys are Lit and have LED's beneath them so you can work in the dark. The track pad is nice and has a nice silver accent around it that while not lit takes light off the keys and display and easily highlights the touch pad which is really intelligent design.
Video Unboxing
Check out this video unboxing to see whats included with your device and what it looks like.
The Display
The Display of the Acer Aspire 5 is an OK 720p display at 1366x 768 resolution which as a LCD is nothing to write home about on my version. It's OK for watching a movie and doing daily tasks but its not super immersive or dazzling or anything and I really can't complain and simply have to call it as I see it.
I have watch several of my favorite movies and the colors are OK and at its 15.6 inch size I hardly missed a beat, I wished it was at least 1080p but its good enough.
Video Editing and Demanding Tasks
Currently I am pleasantly surprised at the performance of the Core i3 7100u processor which is clocked at 2.4 Ghz although it shows up as 2.7 Ghz, in windows with 4 GB of DDR4 memory and Intel's HD Graphics. For example I was able to convert a 6 minute YouTube video in 1080p in about 17 Minutes which is not bad all things considered. Upload was also quite good although that dependent on my internet speed but the 802.11ac +bt WiFi works great.
So as you can see based on the above test you can easily blog, Vlog on the go with this Laptop making it a must have. The laptop itself is also has the latest Intel processor as the core i3 is a 7th generation processor from Intel offering the latest and greatest specifications and performance for its line of processors.
Video watching and listening to music is also great. I did notice though that if you are watching videos on YouTube while connected to the internet and using Bluetooth through a headset seems to cause a slow down which is not because of lack of power of the device but seems to be related to the radio that's controls WiFi and Bluetooth.
Battery Life
A Laptop is only as good as the time it will need between charges as you may not always be beside an outlet of any kind. On a full charge battery life will change according to what you are doing but according to the Laptop on a full charge you should get about 8 hours plus, that's of course not true and I estimate based on using my device that its more like 3 to 5 hours max of battery life and believe that time will drop if you do more demanding tasks.
Audio and Sound Quality
The sound is surprisingly loud for a Laptop and sounds really good. The TrueHarmony feature for sound seems to be doing a great job. Do note though that I am not big on Audio as an expert as I am more of a video guy. You could not ask for better sound quality for onboard sound.If you want better you would have to invest in addition hardware.
Why you should Get this Laptop hands down.
1.Great Core i3 Processor that good for video editing on the go.
2.Great overall Mid range performance and great price.
3.Keyboard is lit for working in the dark.
4.Lots of storage as you have 1000 GB of storage.
5.Portable and lightweight.
6.Good sound Quality.
The Bad
1.Display could have been 1080p which would have been great.
2.If you can get an US version of this Laptop that would be preferred for most users.
Buy Yours Now
Check out the US version of this great Laptop.
Conclusion
You can easily pick up the 1080p version of this Laptop with better processor that's shown above and not the exact version I have. You are sure to have a really nice experience with a very capable Laptop. I can now continue to create content for you guys and really start working on building another desktop which I can take my sweet time with. So I highly recommend this Laptop as I would have returned it by now if I was not pleased for the purposes I indicate I got it for.
If you have any questions or comments please do take the time to ask below and I will gladly answer them and do use the links provided to check out the price and look at the device.
Continue Reading we have even more Tips for you: