This will be my review of the Hyperikon LED Security Light. I must start off by saying I really love this product, but it is not without its flaws which the manufacturers should iron out to make this Home security lights perfect.
I got the Black Version with three (3) heads, you can also get this product in white and the option with only two (2) heads. The three headed version can cover a incredibly wide area and produce a very clear and illuminating light. Best of all its LED and promises a very long life span of 22.8 years if you use it for about 3 hours daily.

What you get Inside the Box?

Inside the box of the Hyperikon LED Security Lights you will find the Install Guide, the Hyperikon LED Security Light, A template for the drilling holes and small card with info to connect to the manufacturer.
The packaging is well done and as a result you should have little issue with the lights being damaged in shipment.

Product Specifications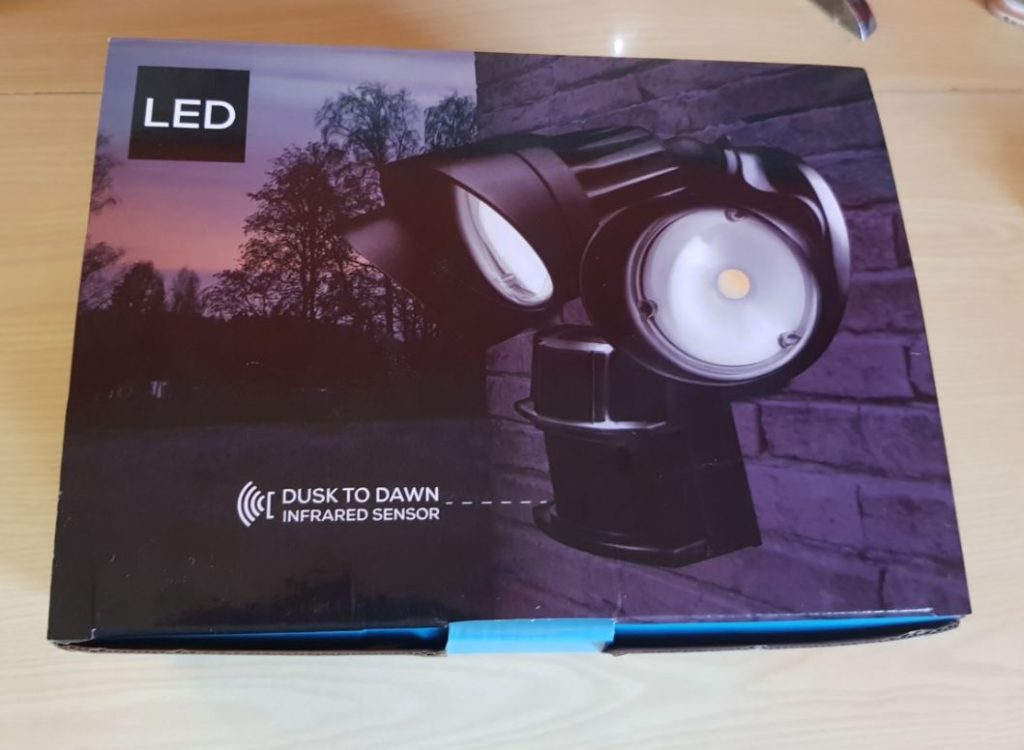 The LED security lights from Hyperikon uses 30W and compares to a 125W Equivalent in similar non-LED lights. It is a Outdoor Motion Sensor Light that produces 2700lm or produces 5000K (Crystal White Glow), its also Waterproof with a IP65 rating. To top this all off it has a Adjustable Head and works with a 120v connection.

Hyperikon LED Security Light
As was said above the lights are really nice but they do have there flaws. First of all it has a very bright lights that can illuminate a large area such as a long driveway, backyard or open space that's particularly dark. The darker the area the or the nights get the more brilliantly the Crystal White Glow will be.
Be aware though that while the Install instructions are are OK the documentation for how to configure and what the settings mean on the lights themselves are really poor. The motion detection is OK but the  detection range varies from one end to the other which really threw me off but it can be adjusted to work to your particularly situation.
The sensitivity can be adjusted for detection, but do note that depending on where you live insects can set the motion detector off at night. This includes in any environment.

Instillation of the Security Lights
Installing the security lights was relatively easy if you have ever installed lights like these before. If its your first time then you will have to follow the included instructions. If you take your time you should get through the process. Its recommended you also pick up a Outlet box with your purchase if you don't already have one.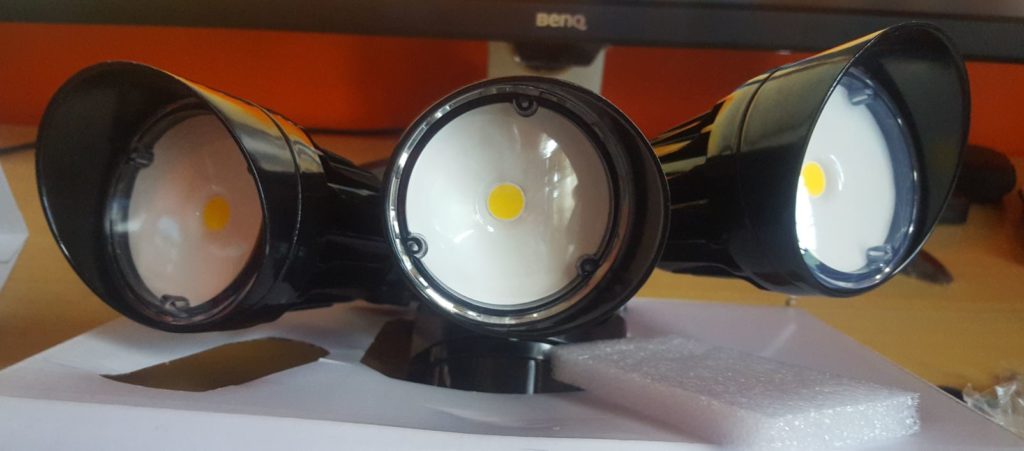 You will need a friend or another person to help with calibration after install to make the process go smoother. Also you will realize that if you cant handle the install process get a friend that good with handy tasks and you will be OK. I find that adjusting the lights at night will have the best effect especially after it gets really dark.

Operating Modes
The product has a variety of operating modes which allows it to automatically turn on when motion is detected, Operate as a dusk till dawn light of sorts or turn on all the time.
You can adjust the sensors sensitivity,duration of the light and the range of the sensor. This is great for having things perfectly setup based on the environment in which your Hyperikon LED Security Light are installed.

How my Hyperikon LED Security Light is Installed?

Mine is installed at the end of a cul-de-sac where my house is located. The street lights are not overly bright and just lights things up enough. I have along drive way and a gate installed with the lights at the gate. The Hyperikon LED Security Light puts the street lights to shame and manages to light up the entire end of the cul-de-sac and my driveway.When the lights are on its so bright out that you can't miss a thing as before where it was almost pitch black at night.

How well does it work?
Overall the Hyperikon LED Security Light works really well and as advertised. A new user in most cases might return the product think its not working due to the lack of documentation and instructions on things that may happen depending on where you live, immediate environment, lightning conditions and more. 
But if you take the time to get to know the product you will find that it does work well except for a few cases and you can fix most of the issues with a little creativity. All these small issues are not deal breakers and if you can have a little patient you will see that this is a really good light and one of the best options on the market right now.I highly recommend that you purchase this product. These sensors also work really well with this motion sensor for added layer of protection.

Where to Buy?
You can purchase this product below.

Why you should Buy this:
1.Its really bright and can cover a wide area.
2.Motion detection is really sensitive.
3.well made and weather resistant.
4.Looks great and come in at a nice price.

Why you should Skip this:
1.User manual is inadequate and does not explain controls well.
You may easily think your unit is not working due to lack of documentation and explanation of conditions and so on under which the lights may be installed.
2. Dials feel cheap and don't clearly lock in options when making adjustments can be hard to judge.