So I recently got a wonderful gift of a Fine Art Armored Wallet Credit Card Case and I decided that it was such a thoughtful gift that I had to do a review of it. So this will be my review of this product, it features and how well it does what its intended for .
Features of the Armored Wallet:
The Armored wallet is:
1.Made out of Aluminum.
2. Has Starry River RFID Secure Data Theft Protection.
3.Easily holds between 6-12 credit cards.
4.Great Artwork design to choose from.
Armored Wallet Credit Card Case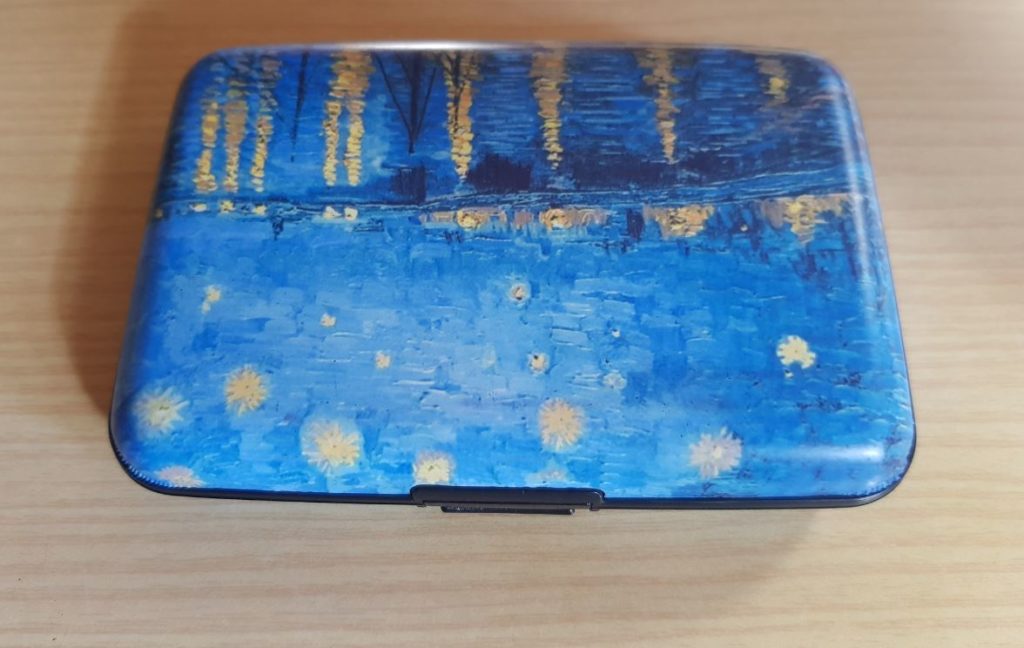 I must say that the most attractive thing about these Armored Wallet Credit Card Cases is that they look really good. The artwork that covers them from which you can choose several designs looks really nice and will easily make them ideal for men or women to use.
The casing is made out of Aluminum with the outer edges and the clasp being made out of plastic. The device is well made and the only fault I could find is that at the edges the patterns tend to fall a little short. This is nothing more than nit picking on my part though as it was barely noticeable.Its also small enough to easily fit a bag or pocket.
Video Review:
Watch the video below to see the review and the product in action.
Durability and Build Material
This thing really looks like it can take a beating and survive. The only parts that you really have to watch out for are the hard plastic clasps that definitely look like they will break if too much pressure is applied from things such as a fall.
The outer paint job on the Aluminum also looks solid and will hold up to extended usage, which is always a good thing.
Holding Credit Cards:
Now I know the main purpose is to hold credit cards of which it can hold 6-12 easily. You can even throw in a small stack of well folded notes but don't overdo it as it will prevent the case from closing.
Conclusion
Overall this Armored Wallet Credit Card Case is well made and worth the money you pay for it. Otherwise though You have to take care with the plastic portions that can break off.
I do wish it was more like a traditional wallet that can hold not only Credit cards but it mainly designed with storage and protection of credit cards in mind. Otherwise its a solid product that you should defiantly purchase as it well worth it and is one of the best RFID Credit Card wallets on the market.
Purchase Yours Now:
You can purchase yours below right now.
Why Purchase this Product?
1.Well Made and is durable.
2.Looks really nice and stylish.
3.RFID protection to protect your Credit card from been scanned and stolen.
4.Really good price.
Why Skip This:
1.Plastic clasp may break if dropped.
2.Can't hold allot of stuff.