Choetech was was nice enough to send me their Choetech 5 coil Dual Fast Wireless Charger for Review. Now if its like any of their other great products that we have reviewed before then I am sure its going to be a hit.
Also note that this is my honest review of the product based on my hands on review. So you can expect honest and solid feedback to guide you in finding out if this product is for you.
Whats Inside the Box?
The product comes in a very nice box with a considerate preview window so that you can see what the device looks like without opening the box.
Choetech always does a very nice job of giving details and specifications of the product on the box. You can use the specs to see if the product meets your needs. Inside the Box is the Wireless charger, Very thick USB type-c cable, User manual and documentation.
You will need to use the adapter brick that came with your phone in order to power this at the wall.
5 coil Dual Fast Wireless Charger Specifications:
1.Dual charge output can charge two devices simultaneously at up to 20W totally.
2.Powerful 5 coil for wider charging area and better charging efficiency.
3.Three charging mode: 10W,7.5W and 5W for different Qi-enabled devices.
4.Reversible Type-C port supports high-speed input for fast wireless charging.
5.Lightweight and portable charger with PU leather surface,modern and stylish.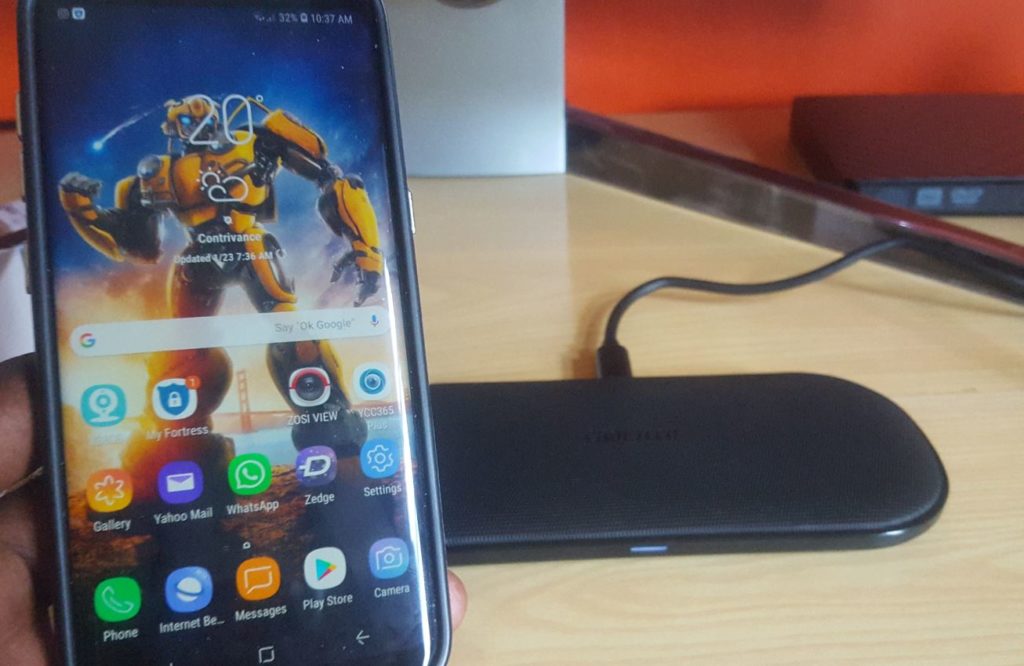 5 coil Dual Fast Wireless Charger from Choetech
I love the width and PU leather surface on the 5 coil dual Fast Wireless charger as it has a really nice texture to it. The Choetech logo at the center is a nice touch as its not too in your face as some products will do with their logo.
As mentioned above the USB type-C cable is very thick and will have to be as this charger can charge two (2) devices at once. Placing once phone on the charger you can easily find a charge spot especially with a case on.
On the other hand having two devices on the Wireless charge stand at once is tricky as you will have to search for the sweet spot on the charger surface. That aside once you find the spot one or both devices will charge fine. The best part too is that there are ventilation holes at the base of the wireless charger that prevents the build up of heat.
Where to purchase?
You can get yours below
Why Purchase this Product?
1.You are getting two (2) chargers in one.
2. Well made and looks good.
3.Can charge two (2) phones at once even with case on.
4.Great ventilation to prevent overheating.
Why Skip this product:
1.A bit tricky to find the sweet spot for charging especially with two devices on the surface.
Conclusion
This Choetech 5 coil Dual Fast Wireless Charger is well thought out and offers users a convenient device that unique in its own right. You will be able to charge two phones which eliminates the need for a second wireless charger so if you have two phones you will have no issue here.
In other situations you can have a spear spot in case a friend needs to charge their phone. So why even think about it any further go ahead and purchase this wireless charger right now.