Today's review will be of a small and compact powerhouse in the form of the ThruNite T1 Pocket Flashlight. Do not make the small size fool you as this is a really impressive flashlight compacted in a small package.
I also want to say thanks to ThruNite for sending over the T1 for review. This is my honest review of this product and as always I like to be transparent before starting my reviews.
Package and Contents:
Inside the package you will find all of the following: The ThruNite T1 Magnetic Tailcap Pocket Flashlight (battery Inside), User manual, Welcome card, Micro USB cable,Attachable clip, Extra USB charge port cover and Attachable string.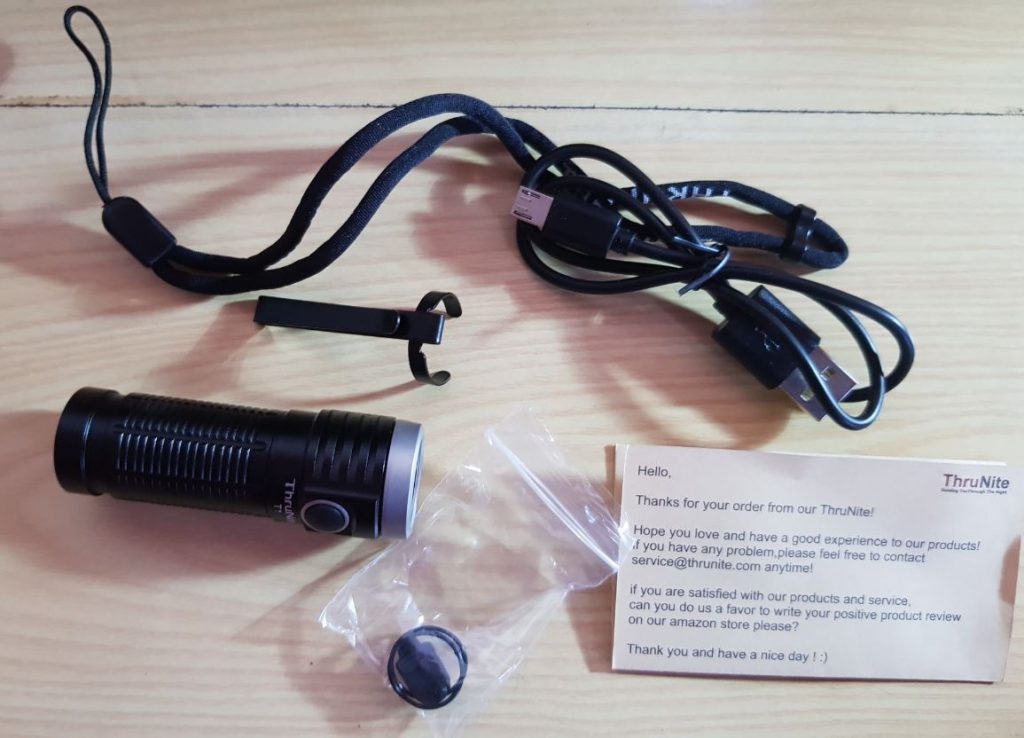 Everything comes housed in a simple brown box with the product name and ThruNite logo and tagline. Simple yet effective packaging as what we truly care about is the product.
Product Features
The ThruNite T1 features: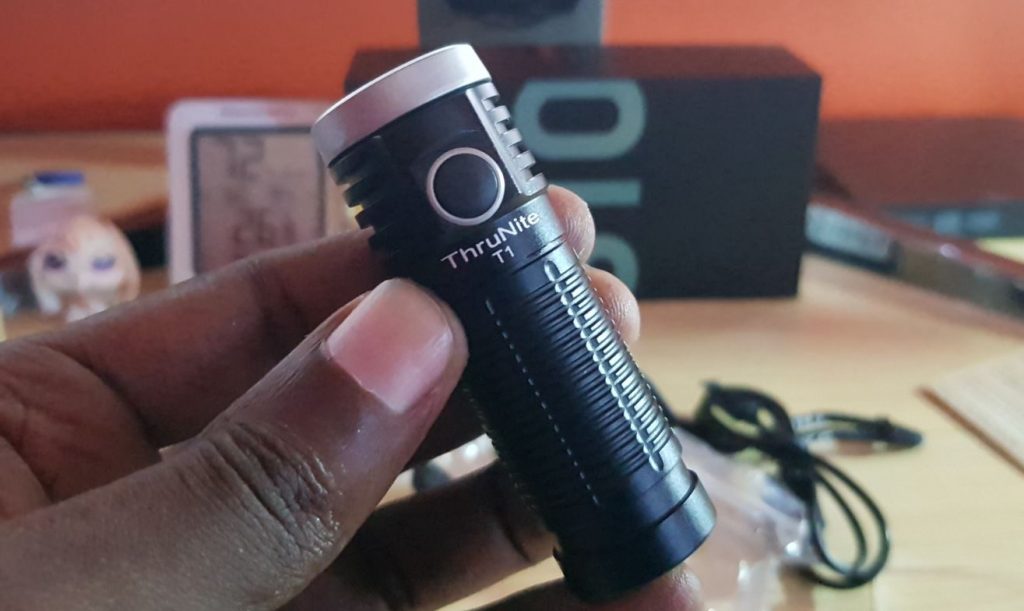 IPX-8 Waterproof to 2 Meters.
A 1.5 Meter Impact resistance.
102 meters distance max shine distance or 335 feet.
Produces 1500 lumens at max and 1 Lumen at its basic setting.
Clip for hands free functionality.
Features Firefly, Turbo,Strobe and high/low modes
Includes a 1100mAh Lithium-ion Battery that rechargeable.
2.7 inch long and highly portable and weighs just 45 grams.
Features 3 hour recharge time with LED indicator.
Magnetic base.
ThruNite T1
The first thing you will notice about the ThruNite T1 is the small size. Its really nice feel in hand at 45 grams and you can feel right away that its built from high quality metal.
The paint job is also really nice and well done. To get it working simply tighten the cap and hit the power button and it works really well. The On and off button also has a LED inside indicating the power state of the flashlight that you can see at all times.
The Flashlight has a single LED surrounded by a reflective silver reflective surface at the front to concentrate the beam of light. You can remove the battery if you want which is easy.
Video Review:
Watch the video review below to see the unboxing and hands on review of this product.
Brightness
The normal high mode of the ThruNite T1 is very bright, this flash light put others I know to shame easily. The darker the condition the better. Also be careful never to look directly at the light as its very bright.
It can also be used for security in strobe mode which is a tactical flashlight feature. The strobe mode can really disorient someone you point it at so use with caution especially if you or others are prone to seizures.
Also Turbo mode is really bright and will deplete the battery fast so use sparingly. It produces the brightest light with 1500 lumens. Firefly mode uses only 1 lumen and is a conservative mode with a basic amount of light.
In basic Firefly mode you can get up to 14 days of usage conscientiously which is really nice for certain situations.
Performance
The Flashlight can easily fit into a pocket or bag and it takes up little space due to its compact size. You are not compromising anything with this product compared to a normal size flashlight like this.
In fact The T1 is better as it gives you the best of both worlds with brightness, battery performance and size. The build quality is really good and I love the clip that allows you to operate the flashlight hands free and affix it to various stuff while you work.
I love too that the base is magnetic and can also be used in various creative ways.
Conclusion
I suggest that you give this product a try as it worth the price in every way. I love the care and attention to detail that was placed into this devices. You can use this as a extra security tool around the house, a work light as you work on a car or dark spaces weather small or large.
ThruNite really makes some impressive flashlights among other products as well. They are a company you can put your hard earned money behind and they wont disappoint you.
Buy yours here:
You can purchase yours below.
Why Buy this product?
1.Compact and Light weight.
2.Built from solid materials with great paint job.
3.Is really bright.
4.Waterproof.
5.Light beam with great distance.
6.Lots of modes and features.
7.Includes great add on accessories.