Today's review is of the SANSI LED Security Motion Sensor Outdoor Lights. Thanks to SANSI for sending over this home security lights set for testing and review. For the sake of transparency I want to disclose that and be assured that this will not influence my review in any way.
Whats Inside the Box?
The Sansi LED security lights comes in a unassuming brown box with the SANSI name on the outside. A little underwhelming at first but that just a matter of general presentation.
Inside the Box is A User Guide, A bag with mounting bracket, template for mounting, screws and of course the LED Security lights. I got the black version but you can also get this in white as well.
The Specifications:
The SANSI LED Security Motion Sensor Outdoor Lights features include the ability to.
-Consumes 36W compared to 250W for the Incandescent Equivalent.
-Produces 3600lm (Brightness) with 8 LED Bulbs with the Pixel Heatsink.
– 5000K Daylight.
-Dusk to Dawn Waterproof Flood Light (Weatherproof).
-Features Dusk-to-dawn and Auto on and off
-Ceramic sealed LENS.
– ETL Listed.
-Wide coverage 50 ft by 50 ft area.
The Security Lights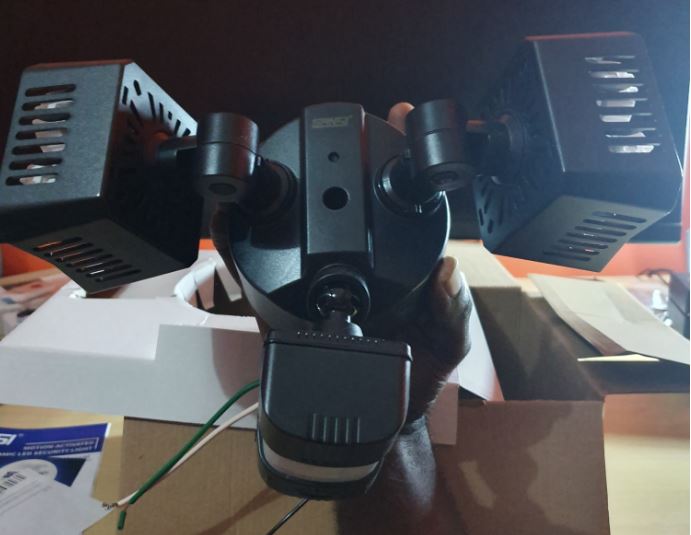 I must say that the SANSI LED Security Motion Sensor Outdoor Lights have a really unique design. The LED are individually shielded and have a exterior hard covering around each LED. The sensors also at a glance may seem like they are exposed with the basket like head mechanism but that's seems to be for cooling. Bear in mind that the whole setup is waterproof.
The base is rounded and sealed but you will still need a OT box for mounting it to the wall. The Motion sensor is adjustable which is great for optimum placement after the install. Even the lights which has two heads is adjustable. This makes it ideal for mounting in a variety of situations.
Unboxing and Review Video:
Watch the following video that covers the review and Unboxing of this product.
Performance of the Sansi Security Lights:
By the way this is the Upgraded SANSI LED Security Motion Sensor Outdoor Lights meaning you are getting the best the company has to offer in this particular product.
In my case I have mine mounted in the backyard. It easily covers a really wide area. I was expecting it to maybe cover half imagine my surprise when it covered the entire are. Also though the light has a dual head do not be fooled thinking it may not cover a wide area.
I was blown away by how much of a wide field of view it has. Also the light is really intense and bright almost like day light. It can after all cover a 50 ft by 50 ft area easily. I mounted mine and had it setup in no time. I first had it in test mode and when satisfied I placed it in automatic mode.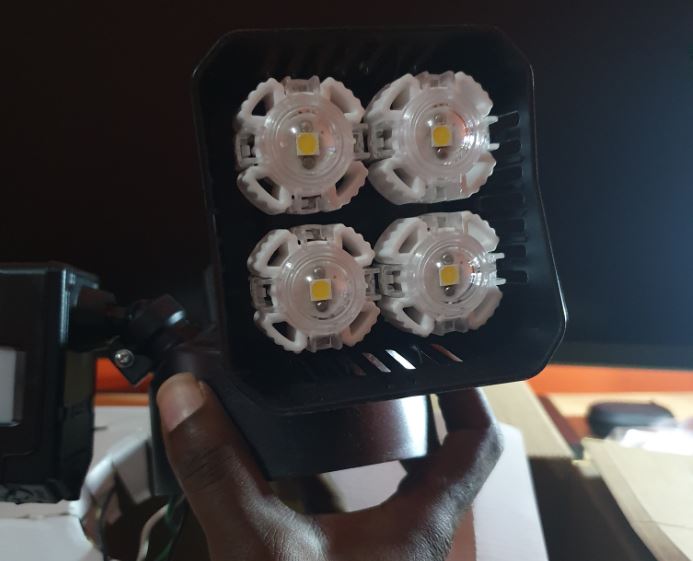 The 3600 Lumens of brightness is really impressive as a security light can never be too bright. Also its very energy efficient just using 36 watts of power. Best of all if you only have it come on when motion is sensed it will last years.
I love also that if you quickly power it off and then on it will stay on for a extended period of 8 hours before going off.
How does it perform for Security Purposes?
As it relates to security the SANSI LED Security Motion Sensor Outdoor Lights does a really good job. Now as soon as I look in the backyard I can tell if any movement is taking place. I can also easily see the entire backyard as if it was the middle of the day.
I was so surprised looking from the inside of the House as I saw the backyard light up. It was the Dog though that had set it off and it is very sensitive and accurate.
Trust me if someone is lurking in the dark and those lights come on they will be scared stiff thinking they were seen or spotted as to why the lights came on. They need a little tweaking out the box but they are easy to understand especially with the included manual.
Instillation
Instillation is not super hard I recommend you get a friend to help or get a professional to do the install. After installing you will need at least a extra hand to tweak and test or it could really take a while to get it just right.
Also watch out for insects that may trip the sensor. I also recommend that you install this higher up for a greater coverage area.
Conclusion
I really love the SANSI LED Security Motion Sensor Outdoor Lights. The company did a solid job especially with the upgraded model. Also you will not find a better light than this one in coverage and brightness.
So far this is the brightest security light I own. I would recommend this product to any of my friends and likewise I can recommend it to you. The Sansi company should definitely create even more versatile security lights like this as I am definitely won over by their great design and powerful performance.
Pricing
The pricing is pretty good as considering what you are getting for the money you can have peace of mind.
Why you should purchase this Product:
1.Good Price to performance.
2.Lots of features.
3.Really bright at 3600 Lumens.
4.Energy efficient.
5.Unique design with wide coverage range.
6.Very sensitive motion detection.
Why Skip this Product:
1.You may need to get a professional or someone that knows what they are doing to install.
2.You need to Get a OT box for install that's not included although all these types of lights never comes with one.
So what are you waiting for? Go ahead and get yours right now. Also check out this other security Light over here and this security system as well that works well with this product.