So today review is a look at the OOSSXX Professional Wireless Security Camera System with 10 inch Screen. This is a Home or Business security system that's a bit different than most others on the market, this is a good thing trust me.
You will see exactly why once you remove it from the packaging and start using the product. Its filled with cool features and is very convenient to install and use.
Thank you guys over at OOSSXX for their consideration in sending in a sample of this product for review. Below is a complete detailed review of this product.
What you get in the Box?
Inside the OOSSXX Professional video security system is x4 Cameras,USB Mouse, 10 inch Monitor/DVR combo, x5 Adapters to power cameras and the DVR/Monitor combo, Manuals and getting started Guide.
I also like the external packaging of the Box. This is usually one of my favorite parts of a product as its the first thing you interact with and as impressions go the box does a solid job.
The main colors of the Box is Blue and white, I like the touches of the guy sitting and monitoring several security monitors. This really without a doubt instills a sense of safety and embodies what a security system offers.
You can watch the video above to see the details unboxing of the OOSSXX security camera system.
OOSSXX Security System Features:
Here is a breakdown of all the features of the OOSSXX security camera system. The system includes:
70FT Night Vision.
1 TB Hard Drive
Four (4) 1080p Wireless IP67 Weatherproof IP Cameras.
10 inch Screen
8-Channel support (Supports up to 8 Cameras Max)
The 1080P NVR with integrated 10-inch LCD automatically pairs with cameras.
Can be installed indoor or Outdoors.
App support on Android as well as iPhone's (IOS).
Motion detection and Email alert.
1-year warranty which includes free parts replacement and lifetime technical support.
ARM Core CPU.
The OOSSXX Professional Wireless Security Camera System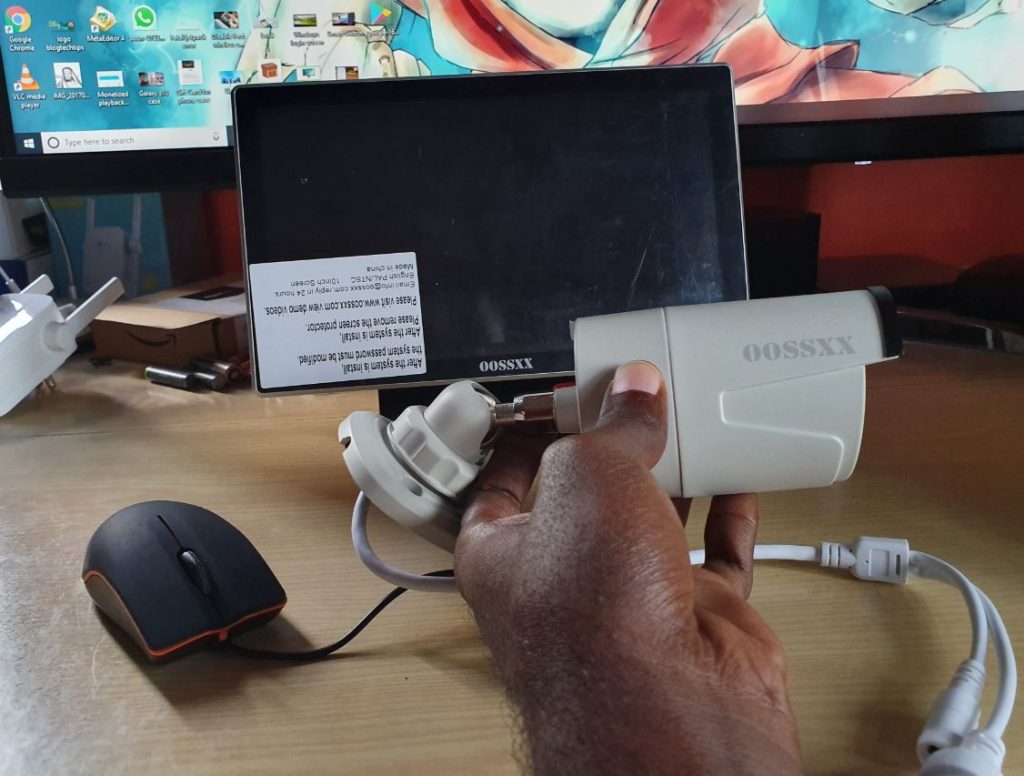 I really love the design of the The 1080P NVR with integrated 10-inch LCD display. Its a really unique design, before seeing the system I though the 10 inch screen would have been too small.
I was so wrong due to the high resolution of the small screen it works really well. The inclusion of a Dedicated HDMI port means that you can even output to a Large screen Full HD TV no problem.
You also have a Ethernet port for internet connection and two USB ports .I have the mouse connected to one. With the Mouse be sure to pluck the right and left click button up from underneath before using or you wont be able to click.
At first I was able to scroll, and move the cursor but thought something was wrong with clicking. All I had to do was release the right and left click buttons as the mouse was new. Just a quick pro tip.
Setting up the OOSSXX Professional Wireless Security Camera System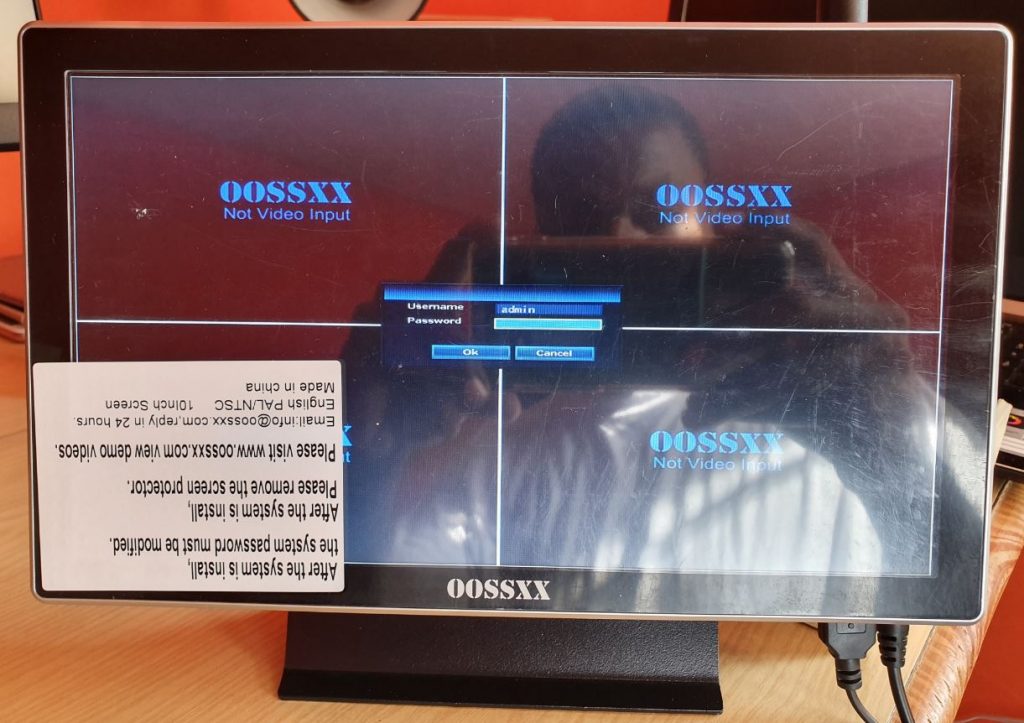 Setup was dead easy a baby could do it. Simply connect the cameras to a Wall outlet or mount them in place and power them up.
After this go ahead and connect the Mouse to the Monitor DVR combo and power it on after plugging it in. The system will automatically find the cameras.
Be sure to extend the antenna on the DVR/Monitor and to screw on the Antennas for the cameras. That's it , after this everything just works. Its one of the most user friendly units on the market hands down.
The DVR/Display unit can be easily place on a table and moved around. You can even wall mount the unit if you want to.
I love the Antenna on the DVR/Monitor and the convenient LED that flashes indicating the wireless status.
Video Review:
Watch the video review of the OOSSXX Professional Wireless Security Camera and see all the details.
Performance of the OOSSXX Security Camera System
I really love this security system and the way it works. First of all it butter smooth in terms of performance. Playback is really good and I can easily do replays at up to 32x which is ideal for recapping footage.
The Zoom feature is a GOD send.Ideal for taking a closer look when needed. The 1080p video quality is stunning and very clear compared to some other system I have seen in the past.
Navigation is easy if you have ever used a Security system DVR before you will be right at home with this one. The range is good too and just in case you get a range extender you may never use it.
The included 1 TB Hard Drive is a must as at 1080p you can expect the system will record allot of High Quality footage.
I also love that even if the system is pointed towards a light source it intelligently reduces glare so you can see instead of it blocking your view.
The housing of the DVR and Monitor is also really good with proper ventilation which is essential for a long system life. You can also view a overview of footage on playback or single out one camera.
Night Vision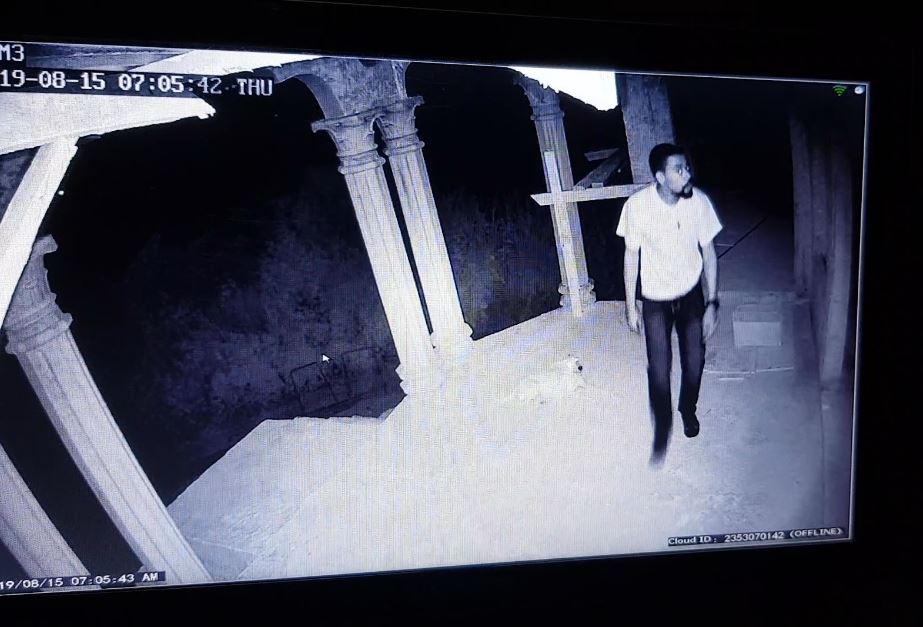 I love the night vision as it just as clear as seeing in the day. Its crystal clear and well detailed especially under pitch black conditions outside. You may even think that a light was turned on outside.
I am sure you will fall in love with this security stem once you start using it.Also being 1080p you can see faces perfectly I know this is strange to say but I have seen cameras that you can only use to make out the outline of people but not enough detail. No such issue here as you can see everything perfectly night or day.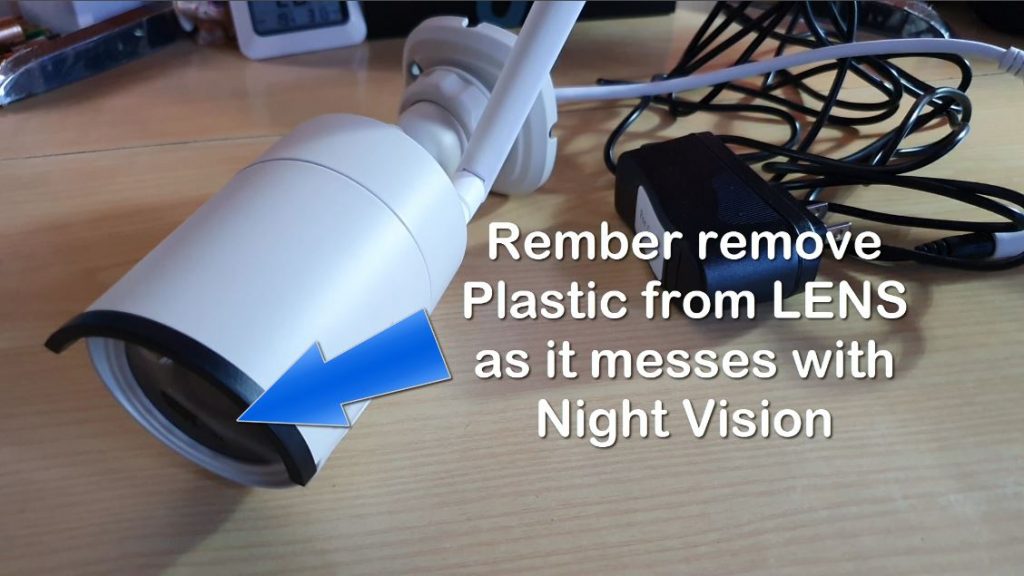 A very important Note though about the night vision. The cameras come with a plastic over the Lens you may think nothing of it but be sure to remove it. I made the mistake of leaving it on, thing it would not affect anything.
The plastic on the Lens resulted in the night vision being super blurry and I could almost see nothing.Also it resulted in a sort of screen burn in effect or slow refresh issue where the last image would remain on the display for a while before fading out if you switch screens or menus.
Luckily I decided to remove the plastic as the performance in the day was too good for night performance to look so poor.
Once I removed the plastic the picture Quality at night went from very poor to perfect. So just wanted to note this as someone else might encounter this and overlooking the plastic on the lens thinking leaving it on would not affect the security camera (It does remove it).
Where to Buy?
You can purchase yours below right now. Also look out for coupons on the purchasing page to save.
Why Buy this product?
1.Dead easy to setup and install out the box.
2.Comes with lots of features.
3.Excellent Video Quality.
4.Easy to understand and operate.
5.App support.
6.Has excellent Night Vision and is Waterproof.
7.Wireless has great range.
8.Innovative design with Integration of DVR and Monitor.
9.A complete system with all you need out the box that's portable, compact and light.
10.Very fast performance and smooth video playback with overall crisp picture at 1080p.
11.Performance to price cost makes it worth what you pay.
12.DRV/Monitor can be moved or mounted conveniently. Also cool stand for placing on a table easily.
13.Recorded footage is high quality and you can play back for individual cameras.
Why Skip this product?
I must say while no product is perfect This product is well thought out and I could find no major flaws with this security system. This is as close to perfect as we can get.
Conclusion
The OOSSXX Professional Wireless Security Camera System is far from perfect but it as close to perfection as we can get. It does all of what it claims perfectly. I am very impressed with this product from the crystal clear video in the day or night to its zoom and playback capabilities.
Its night vision is downright gorgeous but remember to remove the plastic from the Lens or you will be fooled into thinking something else.
This is the kind of product I can easily recommend on its merits. Its DVR/Display combo is very portable and ideal for Home or business usage.
So if you are in the market for a High definition Wireless security Camera for indoor or outdoor use then you definitely want to give this one a try.
If you have any questions about the oossxx 8-channel hd 1080p wireless network/ip security camera system then ask below in the comments and I will gladly answer them.