This will be my review of the Homiee 720P HD Digital Color Video Baby Monitor with 5 Inch HD LCD. Thank they guys over at Homiee for sending yet another of their baby Monitors for review. This is the second Baby monitor we are reviewing here you can read about the first one here.
This Baby Monitor is a step up from the first unit and not only has a nice HD camera but also a very nice display to deliver the crisp picture as well.
Whats Inside the Box?
Inside the Box of this product there is the Monitor, The Camera, Two Adapters with extra long cables, Manual, Mounting screws and bracket for the camera.
For a better view of the contents of the box you an watch the unboxing of this product above.
How well does it Perform?
Overall the Homiee 720P HD Digital Color Video Baby Monitor with 5 Inch HD LCD is a very well put together device. Everything is expertly packaged and in its place.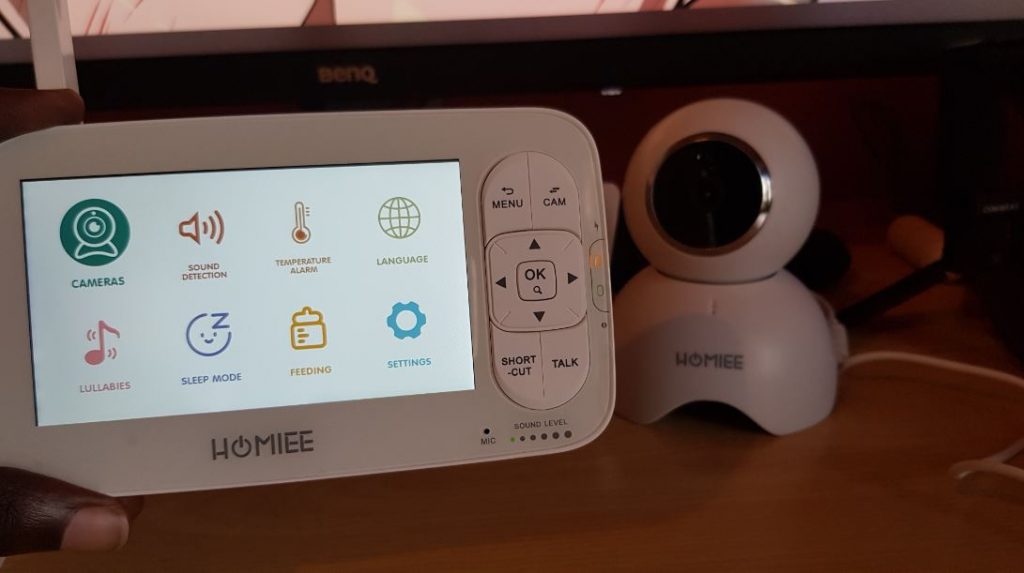 I personally love the ease of setup. The Monitor and the camera is connected by its own closed off WiFi which boost security as its not connected to the houses network. I love the sound detector which can detect when there is sound which brings your attention to the monitor.
I love the crispness of the monitor and icons. Picture quality is really good and is truly HD. You can also zoom in and pan and tilt the Camera around the room as needed. I love the addition of the kick stand on the monitor which means you can place it on a flat surface and keep an eye out.
The talk feature produces clear and crisp audio. You can see in real time the temperature, time and date. I find it quite soothing to know that you can set feeding times among cool features such as playing lullabies to sooth a baby to bed.
Video Review
Watch the Video review and see everything that we are saying here and more for yourself.
Personal Experience with this baby Monitor
Personally I usually utilize this Baby Monitor when I am in another room and need to keep an eye in another. I find that its able to transmit fine even from two rooms over with solid walls in the way with the antenna extended.
Audio and video transmits perfectly and keeping an eye even in a large room is relatively easy.I also find that if you keep the monitor and the camera in the same room you might get feedback as the audio loops, this is normal as its not intended that the monitor be in the same space as the camera while in operation. Once they are apart things work fine and the feedback is gone from the Mic and speakers.
The Monitor is not too heavy and charges easily. You can use it while it charges or move it about when the battery is charge to full. You can also put the monitor to sleep when its not being used as with other devices from Homiee.
The mounting parts that's included in the box are not needed unless you are thinking of placing this device in a permanent spot. Otherwise simply ignore them. I usually place mine in a prominent location in the room where I can easily have the camera have a birds eye view of things.
Conclusion
I can say this is a good product if I ever saw one. Homiee has added to a already great product and refined it to make a even better one.
I love the quality of the HD camera and how everything look on the display. You can be in another room and your child feels as if you are right there with them.
You on the other hand can have piece of mind that you are right there keeping a watchful eye on things. You are sure to love the sound alerts and the sound meter. The interactive features and monitoring abilities of this devices.
Buy Yours Now:
Get yours below at the link provided.
Why Buy this baby Monitor?
1.HD Quality Picture.
2.Built in Two way Audio.
3.Sound or Noise detection.
4.Lullabies built in.
5.Temperature Monitor, Time and date.
6.Feeding reminder and customization reminder.
7.Great build Quality.
8.Easy to use and understand.
I am personally satisfied with this product and I am sure you will be as well once you see it first hand.
Continue Reading we have even more Tips for you: