So if you got one of those cool Chinese smartwatches and you are getting a message to: Please install BT notifier app in remote device when you click on some App icons for some features then believe that you are not alone. If you have also tried to find the correct app to place on your Smartphone or other device and you can't seem to find the correct one as there are so much of them in the App store then you have come to the right place.
What devices does this apply to?
This tutorial Applies to any Chinese Smartwatch such as the DZ09 and other Smartwatches that exist on the market. It hard to tell which App belong to which device but with this tutorial you should be able to find the correct App for just about any Chines Smartwatch.Also this still applies if the message on the Smartwatch reads a little differently between devices its the same error.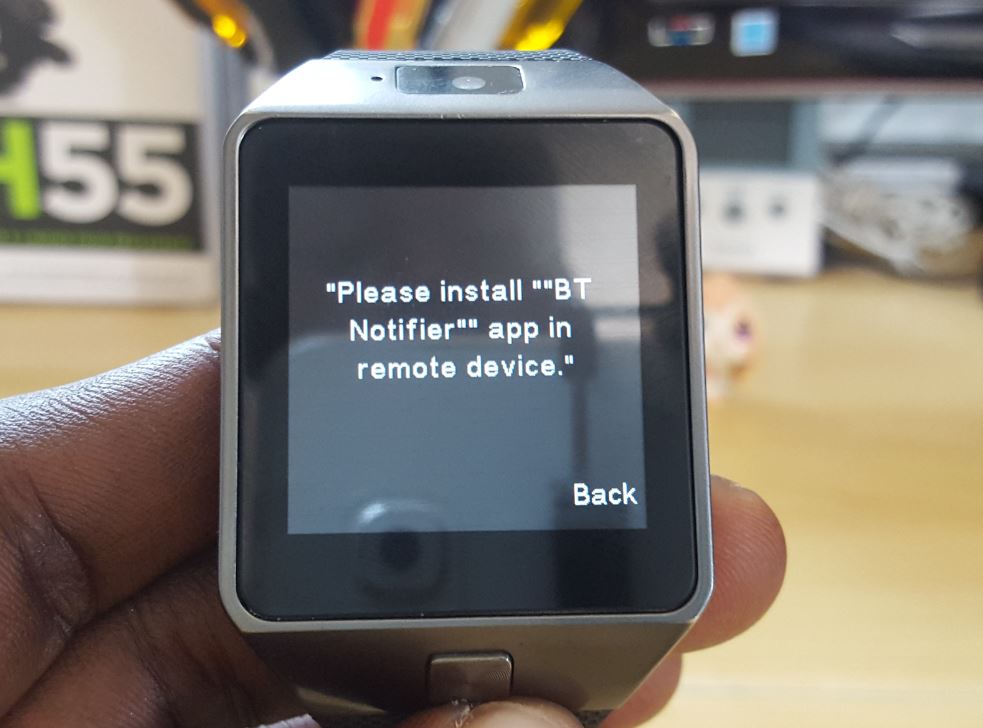 Video Demonstration:
Its easier to see how its done directly so read along as well as watch the Video below to see exactly what to do:
Please install BT notifier app in remote device Fix
(link no longer Works see Alternative method or update below)
So in case you can't find the correct BT. Notifier in the Play Store then:
1.Launch the Google Play Store and search for: BT Notification and download the app with the green and white chat bubble with the exclamation.If you can't find it that way then download link is here.
2.Once you install the App go ahead and Launch and turn on Bluetooth and Grant permission to the App to access your device.
3.Go ahead and turn on Bluetooth on your Chinese Smartwatch and make your Smartwatch is visible. Search and Pair both your watch and your phone.
4.Make sure the BT Notification App is Launched and try launching any app on your device from which you where getting the Please install BT notifier app in remote device message and it should now be gone and the App should be working and connecting to your remote device or smartphone by Bluetooth.Also note that if the Bluetooth is connected to another device or connected for Music you will need to disconnect before it works and try connecting again.
Alternative Method:
(Scannable Code works once more and is recommended)
Most Chinese Smartwatch have a link to the BT Notifier app on the App screen as a scannable barcode and all you have to do is find and scan it with your smartphone to find the appropriate app for your device as shown here.
The final thing to actually attempt if none of the above does not work for you is the actually search for Bt Notifier in the app store and try them one at a time or search for your device name and all related app should show up and you should be able to find the appropriate one.
(New Updated April 19,2019):
New App Working 100% for Please install BT notifier app in remote device Fix for Chinese Smartwatch
As you may have found out the methods above no longer work as that particular app while it did work is no longer a part of the Google play store. The scannable code which was from another source is also no longer available at the scannable link.
With that been said I have found a alternative app that works 100% and in some cases it may be better than the original app above. I have done a Video so you can see it in action directly below.
I have also done a written version of the instructions as found in the video above:
1.Go to Google Play and search for:United Power Bluetooth notification. Download and install the app. The direct link to the app can be found here.
2.Once the app is installed go ahead and download turn on Bluetooth on the DZ09 Smartwatch or similar device.
3.Launch the United Power Bluetooth Notification app and go to Bluetooth and turn it on and pair with the smartwatch. You will need to confirm on both the app and smartphone.
4.Once connected Go ahead and grant relevant permissions that the Bt Notification app need for access to notification (very Important).The watch and your phone will connect fully.
5.From here you will be able to sync time and date and to test everything out go ahead and try Remote capture on your DZ09 which will launch the Camera on your smartphone.
That's it all the Bluetooth features should now work 100% on the smartwatch. be sure to share your experience in the comments.
Final Thoughts
So that's it guys in terms of how to fix the Please install BT notifier app in remote device for your Chinese Smartwatch. Please ask any questions below along with sharing this article with friends. Please take the time to also check out even more of our content on this website or donate if you like with the relevant links in the side bar.