So the guys over at Xvim decided to send me the XVIM 8 Channel 720P Outdoor Home Security Camera System for Review. I want to say this will be my detailed honest review of the security camera and its strengths and weaknesses. Please do note that while we review various gadgets here I will always keep my reviews as honest as possible even if an item was given for free to be reviewed. So without much more delay let's get into it.
Whats Inside the XVIM 8 Channel 720P Outdoor Home Security Camera System Box?
With this DVR security camera system you get all you need to get started which includes:
1.4x 720 P cameras and Routing cable.
2.The DVR Box with 1 Terabyte Hard drive installed.
3.A power splitter cable.
4.Two Adapters to power everything.
5.Quick Start Guide, a USB Mouse, Mounting screws.
It's only a matter on removing it all from the box and putting it together.
See video below to see full unboxing:
Installation of the System
It's the typical Install process. Everything can be done yourself and a power tool is needed to drill the holes for mounting the cameras. You do get the mounting screws and accessories to have it all installed. I recommend that if you are not great at handy tasks around the house that you get a friend to help you with installing as the process is not very hard and only requires some creativity as with all systems like this.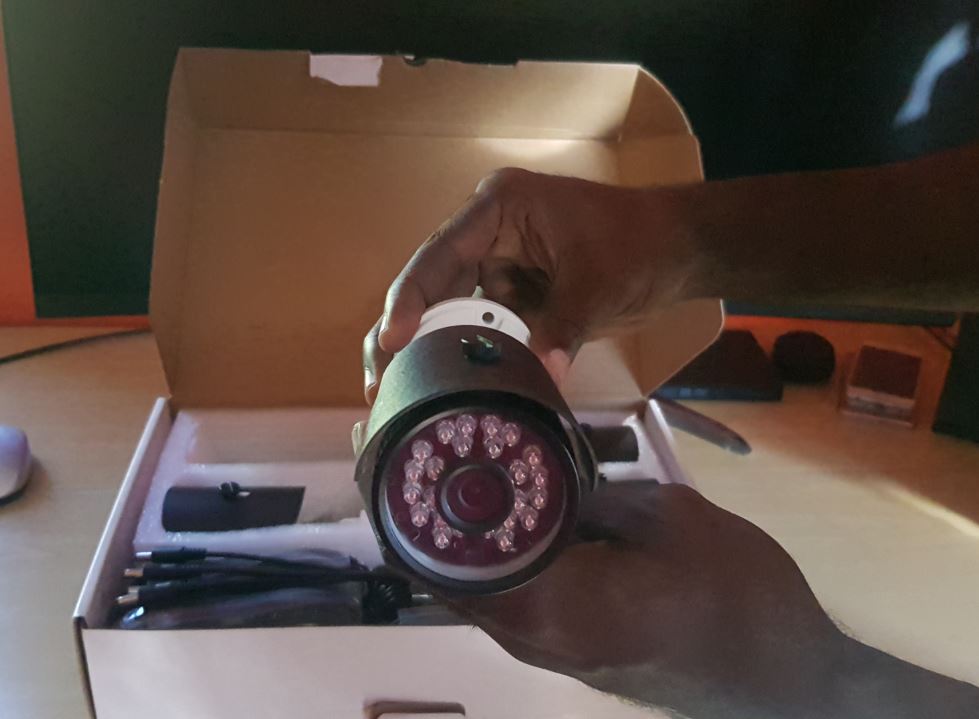 The Product
The XVIM 8 Channel 720P Outdoor Home Security Camera System at a glance looks well made. The DVR Box is the typical layout of inputs for up to eight cameras at the back, USB ports and the option for output of the Video signal by VGA or HDMI. When everything is powered up you can see the power indicator in red on the front of the DVR itself. The Cameras have an adjustable shield at the front and can be adjusted in various directions to find the perfect angle while mounted.
At night the Cameras light up red as the Infrared mode is activated. This allows the camera to show an Image in the dark. The system itself is intuitive and you will feel right at home if you ever used a Security Camera system before which is good.
Video and Picture Quality
While the Camera is 720P I found the Picture Quality OK at best but a bit Blurry and not as sharp as it could be as with other rival Security Cameras such as the ZOSI brand that has superb picture Quality.With those models though you don't get a hard drive included which keeps the prices low and with XVIM you do get a large 1 Terabyte hard drive. The blurriness was more pronounced at a distance and not as bad up close but still blurry. As you know picture Quality can make or break a camera system.If recording overall is your aim and not video clarity then you should be OK.
But if your aim is to be able to use the video to view distinguishing features of People, Cars license Plates and so on then this is not the camera for you in that regard. I also made sure it was not the channel the camera was on by switching it around and it was not the camera itself.  XVIM may want to work on this for the future to get the sharpness of the picture and overall quality up. In its current state it barely passable.I also tried to adjust the contrast and other picture presets and found that the picture only got more saturated and mad things worse.  Don't get me wrong you can see people and objects but they are not overly sharp as they should be for a 720p Image.You will have a hard time using the footage to identify an individual and so on.
Video Review:
Watch the video review below and tell me what you think.
Conclusion
While you do get everything you need out the box for this system which includes a very large Hard Drive for Storage which is installed for you already.The Picture Quality is less than ideal and is a deal breaker for me as I would also think for many other users considering the main use you may want to use this for which is surveillance and security. In all honesty I think this product has potential but as it is now the Xvim developers need to work on improving picture Quality and eliminating the blurry effect that's seen. If you are in the market for a product like this then before doing anything consider the good and the bad of the product but in all honesty I can't recommend this product until its improved or fixed.You can check it out if Video clarity is not big on your list and you simply want something to record.
Whats Good about it?
1. You get all you need out the box to get started without needing to get anything else.
2.You get a large 1 Terabyte Hard Drive.This will allow for recording more footage without needing to delete anything.
3.App support and ability to connect easily. Also easy to use and understand interface.
Whats bad about it?
1.Honestly Picture Quality is not sharp and is blurry which is the key feature of any security System.
2.Its a bit on the pricey Side although it does contain a Large Hard drive which balances things out a bit.
If you still want to check the Product out:
While I don't recommend the product in its current state unless you just want something that can mainly record and clarity is not a big issue you can find the product below.
So if you have any input on this product do share in the comments. I would also be glad to answer any questions you like about this security system.