This will be my review of the ThruNite TT10 Tactical LED Flashlight. I want to thank the guys at ThruNite for sending over this Flashlight for review.
As always this will be my unbiased review of this product. If you have not already be sure to check out our other Flashlight review from ThruNite. So with that being said lets get straight into the review.
Whats Inside the Package?
Inside the Box you will find: The flashlight, A string to fix to the flashlight for easy carrying, Metal ring, Plastic washers, Extra USB cover,Carrying case, Manual and welcome pamphlet.
The packaging is made from recycled cardboard like material which is always good to see. The packaging is simple and well padded for protection inside the box with a soft sponge material in black.
Overall great packaging as always, simple and effective. This will guarantee you receive your product in one piece no matter where you are.
The Flashlight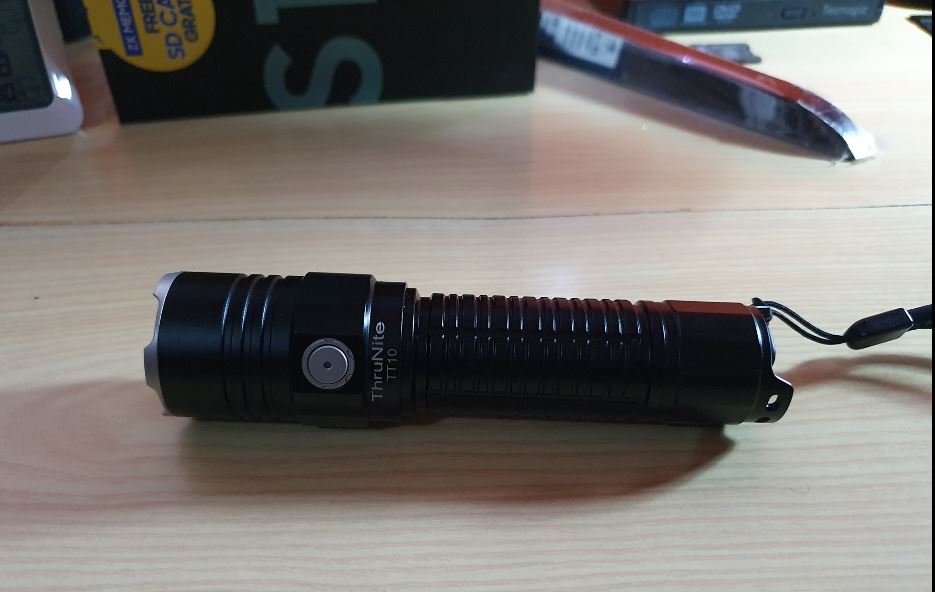 The ThruNite TT10 flashlight has a solid weight to it that's instantly noticeable once you pick it up. Also it does not feel cheap and you can feel how premium it his once you have it in your grasp.
Also with the features and weight I can see why this is called a tactical flashlight as it could be sued for self defense if you are so inclined. Even if you are not trained mainly due to the sturdy metal construction this flashlight could be used a s a blunt instrument if need should arise in tight situation, no joke.
The button layout is quick and easy to understand and you will need to charge this out the box which is not much an issue. Being rechargeable also is great for saving on batteries when used in conjunction to the various light modes.
The flashlight is also waterproof and impact resistant which means it can be sued in a variety of environments which a regular flashlight could never survive. Because of these features you can as I mentioned earlier use the TT10 in a professional or Home setting easily.
Features and specifications
All modes are present as with other Thrunite products or high end devices like this one which includes: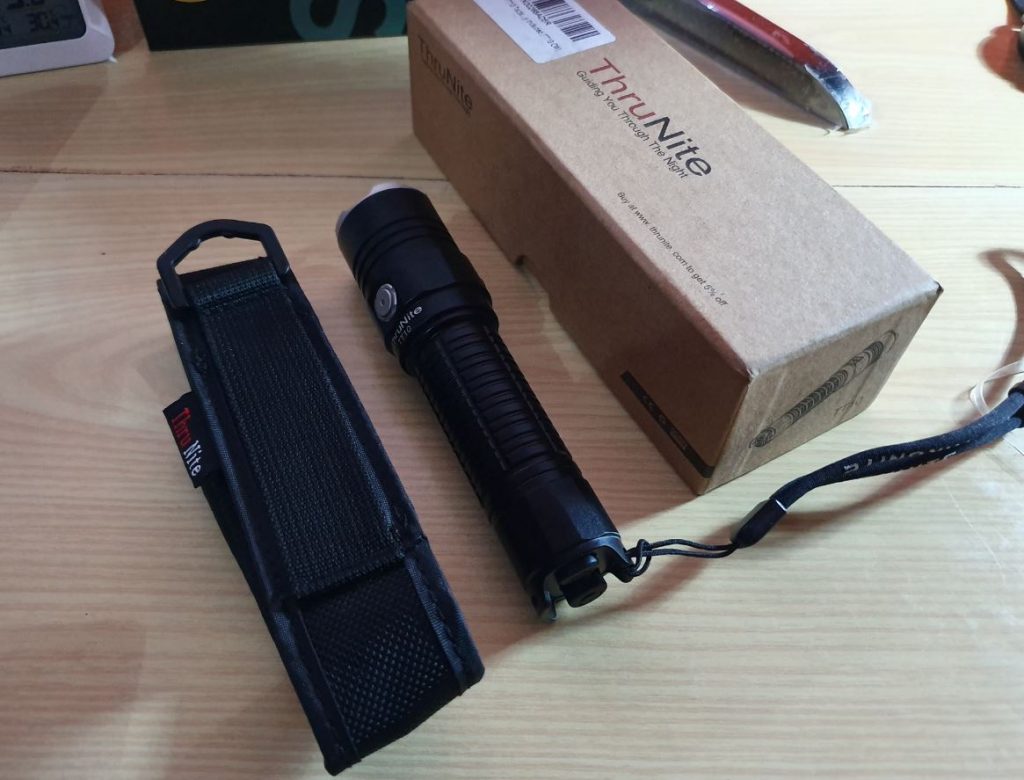 1.Operating modes include: Firefly,Low, Medium, High,Turbo,Strobe light modes.
2.Lockout mode to prevent accidental presses.
3.Very bright producing Max 3700 Lumens of light and with a shine distance of 879 ft / 268 m.
4.Easy access dual tactical switch for easy access and quick functions when you need it most.
5. Rechargeable 5000mAh Lithium to hold lots of charge for the flashlights many functions.
6.Easy LED to indicate charge level and when flashlight needs charging.
7.Its Impact resistant up to 1.5 meters.
8.IPX-8 Waterproof up to 2 Meters.
The ThruNite TT10 Tactical LED Flashlight
First I must say that the ThruNite TT10 Tactical LED Flashlight really impresses. It great for Home use or real world tactical situations if you are in security, Law enforcement or other similar situations where tactical gear is necessary.
The ThruNite TT10 is really bright on its highest setting so much so that it could do some serious damage if you look at the beam of light directly so be warned. That's something I see and like across all ThruNite Flashlights.
I love the easy access buttons at the back more so the dedicated strobe button. It can be really comforting knowing the strobe feature is just one click away if I need it. The buttons are also very sturdy and do give the impression they can take prolonged and contentious clicks.
Its also covers a impressive distance of up to 879 feet and trust me you get every inch of it. Nothing will be able to hide in the dark once you turn this baby on. Plus you can cycle through the modes as needed so that battery is not wasted which is very nice. The strobe feature can come in really handy too in case you need to disorient a person for security reasons or an animal or something to scare them off.
Video Review
Watch my video unboxing and review below to see this product in action as we remove it from the box and test it out so you can see it for yourself.
Conclusion
If you need a well built Flashlight, one that's super bright, Have lots of features and modes including a strobe light then look no further. The ThruNite TT10 Tactical LED Flashlight is built from the ground up to be that reliable brand that you can come back to time and time again quality and satisfaction guaranteed.
This is my second product from them and I am really impressed with their consistency across all their product lines to date. I look forward to even more great performing products for their future releases. Do check out this magnificent flashlight below.
Where to Buy
You can purchase your below and look out for coupons that may be on offer with this product.
Why buy this Product?
1.Great Build Quality with solid metal construction.
2.Super bright with great beam distance and coverage.
3.Many modes to choose between.
4.Easy access buttons for key features such as strobe.
5.Cool accessories such as a carry case.
6.Rechargeable to save on batteries.
7.Great tactical features for domestic or professional use.
8.Its waterproof and Impact resistant.
Why you may skip this?
1.This product is pricey but you do more than get what you pay for. Not really a con but more of a heads up.
2.Wish it was charged out of the box. Although this is more of a convenience and not an issue.
I really can find little to no fault with this product and it does get the highest praise and top marks in my book as the designers though of almost everything to include and have implemented them wonderfully.
Don't take my word for it go ahead and check out the product for yourself I can grantee you will not be disappointed with this product at all.