So if you have not gotten Android 5.0 by now you are either one unhappy Android user or one curious person as to what the big fuss is about, well the dust is settling and since I have been using the updated Android operating system for some time now my intention is to highlight the Android 5.0 features so as to sensitize you as to the new features to make maximum use of the new operating system. So sit back and relax as we highlight the new features, what to expect and even how to customize the new Android operating system for the best possible user experience.
What is Android 5.0?
Android 5.0 is the latest and most recently updated version of the Google mobile operating system called Android which is deployed across several mobile device manufacturers such as Samsung, HTC and so on. The latest update is dubbed Lollipop in alignment with Google's naming scheme of naming its major updates after tasty and sweet treats.
 
New Android 5.0 Features
The first thing that you will notice after updating to Android 5.0 is that the over all design Language of Samsung and their TouchWiz has been given an overall revamp while keep the essentials of the default Android familiar experience. From the first boot I noticed that in some instances that my Phone was much faster and unfortunately it was stuttering in other but not enough to ruin the experience of Lollipop, so here are the Android 5.0 Features:
1. The Lock screen has been revamped you now get super cool notification right to the home screen, that you can have shown or hidden, the backup password login is now almost mid screen, the finger print scanner has been improved a bit including unlock sequences after swiping your fingers and along with quick camera access you now have an emergency dialer, the cool thing is that you can now designate emergency numbers to call other than the regular emergency numbers e.g.911 or 119, which is great if your phone were to get lost or you need to call an important contact fast.
To set your Android 5.0 emergency contacts to use from the lock screen dialer simply go to your Phonebook and edit any contact and go to groups and check the option ICE-emergency contacts and save, now go back to the lock screen dialer and click on the Plus and add any contact or contacts that you just added to your emergency dialer. Super cool right?
2. The phone dialer has been totally redone and boasting a new green and white color tone and your contact pictures are now rounded instead of being squared, you can add your favorite contacts at the top of your dialer by hitting the plus button.
3. A new sort of rubber band effect at the bottom and top of a list animation to show you have reached the end of a list.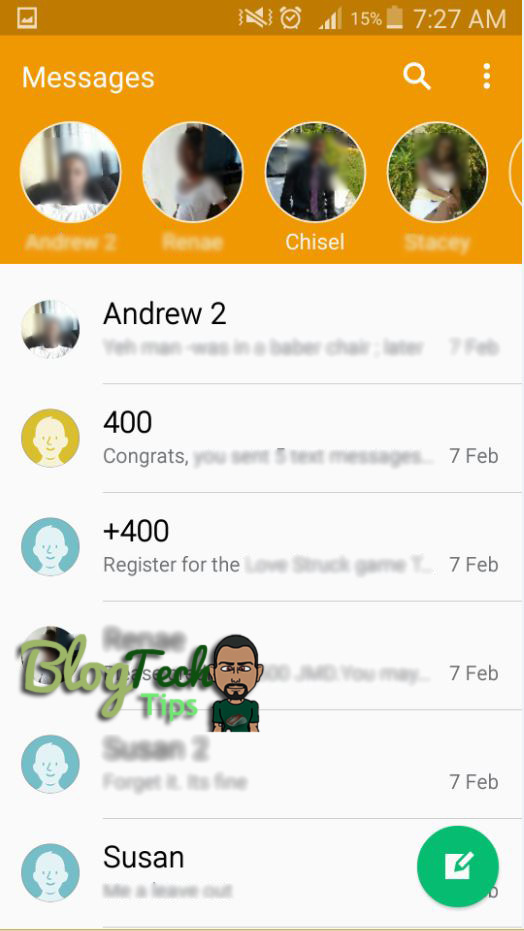 4. In text messages there is a new floating compose button in the bottom right of the screen, plus you can specify your favorite contacts at the top of the screen by going to massage settings and checking Priority senders and going back to messages and adding them with the plus button, they will be displayed at the top of messages, tap to text a contact conveniently.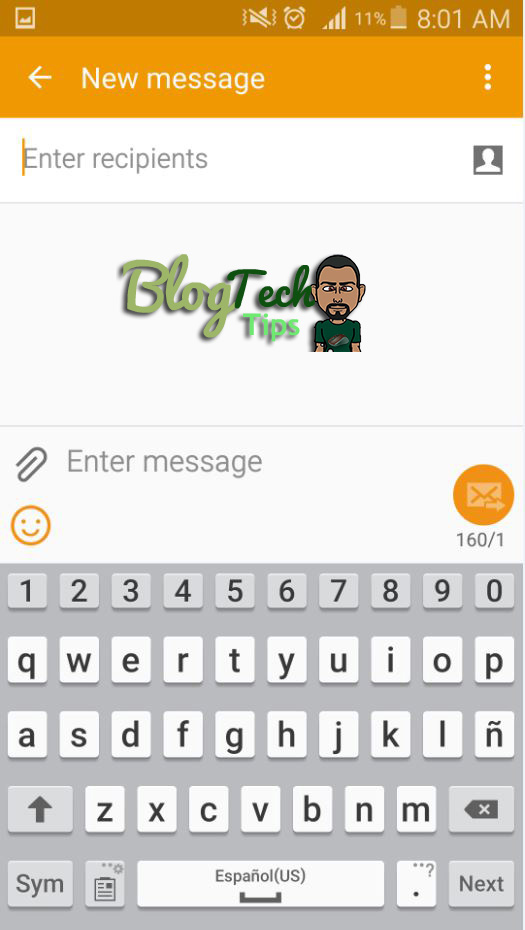 5. The New keyboard is very cool although some don't think so I find it refreshing change seeing I simply stick with the default keyboard that are available. The layout is great and tone and look is easy on the eyes while being easy to use.
5. The drop down context menu has been redone in the iconic Samsung New Touchwiz blue and it seems to float in place and has a transparent menu for the drawer. Diving deeper into settings you will realize that the settings menu is now sporting a white background and settings have been added or moved a bit but for the most part the usual stuff to be found in settings.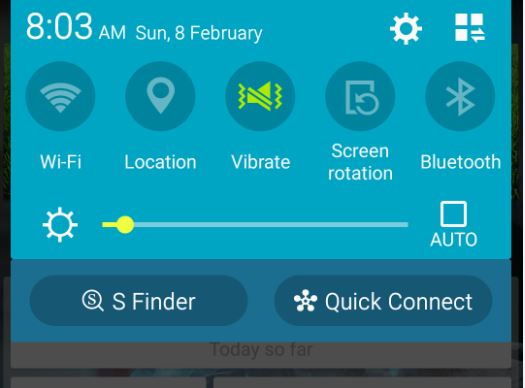 6. Hitting the menu button shows a new cover flow menu that you can swipe in either direction to close or scroll through the stock of open windows.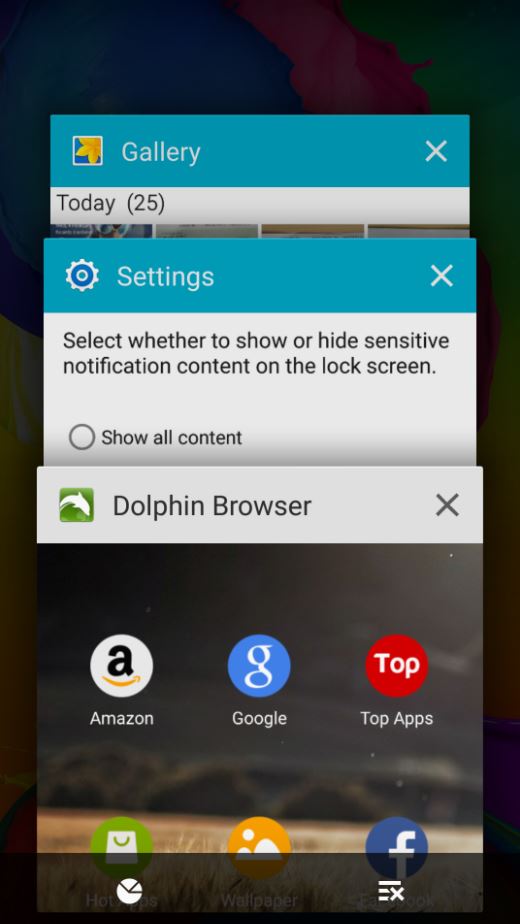 7. The main windows weather widget seems to be the same, but something that I just discovered is that you can make it as transparent or solid as you want simply click on it and go into setting and find Transparency and adjust as you like, looks great without hiding your wallpaper.
8.I have noticed Improved battery life as it seems the new Android 5.0 system is more efficient than its predecessor and handling resources better.
9. As a hidden gem or Easter egg you can go into settings and about phone, then press the Android Version 5.0 repeatedly to reveal a lollipop that changes color when tapped. Now long press to reveal a Flappy birds like game that features the Android robot that bounces between lollypop sticks which is a great hidden feature.
There might be more changes but these are the major one along with a reworked gallery and color scheme, the camera remained untouched and I have noticed less bloat ware running in the back ground and more memory available for multitasking. Games are faster and run way smoother which is a welcomed change. So far the experience has been great and I am looking for future updates to the Android 5.0 Lollipop features that are to come.
Android 5.0 download?
If you are waiting for the carriers to push the update to your device it may take a while and I do mean a long while. But being familiar with Tech we have taken it upon our selves to find the official Android 5.0 download and update our devices early and beat the wait and don't worry these updates are directly from Samsung. The instructions on Manual Android 5.0 Lollipop update are for the Samsung Galaxy S5 international versions that's the:
If you have another device especially a Samsung Galaxy simply make a request and I will drop you a link to your Firmware file and instructions on updating your device. After all our aim is to help you with all the best Tech Tips.